Kenny loves sushi – Erin hates all food from the sea.
Kenny lives for Fall – Erin lives for Spring.
Kenny likes things clean – Erin likes things cleaner than that.
Kenny is a saver – Erin is a spender.
Kenny loves country music – Erin not so much.
Erin wants another baby someday – Kenny not so much.
Erin is an optimist – Kenny is a realist.
Kenny snacks on cookies – Erin snacks on candy.
Kenny drives cautious – Erin goes for speed.
Kenny loves spreadsheets – Erin loves 1,000 thread count sheets.
Kenny is a night owl – Erin is a morning person.
Kenny on vacation is go go go – Erin on vacation is veg veg veg.
Erin is a peace maker – Kenny is a trouble maker.
Erin thinks Bleu Cheese salad dressing is killer –
Kenny thinks Bleu Cheese salad dressing will kill you.
Kenny loves to go to the movies – Erin loves movies on the couch.
Kenny loves change – Erin loves routine.
Kenny is still into Survivor – Erin is SO over it.
Kenny enjoys the cold – Erin enjoys the sun.
Kenny loves the Chargers – Erin loves the charge card.
Kenny hates surprises – Erin lives to be surprised.
Kenny loves to debate – Erin silently stews.
Kenny is analytical – Erin is ana-what?
{Anyone in the mood for Straight Up??? I got your back Paula.}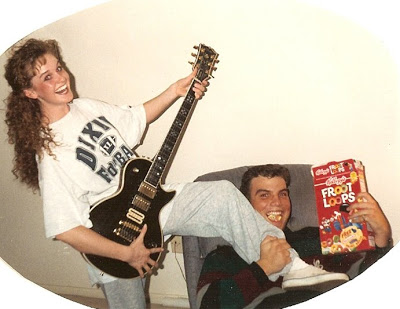 xoxo, Erin