One of the things I love most about living with a 2 & 5 year old is the free entertainment. Kids really do say the funniest things sometimes. I update these quotes on my sidebar but I think I'll throw them up on my blog every once in awhile so that when I make this blog into a book I've got them recorded. Don't want to forget the things they said that made me smile.
A couple of days ago we were heading to get some food somewhere and Ellie asked if she needed her shoes. I said "no…we'll just pull -up at the window." Addison exclaims "Pull-up! Are you kidding me!?? I don't wear a pull-up. I'm a big girl now!" This was especially funny for our little family because I ALWAYS say "are you kidding me?" and Kenny HATES it! I usually say it when we are arguing over something and he thinks it is so demeaning. (He'll try to make a point and I shoot him down with a sarcastic "are you kidding me?") Addie said it just like I do and Kenny was not impressed. (Sorry babe. She spends all day with me. You should have married someone else if you didn't want mini Erin's running around. :)
Addison's latest: (Jan/Feb 2009)
"Daddy, what do you want for Valentines Day?
Kenny: "a Porsche Carrera"
Addison: "What about a hat?"
"Mom…please can I call you Frosty the Snowman?"
Me: Addison, how's your owie doing? Addison: "I can't feel it anymore because it still hurts."
Addison's first attempt at going potty: "It's not working mommy!"
After a lot of walking around Disneyland: "Hold you mommy! (which means hold me) …my legs are getting dizzy!"
Addison says "to later" all the time which just means later. She gets this from TOday and TOmorrow. "Are we going to the park to later mommy?"
Ellie's latest: (Jan/Feb 2009)
Me: "Thanks for helping Addison with that Ellie."
Ellie: "Your welcome, your majesty."
"Mom, when Addison is in a bad mood my throat hurts."
"Mom, I just LOVE the smell of air!"
"Mom…ya know how Thanksgiving and Christmas and Halloween and Pumpkin Patches are over? That's called a bummer….right?"
Me: "Ellie, Ellie…Ellie! Honey you need to answer me. It's not nice to ignore people." Ellie: "But mom, you tell me to ignore Addison all the time!"
"Mom…I love you and daddy a hundred and more than that!"

Then just this last weekend we decided to take the kids to Disneyland again so the night before we left I said "Girls…where would you want to go tomorrow if you could go ANYWHERE!?" (totally expecting them to yell Disneyland!)
Ellie with a huge grin on her face: "TARGET!!!"
Kenny and I cracked up! El…you make your mom and grandma proud!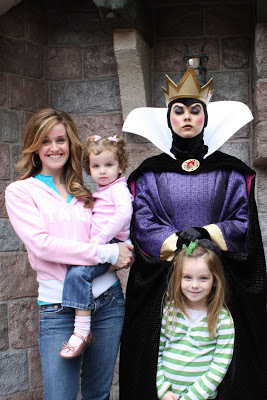 While seeing the wicked queen at Disneyland…
Queen (mean and serious voice): "Do you know who I am?"
Ellie (scared and quiet voice): "yes"
Queen: "Do you think I'm beautiful?"
Ellie (apprehensive): "yes"
Queen: "Do you think Snow White is beautiful?"
Ellie barely squeaks out: "yes"
Queen: "WRONG ANSWER!"
Ellie moves in closer to me and Addison's legs grip me tighter. Then we pose for a picture. They were scared to death! Could NOT get a smile out of Addison. I have to admit that this queen even scared me a little!
We all decided we much prefer this character…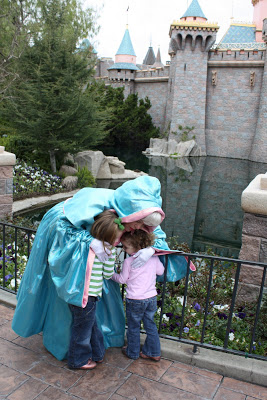 While I'm on the subject of quotes…
A favorite from Kenny:
"Babe, I'm just livin' in the real world so that you can float above it."
And a favorite from MY childhood:
My mom talking to me and my sister Carly: "come on girls…let's go run some errands."
Carly: "why do we always have to run ERIN'S and we never get to run any CARLY'S!?"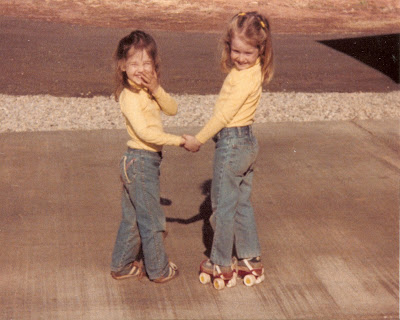 (Carly & Erin 1983ish)
xoxo, Erin