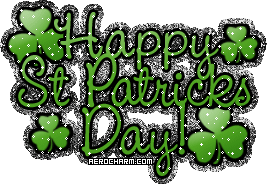 Ever since I was a little girl I have believed that I was Irish. Why? The reasons are pretty obvious:
*My obsession with
green
*My birthday is in
March
*I have reddish
hair
as do the Irish
*Ever heard "
ERIN
go
braugh
!?"
*I dream of visiting
Ireland
someday
*I WORSHIP
Irish River dancers
(favorite quote from Chandler on Friends: "they dance about as if their legs are disconnected from their body!") So cool.
So…every year at school I would wear my
"Kiss Me I'm Irish"
pin and proudly tell everyone that I was an Irish girl. And then I married Kenny. He decided to
ask our parents
do some extensive research and discovered that I don't have an ounce of Irish in me while HE on the other hand has many Irish
ancestors
. He loves to remind me that I'm the only one in our little family of four who ISN'T Irish.
Whatever.
Today I'm decked in my St. Patty's day green and am telling everyone that I'm an Irish girl…..
at heart.
Happy St.

Patrick's

Day and

ERIN

go

braugh

to you!
xoxo, Erin