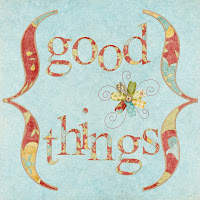 'Bright eyed and Blueberry' Jamba Juice AND being able to get through the grocery store with my two year old because she has one as well. More of it ends up on her shirt than in her mouth but at least I'm not plowing people over in the aisles trying to catch my little curly headed girl as she runs away from me.
A clean house and garage after recovering from Christmas craziness and travel.
Target sacks. Best garbage liner you can find. They're much bigger and stronger than the regular grocery store sacks. My mom and I judge whether or not it was a "good Target day" based on how many extra sacks we are able to convince the store clerk to give us. My mom is the master. She has been "moving her classroom" for four years now.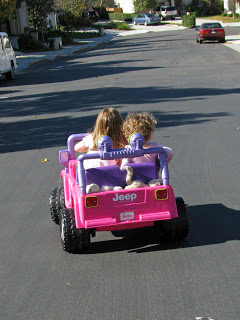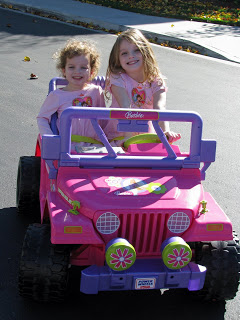 New Christmas toys!
My girls have been so content to stay at home and play with all of their new stuff. Almost a little too content. They have been protesting leaving the house, getting dressed, and having their hair done. So much so that I have just given up on it! Here they are riding around the neighborhood mid-day in their new Barbie Jeep with wild hair and pajamas still on. Oh well…they're happy! (love that they take their kitty cats in the back of the jeep on each ride)
Automatic pencil sharpeners
Fun Date night.
We explored "Little Italy" in downtown San Diego Saturday night and found the best little Italian
restaurant
. Good food with good friends!
Sunday walk with my family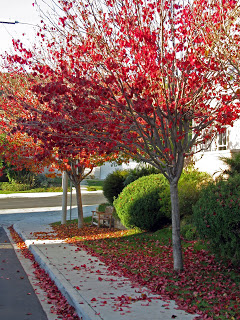 Speaking of Sunday walk,
we are finally enjoying Fall
… in January. The Seasons are so messed up here! In October when you want a chill in the air and colorful leaves, we're sweating in our Halloween costumes. In January when it's supposed to be "hole up in your house by the fireplace" weather it's warm and the leaves drop. Then in June when everyone else is at the pool, "June Gloom" sets in on the coast leaving it cloudy and cool. Through it all the temperature only varies by about 10 degrees. Takes a little getting used to…but I love it!
Jack Johnson.
I've loved listening to Jack Johnson lately when we are home just cleaning and doing our thing. Mellow, happy music – it just seems to set the right tone. I'm hoping that playing music in the house more will help me keep one New Year's goal – less TV. (For the girls of course. I'm not giving up any of my regularly recorded programs.)
Speaking of regularly recorded programs, I'm loving
The Mentalist
. I developed a slight crush on Simon Baker in Devil Wears
Prada
– had to check him out in this Fall's new drama.

Ellie's Saturday morning cartoon of choice these days is
Smurfs
. Takes me right back to my childhood and I find myself still captivated with
Brainey's
brains,
Smurfette's
cuteness, and Papa
Smurf's
infinite wisdom.
My new Teacher's Plan Book. Not teaching again… just had an "ah ha" moment and realized it works great as an every day planner with room for to-do lists on the side.
Phone calls with my mom.
My mom and I each set a New Year's Goal when we were together over Christmas that we weren't going to talk to each other on our cell phones when driving. Even though I use my earpiece (California law you know) it's still dangerous. And there's the fact that when talking on my cell phone while driving I've been known to miss a freeway exit…or two or three. So my mom and I had a good laugh when in the first week of January she called and we were both in our cars…and of course HAD to discuss something. We'll try again next year mom!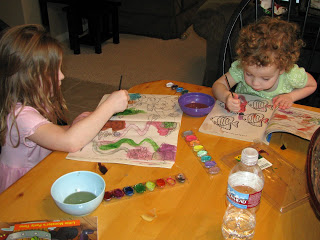 Love my little Picassos!
I've heard some buzz about picking out a word each year for a New Year's goal…a word that describes what you want to focus on for the year. I've decided that my word for 2009 is going to be "ACTION." I'm great at planning, making lists, and thinking about projects I'd love to do, but not so good at just diving in and getting them done. SO…this is going to be my year to complete things I've been planning to complete for quite a while now. Wish me luck!!! ***Nice that when I told Kenny my word for the year he had a VERY different meaning in mind. This is a G – rated blog so I won't go into details. :)
xoxo, Erin