FIRM PARTY

Happy Halloween everyone! We had a great one this year. Ellie was a Pumpkin Princess and Addison was a Ballerina Princess. These are some pictures I took at Kenny's Law Firm. They have a Halloween party every year so the attorneys can show off their kiddos. Kenny had fun showing off his princesses. :)
Addison wanted to be a ballerina so badly and was in love with herself in this costume! She hasn't taken if off all week and is constantly dancing and pointing her toes.
Climbing the rocks…wouldn't want to be too lady like now would we???
The whole fam
TRUNK-OR-TREAT
As for Kenny and I…we came up with some last minute costumes for our Ward Trunk-or-Treat Party. We decided to go as "ourselves from High School." I know – pretty scary, right?
I had a great time ratting my curly hair. My hair SO wants to look like this every day. It took me 10 minutes to do. As far as the dress goes…I bought it when I was fifteen and the waist was SO freakin' tight! I could hardly breath in it! I felt like Elizabeth Swan on Pirates of the Caribbean and told Kenny to not be at all surprised if I passed out. At least I got the thing zipped up (with amazing strength on Kenny's part!). Babe – loved the pegged pants and Letterman's Jacket (go Flyers!). I have a lot of great memories of you in that jacket. Most of which I won't be mentioning on the blog. ;) The girls LOVED my hideous prom dress (the puffier the better) and thought it made me the most beautiful princess around. Only Addison was wise enough to mention "you have funny hair mommy!" Car – I know you're loving this look since you teased us about the way we looked back in the day when we thought we were cool!
Girls with their daddy
Girls with their friend Cinderella
All four of us. Quite a random group!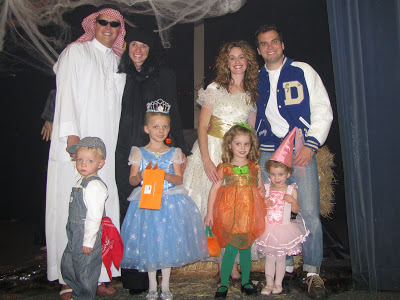 Crazy Crew! My friend Angie is dressed in all black with "OIL" written on her cheeks. Very creative guys. :)
PARADE AT ELLIE'S PRE-SCHOOL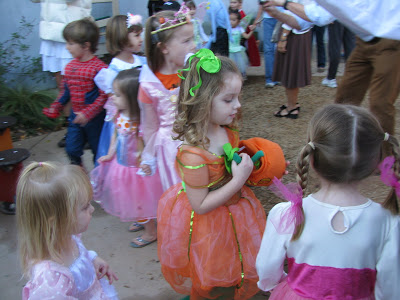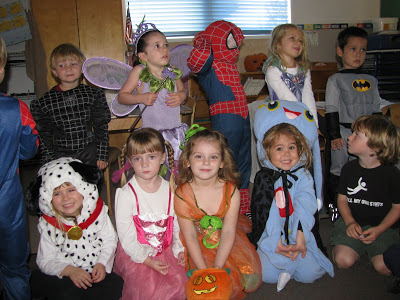 Ellie with her cute Pre-K friends
TRICK-OR-TREAT! HALLOWEEN NIGHT…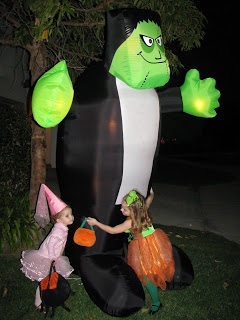 The girls LOVE LOVE LOVE our huge Frankenstein. They get seriously attached to this guy each year and want to hug him good night before bed and check on him first thing in the morning!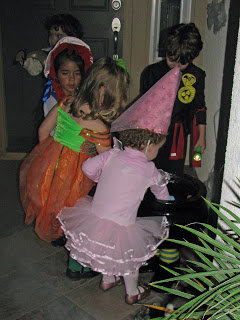 Time for trick-or-treating!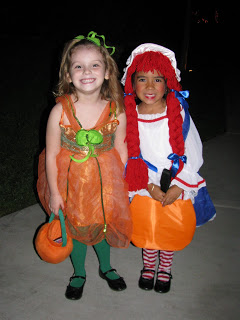 Ellie found Raggedy Ann (a neighborhood buddy) and the two of them were off! Addison stuck with mommy and at several houses that had a spooky feel would say "that's too scary for me mommy!" We chose our houses wisely. :) Then after each house she'd hold out her candy and say "can you open this mommy?" Funny that she is SO into the candy. Ellie never was at age 2. She just wanted to organize it into piles (a girl after my own heart).
Assessing the loot. Another great Halloween!
xoxo, Erin