Ok…here are my good things for last week – in no particular order…

Seeing Shawn Johnson win the gold medal on the balance beam
was amazing. I completely fell in love with this girl during the Olympics. The smile on her face after she finished that routine said it all. Then it shows her darling mom and dad hugging and crying in the stands and Bob
Costas
starts talking about how they had to
mortgage
their house several times to keep her in gymnastics….(
you had to go there didn't you Bob).
I bawled like a baby. Go Shawn! Thanks for representing America so well. (Such a cute little bunny face…I just want to give her a carrot)
Lunch Ramblings – Ellie said to me during lunch "I'm full eating those mommy (pointing to her veggies), but I'm not full eating those (pointing to her fishy crackers)." Then when Addie refused to eat her turkey she tried to persuade her by saying "Come on Add…it's really bubble gum turkey!" Addison then ate every bite.



A trip to Costco was a very good thing this week. First good thing: I made it through the store with BOTH girls staying in the cart the entire time (with the help of various snacks). That never happens. Second good thing: Fall stuff has arrived! So fun to cruise up and down the aisles looking at Fall paraphernalia and Halloween decor. It's so boring in the summer with nothing to buy but diapers and toilet paper. I bought the most beautiful Fall wreath. Before you know it, all the toys will be in for Christmas! I know some people get annoyed that the stores start selling holiday stuff so early – just a ploy to get the average consumer to spend spend spend. Well this consumer LOVES IT! Costco just got really fun again.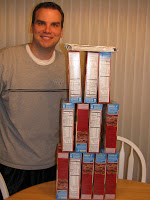 Bran Chex. I so love my Bran Chex. I've never been a breakfast eater. I'm just never hungry in the mornings and I don't like pancakes, eggs and the usual breakfast menu. But I know…breakfast is the most important part of the day…blah blah blah. So I try to eat breakfast. The only thing I like to eat in the mornings are Bran Chex. So imagine my panic when at one point our local grocery store stopped carrying them. I shopped around and couldn't find them anywhere! Kenny came to the rescue and for part of my Valentines Day present last year gave me this Bran Chex pyramid. He had ordered them from Amazon.com! What a doll. We've been ordering them by the dozen from Amazon ever since and each day I eat a healthy breakfast. Plus we count it as our food storage. If there is any type of major disaster, Bran Chex will keep us alive. It's a win win. Love my Bran Chex.
Mat. Mat sat. Sam. Sam sat. Mat sat. Sam sat. Mat sat on Sam. Sam sat on Mat. Mat sat. Sam sat. The end. These are the words from the first book Ellie read. My Ellie is starting to read! I've been working with her for a year on letters, sounds and handwriting and each night Kenny tucks Ellie in and reads to her. A few nights ago Kenny called me up to her room at bedtime and Ellie read her first little book that they had been practicing. It was so cool! I helped teach many children to read teaching school, but nothing feels as good as when you first hear your own child sounding out letters and reading. Unreal. The three of us did our happy dance around the room. This wasn't just a good thing…it was a great thing. I love you Ellie – I'm so proud of you!!!
xoxo, Erin