So today is my 31st birthday and although I'm not THRILLED to be 31, I've been having such a fun week! Over the weekend, Kenny took me to the Pantages Theater in L.A. to see the play "Wicked." (My mom is here visiting during her Spring Break and she was so sweet to watch the girls for us!) Wicked was incredible! Larson fam…you were right! The play was absolutely amazing. The music, singing, acting, costumes, set, plot…all of it was so captivating. We loved it! I highly recommend this play to anyone who hasn't seen it yet. Of all of the plays I've seen this was by far my favorite. Kenny and I had a great trip and especially enjoyed some time for just the two of us!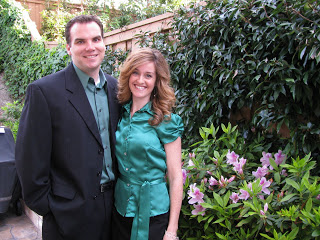 On our way to the play…decked in our "Wicked" green attire!

Inside the Pantages Theater…

Free printable of the paint colors throughout my home!
Enter your name and email address to get instant access to my paint colors along with other free organizing printables. More will be coming soon!
Exclusive to subscribers!