This has been such a fun week! My mom came to visit during her Spring Break. If you know my mom well, you know that it is always a party when she is around! She has such a "yellow" laid back, happy personality…she can make doing laundry fun! She is also a HUGE help to me when she comes to visit. She plays with my kids, cleans my house and is great at helping me mellow out. Those of you who know ME well know that I can be just a LITTLE bit of a perfectionist…just a little…once in awhile. :) My mom and I love hanging out together! Here's what we've been up to…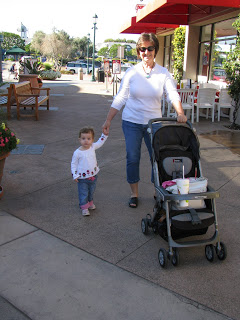 Of course one of the main things my mom and I love to do together (especially in San Diego) is go shopping! We've done plenty of it this week… I love this picture because it is SO my mom. Stroller in hand…ready to hit the outlets! (Sorry dad and Kenny…looks like we'll be eating Ramen Noodles for a week or two!)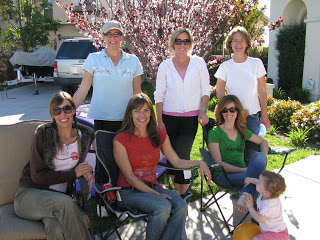 I loved just having my mom here with me in my typical day-to-day routine. She took this picture at our neighborhood playgroup. Some of us moms in my neighborhood get together every Monday afternoon so the kids can play and we can chat. I have such cute neighbors! We have been getting together for about three years now and have all become great friends…so have our kids!
It was a picture perfect day at the beach. So warm…hardly anyone was there. Ellie was having a great time playing in the water with grandma. I was relaxing with a magazine. Addison was having fun in the sand…UNTIL…
Once she realized she was dirty she was so done with the beach! She started crying and WOULD NOT stop. I did everything to try to distract her. Nothing worked! Not even my usual tricks – fruit snacks and drinking water from a bottle. I even walked up on the grass to show her the train going by. She was not having it. She wanted to leave the beach and that was that!

Free printable of the paint colors throughout my home!
Enter your name and email address to get instant access to my paint colors along with other free organizing printables. More will be coming soon!
Exclusive to subscribers!