*This post is sponsored by Walmart. All product selections and opinions are my own!  
Made it through the week! One day at a time over here. I can't thank you all enough for your sweet comments/messages after my last post. Your words of kindness, encouragement and "I feel your pain but it does get better wisdom" were just what I needed. THANK YOU for always being such a soft spot to fall. Things will feel sunny around here again in no time.. I'm sure of it. :) In fact today was a better day. I only cried once (progress). I also cranked up my air conditioning, lit my spice candle and started dreaming of all things fall!
Then I made a fun fall treat for my crew and some friends. I ordered a set of these beautiful stoneware dishes months ago from Walmart and was saving them for fall. When I recently ordered some groceries on-line I saw that there was a matching set – pumpkin stoneware! The cutest pumpkin jar and lid along with four pumpkin bowls for just $24! I ordered two sets immediately and can't wait to use them for entertaining and for soup! Nothing like hot soup in a pumpkin shaped bowl when the temps drop. That usually doesn't happen until November for us so until then..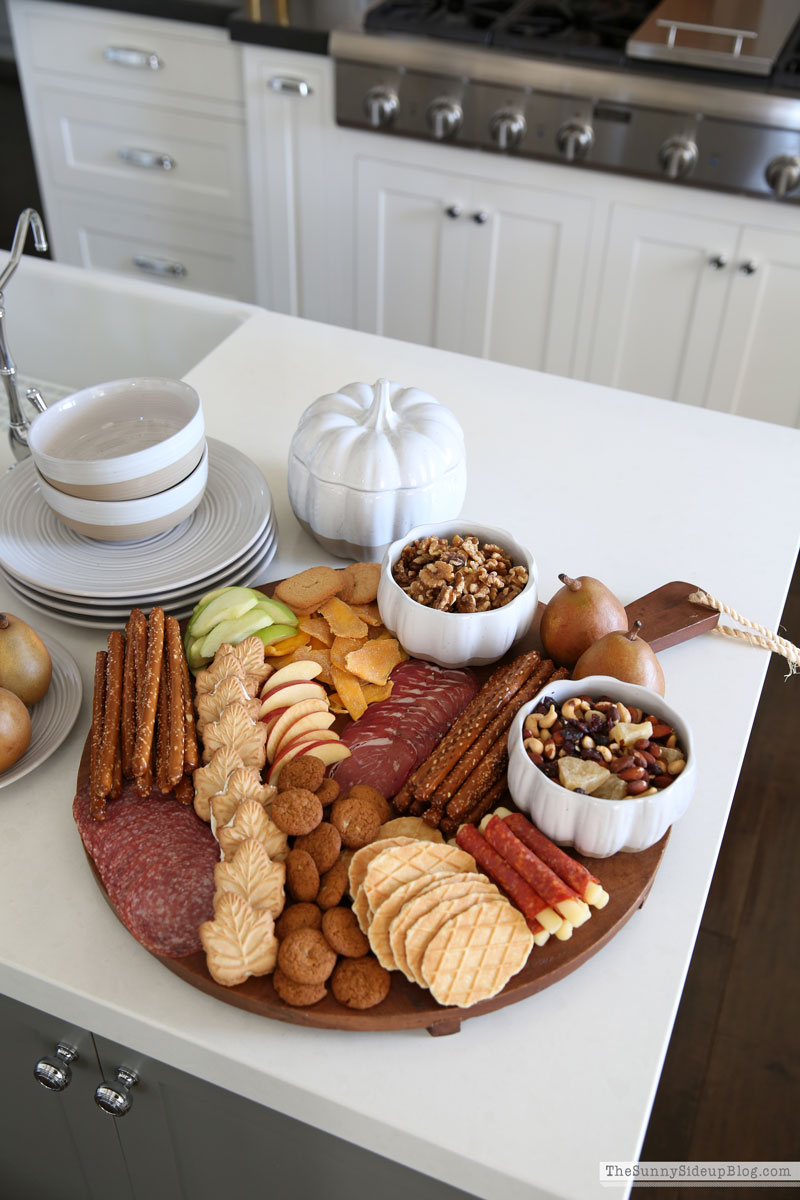 I will use them to make fun charcuterie boards. My idea of cooking! I put nuts in my cute pumpkin bowls and then just added some fun fall snacks. And by "fall snacks" I just mean anything that has warm fall colors. If you can find leaf cookies too.. bonus. :)
I added pears and various cheese options on a separate plate when it was time to eat. So fun right!? It was delicious and made us all feel excited for the upcoming season.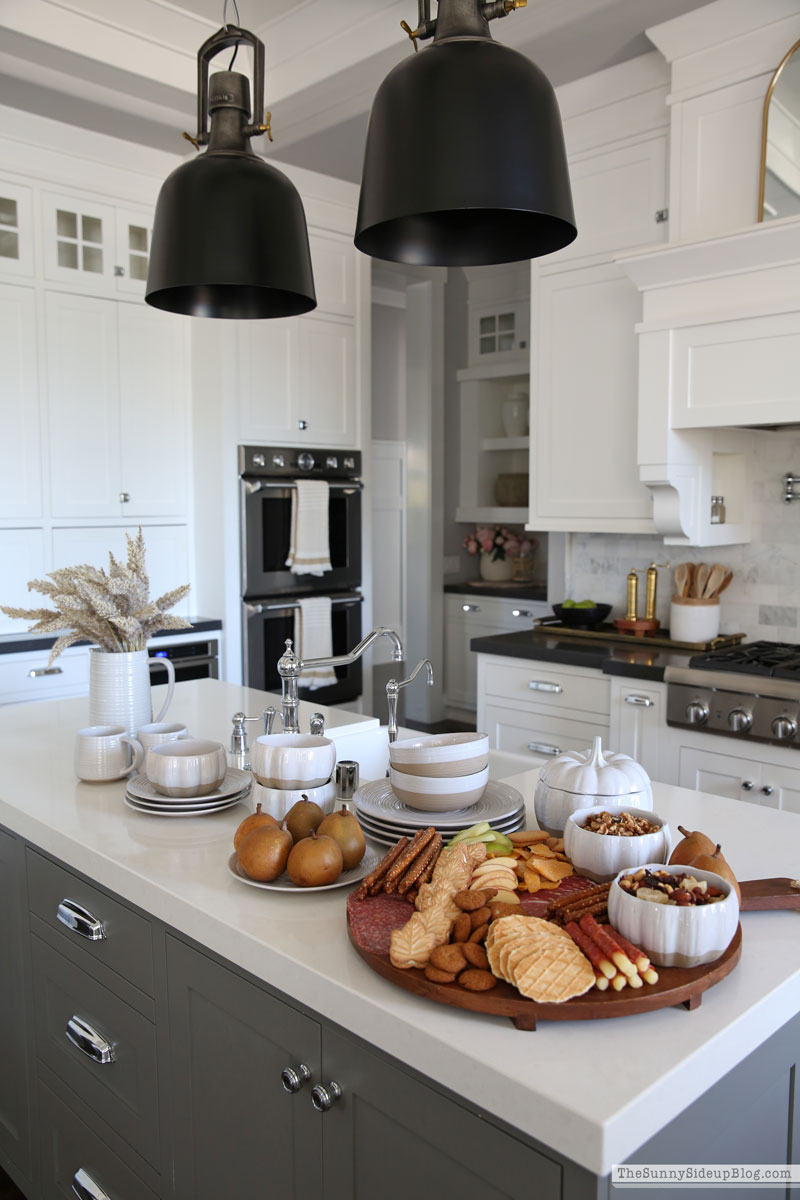 I also ordered this matching stoneware pitcher to hold fall leaves or grass. Such a fun set! Aside from being perfect for charcuterie boards, soup, treats and entertaining, these dishes will also look beautiful displayed in my kitchen and will double as fall decor. That's always a win in my book!
We are taking wins pretty seriously at my house at the moment. :)
This weekend I'll be cranking up the air and pulling out more fall! Have you started decorating yet? Once my kids get in a good school routine it is always GAME ON for me. Speaking of game on.. football is coming! I love football season because Kenny is always in the BEST mood when football is on. Which usually translates to more fall decor and pumpkin dishes for me. Below are a few more Walmart fall favorites! I love everything in this collage and already ordered the rug and baskets!
I'll pull those out during a game.
;)
1-round jute rug   2- bamboo cutting board   3- rattan pendant light
4- candle   5- flatware set   6- floor lamp   7- stripe rug
8- round dining table   9- rattan dining chair   10-storage basket set
{POST SOURCES}


xoxo, Erin