*This post is sponsored by Walmart. All product selections and opinions are my own!  

So excited about today's post! I finally got my fridge organized! Ok.. let's talk fridge organization quick before I show you my before and after. I'm usually able to keep my fridge mostly clean. Every time I get groceries I do a mini clean out.. toss anything old/expired, wipe off shelves, place new items in their general spot. I've never really bought a lot of organizers for my fridge for two reasons. One – we have a Thermador fridge and the shelves aren't very deep. I've struggled to find organizers that would actually fit! Reason Two – I don't want anything in my fridge that isn't practical. Sometimes I see fridge bins and organizers and I just know that while they make the fridge look beautiful, I won't be able to maintain my fridge using them. I think I've finally found the perfect organizers that not only fit in my fridge but will also be practical for our family! The Home Edit (love them!) came out with a new line of organizers at Walmart and seriously they are SO GOOD! You can see above that I ordered lots of options to play with. :)
Remember I said I usually keep my fridge mostly clean? Well the past month has been an exception.. ha. :) Summer is taking its toll! We've been on the go a lot and I completely stopped maintaining our fridge. When I let areas like my fridge go my family certainly doesn't pick up the slack! I needed groceries and the fridge was a mess and we have been eating a lot of take out. I was craving healthy food and so ready to give my fridge a deep clean! I bought groceries and then came home and got to work.
An hour later my fridge looked like this..
Ahhhh! I'm seriously giddy about this makeover!
For starters I took out the one fridge organizer I was previously using. It held our Coke Zeros but half of the time we weren't using it and would just set the Coke's wherever there was room. I knew I wanted to just set them on the shelf. Keeping things easier to maintain was my goal! Coke Zero's now go on the top right shelf. Easy and done. On the second shelf I placed these narrow bins. They fit perfectly on my shallow shelves (hallelujah!) and are great to hold random items like Kenny's protein drinks, yogurt, my balanced break snacks, feta cheese, etc. I'm not labeling anything because our groceries change so they will just hold whatever we are buying and eating at the moment!
Above and below the narrow bins are these food storage containers. I couldn't love these more! They come in 3 different sizes and can all stack on top of each other. The lids fit and seal so nicely and I love that they are so narrow! Perfect to save space in a fridge or pantry. You can buy this 3 piece set with one of each size OR buy them in groups separately which is what I did. You can order a pack of 4 large canisters, a pack of 4 medium canisters, and/or a pack of 6 small canisters.
I know that it's best to wait to cut up fruits and vegetables until you are going to eat them but here's the thing with my family.. if healthy snacks are cut up and washed and ready, they will be eaten immediately! Snacks like this don't last long in our house so I never have to worry about keeping items like this fresh or wondering when things expire. Just to be safe I did put a piece of paper towel at the bottom of each container (a little trick – they absorb moisture and will keep your produce fresh longer!). 
These canisters will be perfect to always hold fruits and veggies I usually buy and I can just use as many as I need after each trip to the grocery store. The tall canisters are also perfect to hold Kole's go-gurt. :) I always buy just one carton of eggs and I left a spot on the second shelf for them. There are so many egg organizers I've considered buying over the years. They are beautiful to look at but I just know me and I will grow tired of taking eggs out of their carton to put in an organizer! Also unlike the fruit/veggies, we sometimes don't eat all of our eggs and I need to know the expiration date.
I placed one large open bin that I bought as part of this laundry organization set on the bottom shelf to hold random items. I'm making fajitas this week so it's holding peppers at the moment, but I can use it for anything or take it out if I need room for leftovers. I ordered another set of the tall canisters to hold our spring mix and spinach so I'll add those when they come. Those two items are staples in our fridge because Ad and I like to make salads with the spring mix and the spinach is for her bearded dragon (yes.. Peaches is still alive and doing well if anyone was wondering). ;)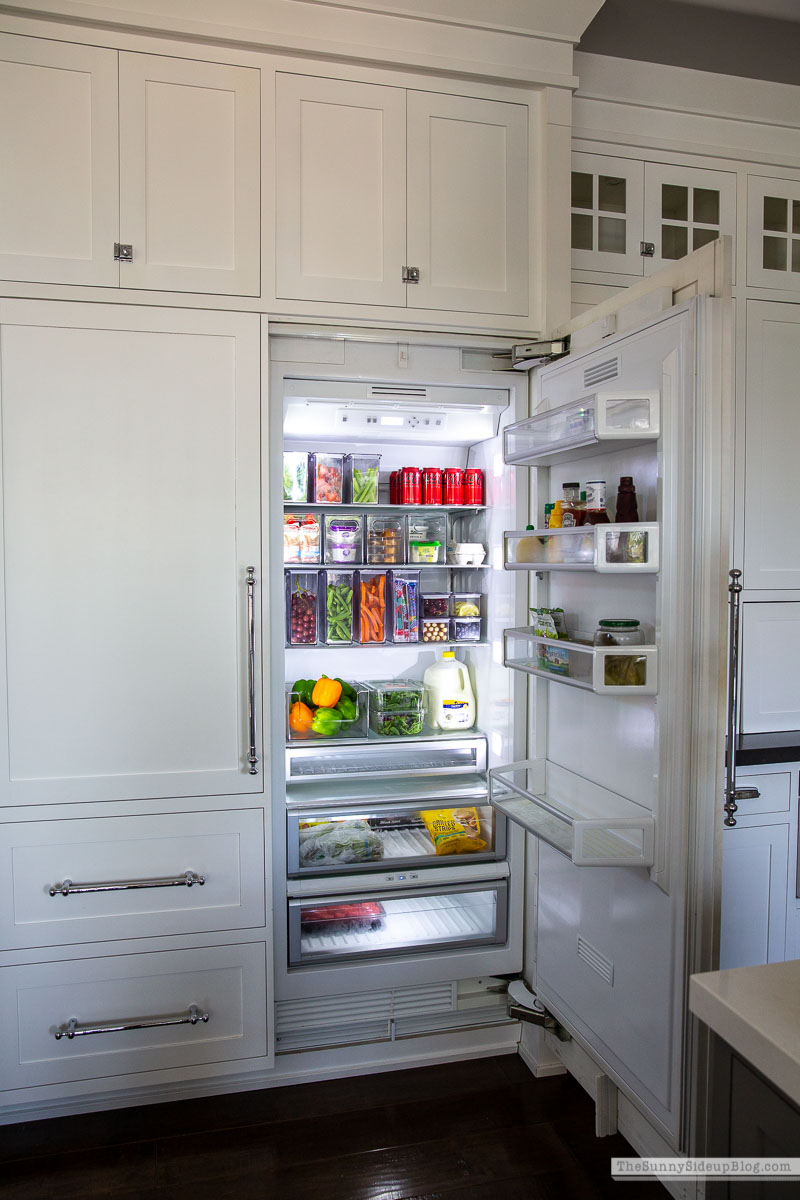 I kept my bottom door shelf empty so I have another spot for leftovers or other random items that don't fit in the fridge. I also have the two large drawers below for meats and other things. This makeover feels AMAZING. I am so happy every time I open our fridge and I know having these beautiful containers will help motivate me to keep healthy snacks washed and ready to eat. I know it will also help me to see what we're running low on when we need groceries. Kenny and the kids are loving this makeover too and I'm hoping (fingers crossed!) this helps them see where items go so that they put things back where they belong and help keep the fridge clean. One would hope! Ha. I'll keep you posted on that one. ;)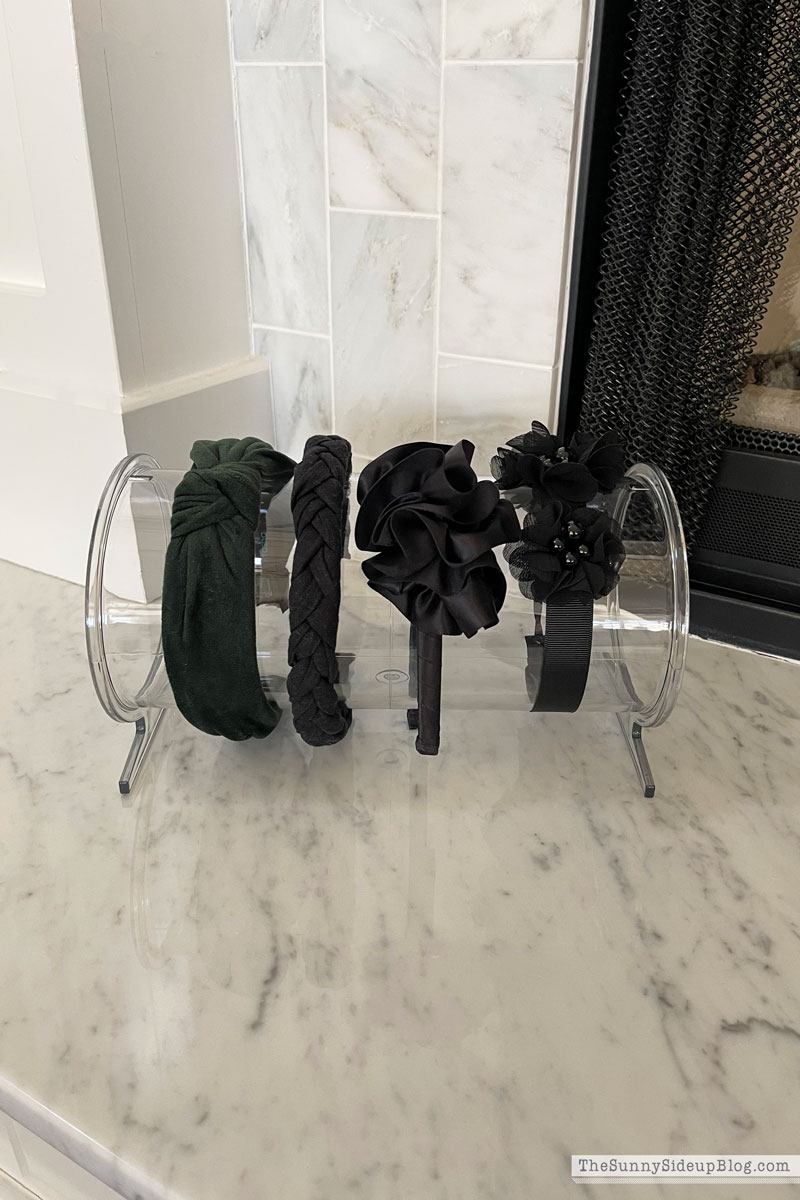 The fridge/pantry containers aren't the only item I'm obsessed with in the new Home Edit collection.  Check out this headband organizer! It just came today and I hurried and put a few headbands on and snapped a pic with my phone in the evening to show you. I especially would have loved this when my girls were little! We had headbands everywhere! You can also get this narrow bin with a cute little slider tray to hold scrunches and other small hair clips and essentials. They also came out with a storage bin for hair tools and this great option to help organize bathroom drawers. So good right!?
I also couldn't resist ordering these thin wood hangers to try! You can buy them in black or natural and get either a pack of 30 or a pack of 12. I can't wait to try them which no doubt will lead to ordering more. :) I've linked other favorites from this collection below!
Ahhh organization. Like the cut up produce in my fridge.. it just never gets old.
;)
{POST SOURCES/FAVORITES}




xoxo, Erin