*affiliate links used

Happy Sunday! We've had such a great weekend with my beautiful Ellie graduating! It has been a whirlwind of tears and excitement and I will share more soon! Today I'm chatting about some ideas for summer outdoor dining. I recently worked with Anthropologie and had so much fun putting a summer table together with some of their beautiful products!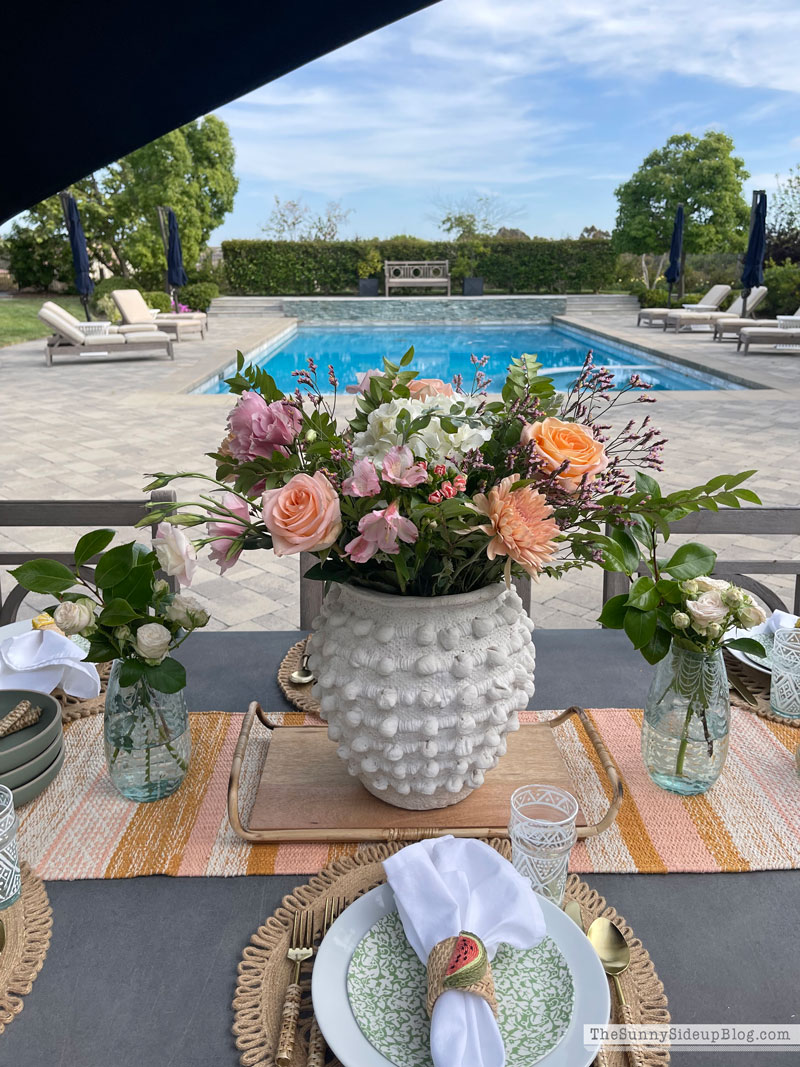 You all know how much I love my minka pot. :) I used the medium size as a centerpiece and then just arranged some pretty flowers from my grocery store. The cute cheese board it's sitting on is another favorite I've had for a while (I need to share how I use it in my kitchen as decor!). Perfect for a centerpiece or to hold cheese and crackers.
I like using a runner with this outdoor table and fell in love with the fun colors in this runner. It's short for my long table but I love seeing the tassels on top! Still a fun look even if it isn't hanging off the sides and I like having something to set decor and food on in the center. This exact runner sold out but this nectar striped table runner and this tesse table runner are very similar with the same fun peachy color for summer.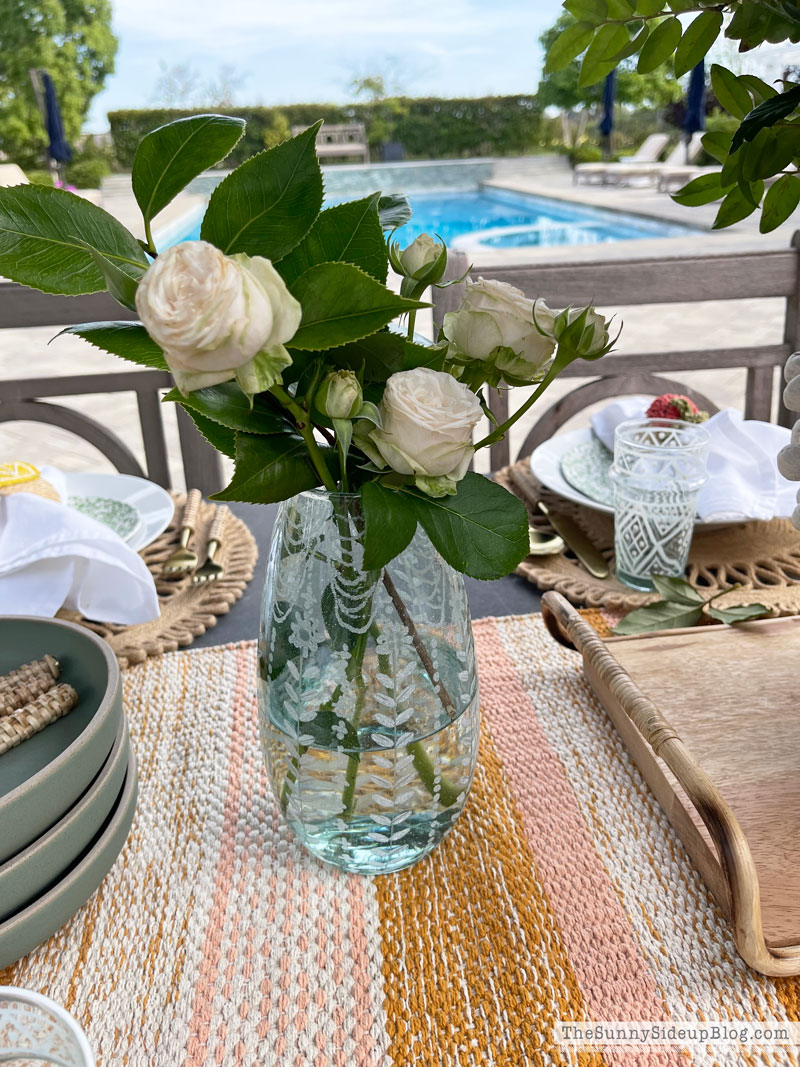 I placed two of these glass bud vases on the sides of the pot with a few roses for a little something extra. They are so beautiful and summery! Is summery a word?
For this table it is. :)
This stunning raffia glass jug is perfect for lemon water. Just like my recent rattan glasses this will be beautiful on a kitchen shelf as decor when I'm not using it to entertain.
Speaking of all things rattan.. how fun is this flatware!? A bit of a splurge but I know that I will use this over and over for years. Rattan is perfect for summer but also spring and fall too! I've never met a rattan item that wasn't love at first sight.
I used my long time favorite jute chargers (perfect for outdoor dining!) and then a simple white plate with these pretty green side plates for salad. They come in a few colors and green won me over. So did these fruit napkin rings! Seriously are they not the most adorable summer table accessory ever!? I mean look at that lemon! We can pretty much just state that if it's green or rattan or a lemon it's going to win me over and I'll be sharing it and we can end this blog right now.
No surprises coming from me. Ha. ;)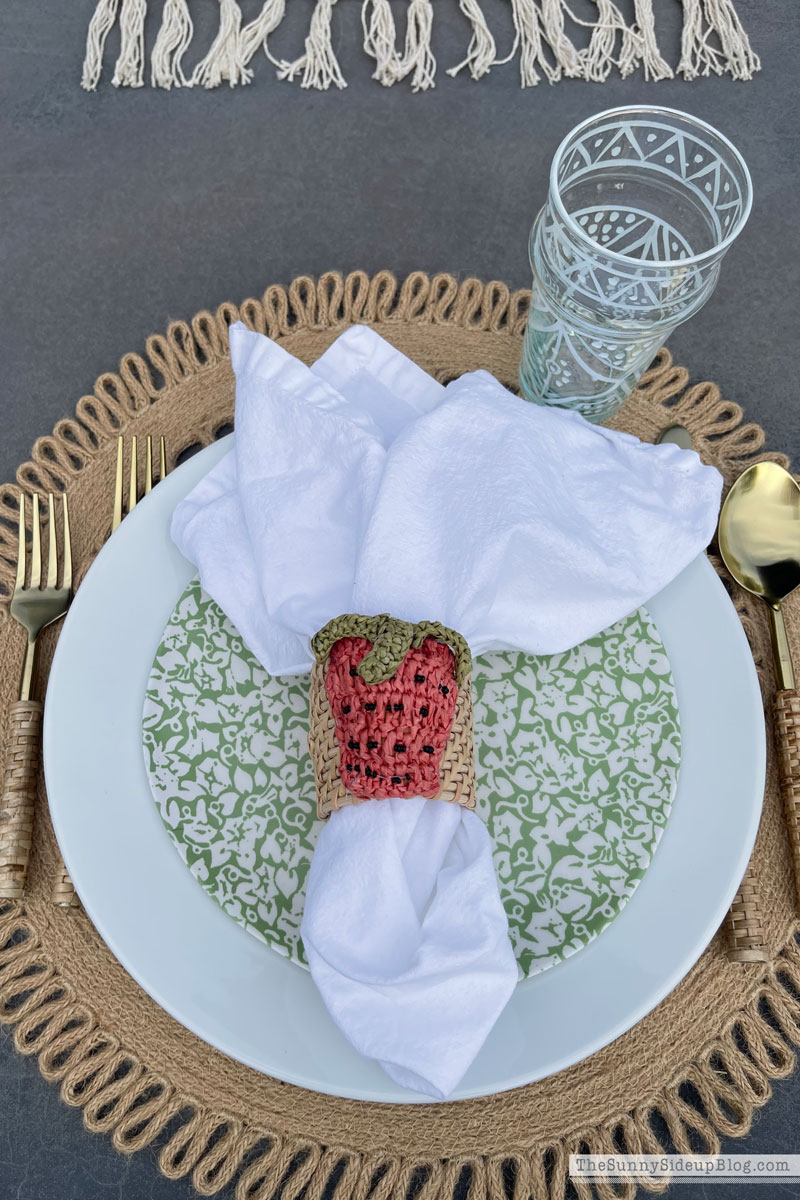 They come in a set of four and I have to show you every individual napkin ring because I couldn't love them more. Here's the strawberry.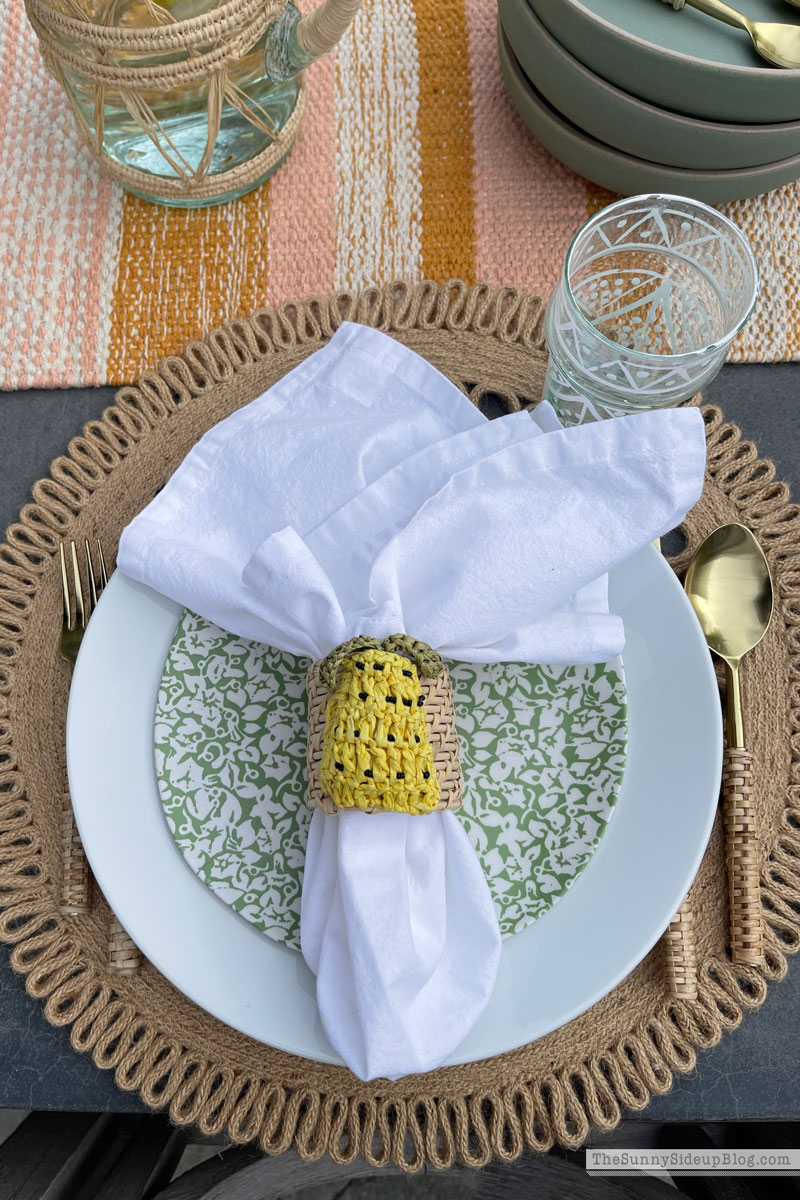 And the pineapple.. are you in love yet!?
If not you are now after seeing the watermelon! SO good for a summer table right!? I love these napkin rings so much I am willing to COOK just so that I can entertain with them. I probably won't. I'll get take out again for my guests because I like my friends and want them to come back.. ha. But we can say that I cooked. That's how much I love these napkin rings.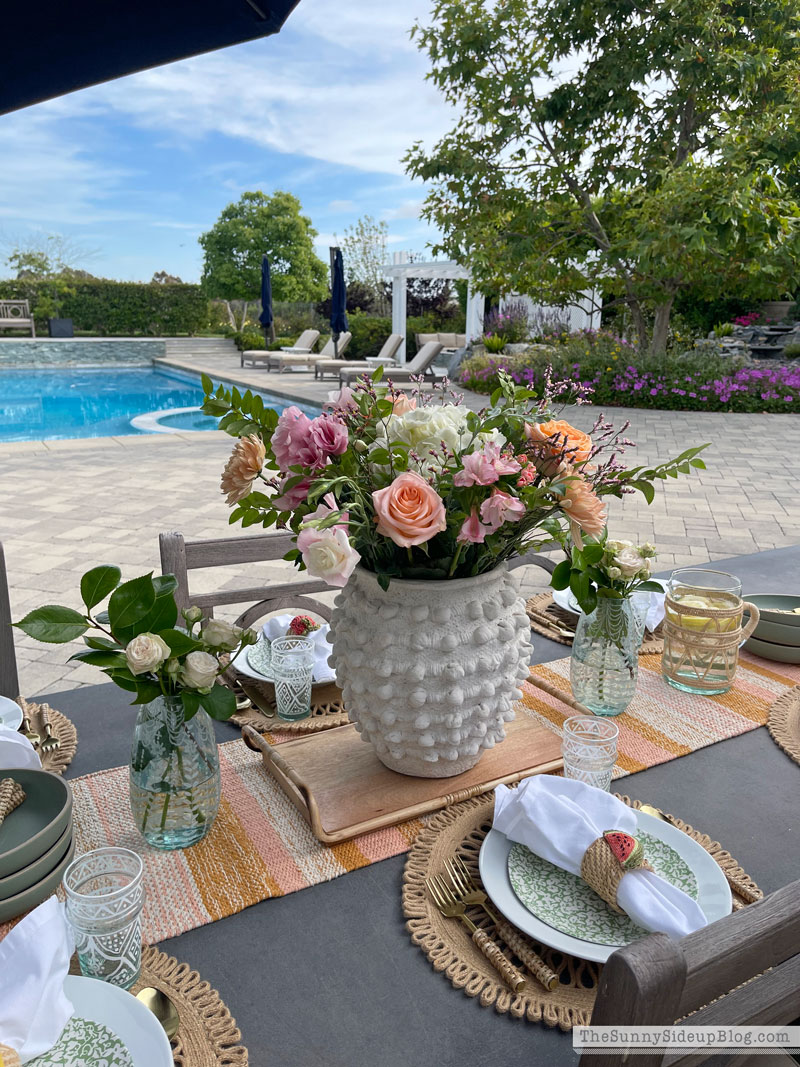 I used these moroccan glasses because the design on them adds a fun pattern and whimsical look to the table adding to the "summery" vibe.
I also picked up two sets of these hayes pasta bowls. Aside from pasta they will be fun for soup or dessert. They are nice and heavy (such good quality!). Of course they come in lots of colors. Of course I chose green. They match my salad plates and help pull my table together. I would call them a need. My husband would call them a want.
He isn't invited to this dinner. ;)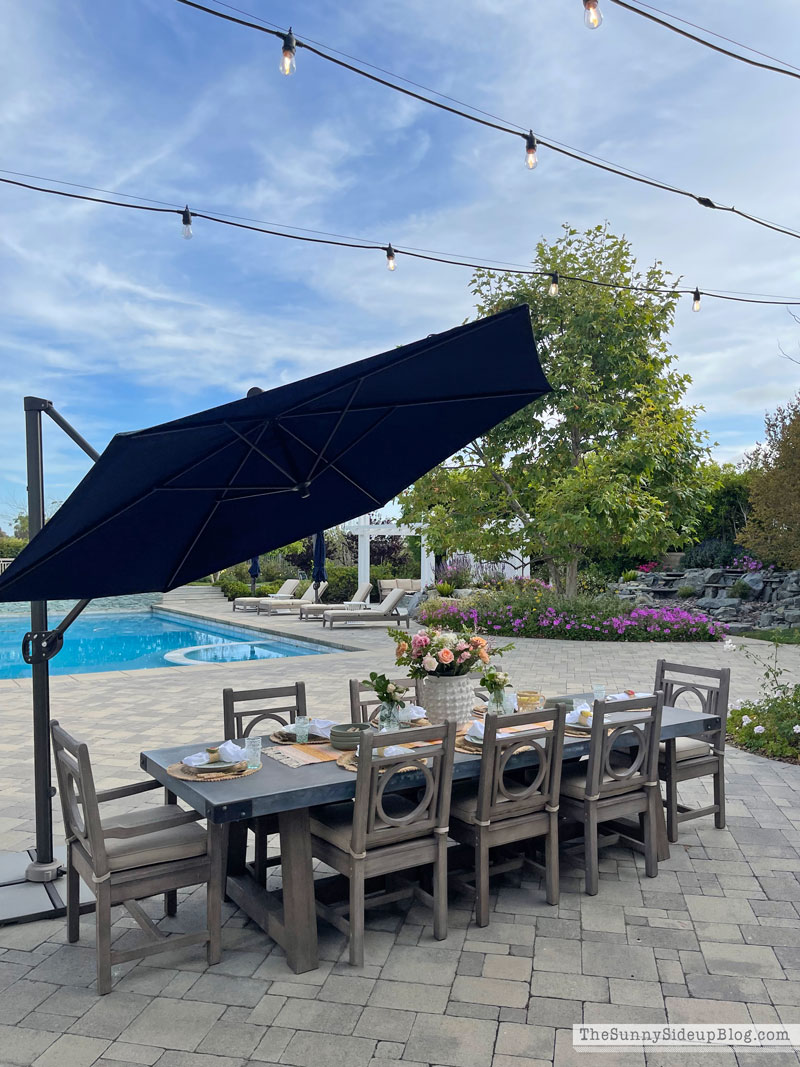 All joking aside it was a dream to create this tablescape! I love Anthro home decor. They carry items that add the perfect amount of whimsy and fun to any space.
Of course they have fabulous clothes too. If we're pulling out the green dishes we might as well add a matching summer dress!
This linen maxi dress is beautiful! The style is so flattering for any body type and it's very comfortable. It has pockets and comes in seven colors! It's a popular item and is selling fast. I probably should have tried petite for the length but it was sold out in my size so I'm wearing a regular xs for size reference (I'm 5'3 and a half).
I have no doubt that this dress and this tablescape will be on repeat this summer!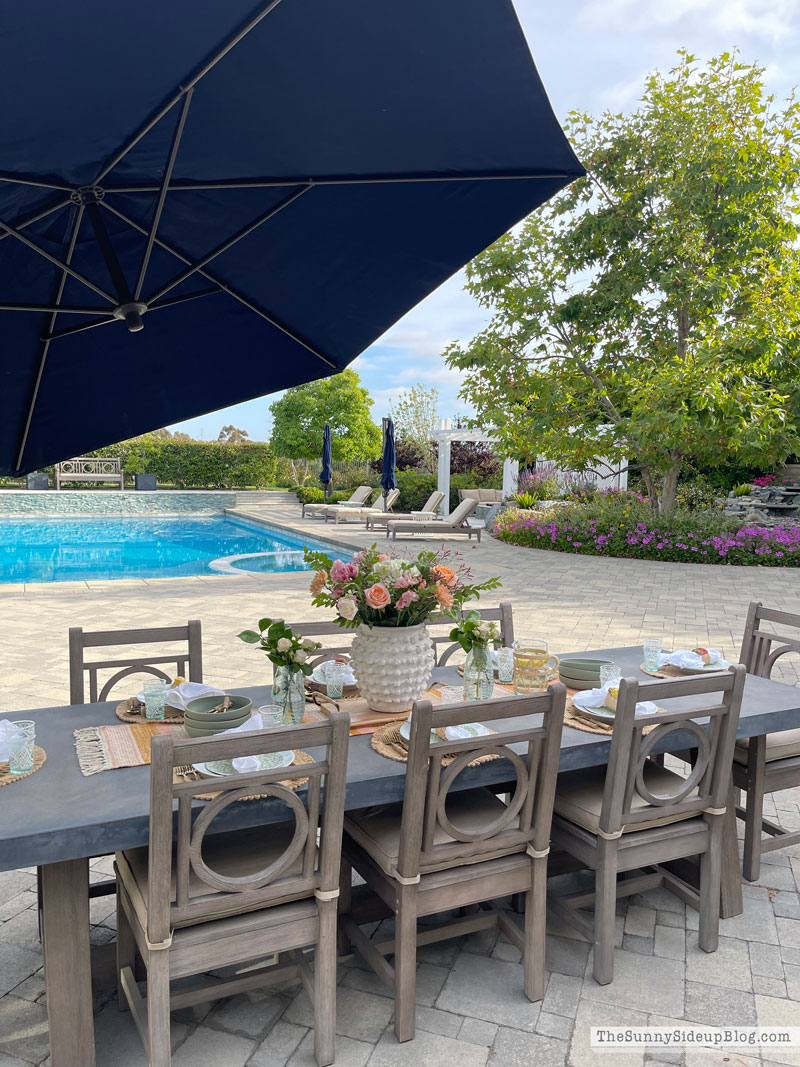 There's something so special about sitting around a table with friends and family outside in the summertime isn't there? Talking and laughing and watching kids play. It's one of the things I look forward to most about this time of year. What you serve to eat doesn't matter and really the table decor doesn't either. Spending quality time with loved ones is always the goal.
But cute fruit napkin rings never hurt.
;)
{POST SOURCES}



xoxo, Erin