*Huge thank you to Walmart for sponsoring this post! (Affiliate links used)
I don't know what it is about summer that makes me crave SIMPLICITY in my decor.  Maybe it's the constant kitchen counter mess from making 87 snacks a day.  Or the legos covering all of my coffee tables.  Or maybe it's the pool towels draped over all of my dining room chairs.  Ok.. I guess I do know what it is about summer that makes me crave simplicity. :)  Summer is messy.  It's full of happy messes that I welcome and am grateful for.  I love low key summer days with my kids all home!  But there's no denying that the house is full of clutter this time of year and it always inspires me to get rid of all of the "extra" that I can control.  Less stuff on my counters.  Less decor on my shelves.  Even less throw pillows on my couch. (gasp)
Light and bright and less!  That's what I always crave in the summertime.  It inspires a lot of purging.  A lot of organizing.  And a little refreshing. :)
My previous mudroom rug was beautiful and I still love it, but it was a dark blue and I wanted to brighten this space for summer.  I was so excited to find this Safavieh Geometric rug on-line from Walmart!  I love the print and it comes in so many sizes.  Mine is the 2'6 x 8 and was only 36 bucks!  Perfect for a little summer refresh.  The second I laid it down my entire mudroom felt lighter and larger to me.  I'm always amazed at the difference a rug makes!  It's hard to tell in this picture but the gray tones in the rug work so well with my paint in this room too.  Score.
But the best part about my new rug?  It's thin and fits under our garage door!  Oh happy day.  My last rug was really thick so every time we opened the garage door it just bunched up in the corner.  Being able to fully and easily open this door that we're in and out of 20 times a day makes me so happy!
It's the little things. :)
I had several pillows on this bench and it felt so good to clear them all out for this one simple throw and pillow to match my new rug.
(Khaki Diamond Throw Pillow/Belham Gray Striped Decorative Throw)
I love the tassels on this throw and the textured diamonds on the pillow.  Beautiful neutrals.  They calm me. :)  Walmart has really impressed me lately with their on-line home decor selection.  Cute stuff for great prices.
I also picked up two of these Natural Jute Baskets.  This is the 15×15.  I love the way these baskets slouch!
I have something fun to hang on this wall between the two doors, but I've always felt like this room needs a plant!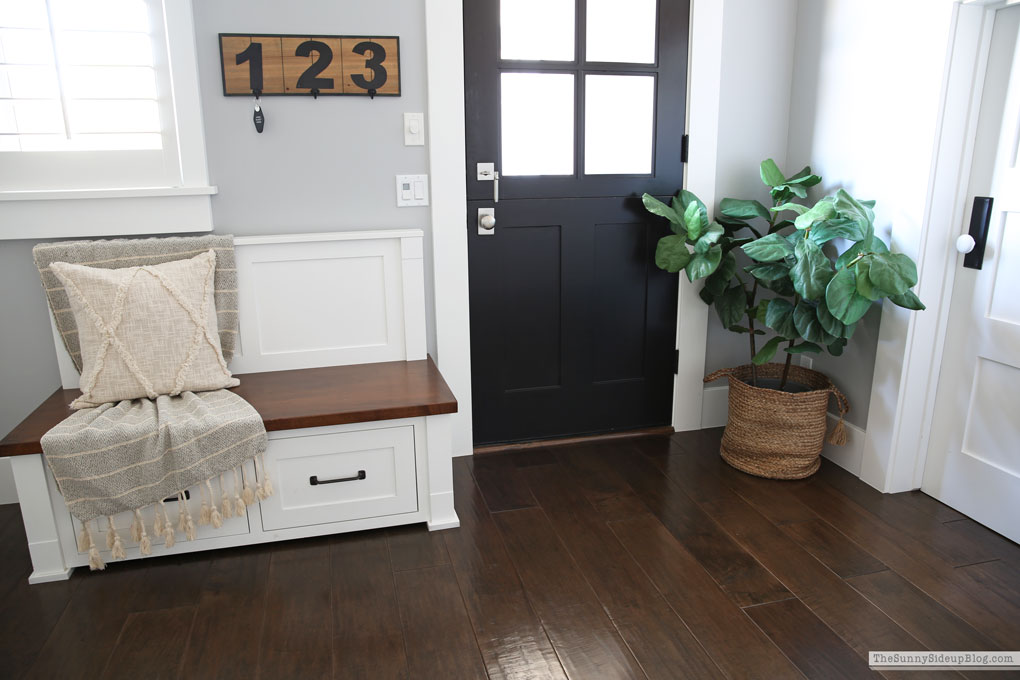 The greenery adds a lot of life to this space with all of the new neutrals so I'm still debating what to do with this corner.  Loving the way it looks at the moment!  Plus now there's room for a nice set of legos on my mudroom bench. :)
(Dina Natural Woven Cotton Square Pouf – marked down to $135!/Felicity Fringed Boho Pouf)
Couple other fun Walmart finds I'm playing with in different rooms in my home.  They have the cutest selection of poufs!
I'm loving this simple, inexpensive summer refresh in my mudroom!  I'm also thinking these neutrals will work so well for Fall.  I can add a pop of orange with a pumpkin or two and call it done!
Suddenly I'm excited for football. :)
{POST SOURCES}


{OTHER WALMART FAVORITES}


xoxo, Erin