Happy Monday!  I hope you all had a great weekend!  We lucked out with perfect party weather and Kole's 9th birthday party was a hit!  When I asked him what he wanted for a birthday party this year he said he really wanted everyone to come over to our house to jump and could we please get a bouncy house.
So that's exactly what we did. :)  This boy of mine still loves to jump which makes me happy because I know our bouncy house days are numbered!
He didn't want a specific party theme like Star Wars or anything so we decided to just decorate everything with the colors that were in the bouncy house he picked out.  This colorful castle was the winner because it had a slide. :)
Pops of blue, yellow, red and green!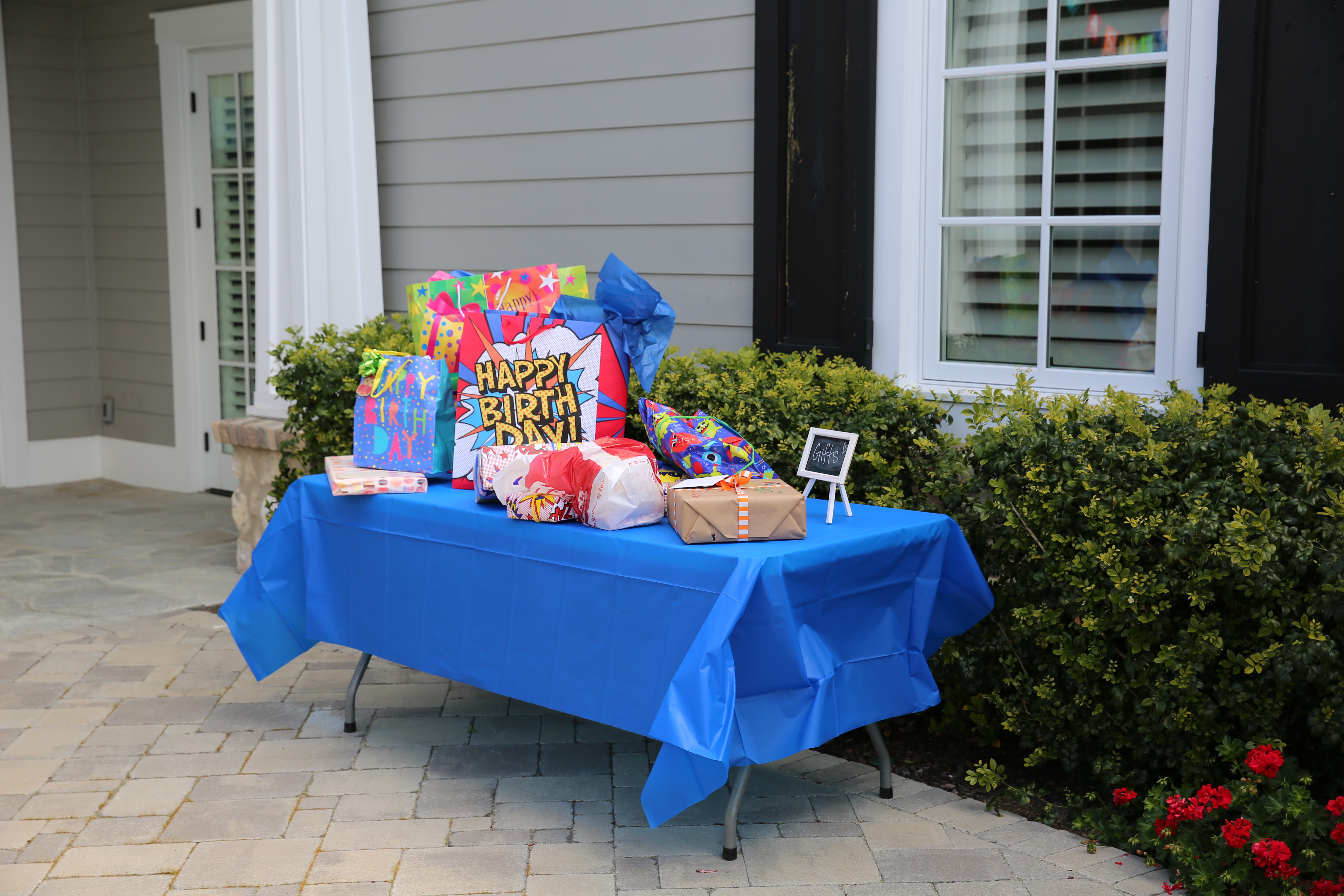 We had an extra table so we just used it for gifts.  We always have our kids open gifts later after the party which I love because we can take our time and I can jot down info. for thank you cards.  Funny to remember how different that is from when I was young and half of the party was all about opening presents!  How do you do it with your kids?  I don't think I've been to a party where gifts were opened in years!  I'm wondering if that's a San Diego thing or just the way everyone does it now?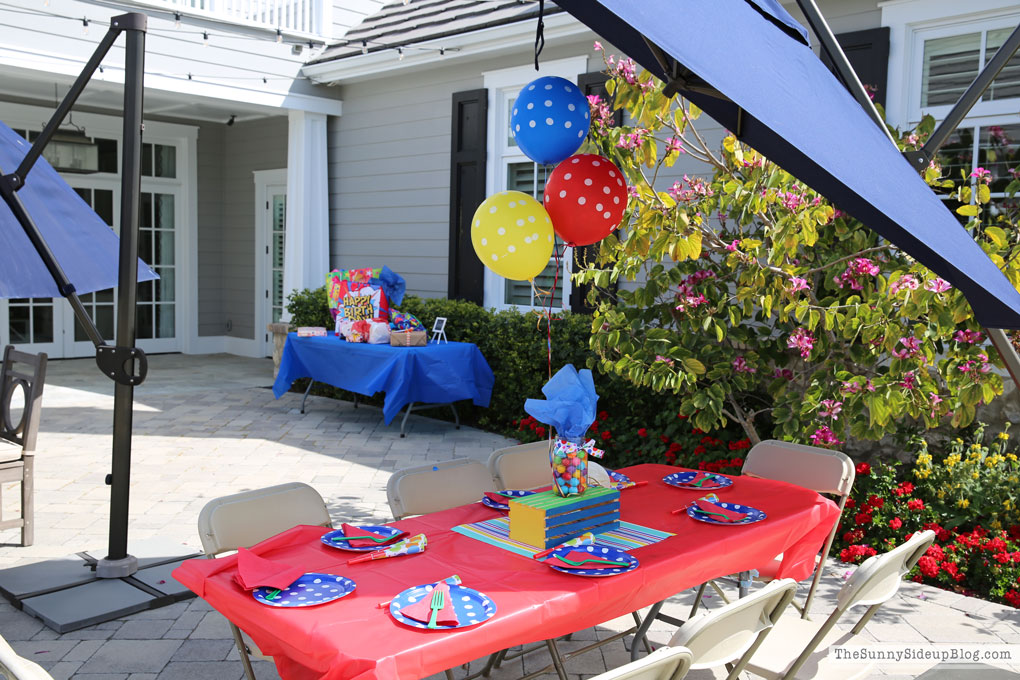 We set out three tables for food.. a blue table, a red table..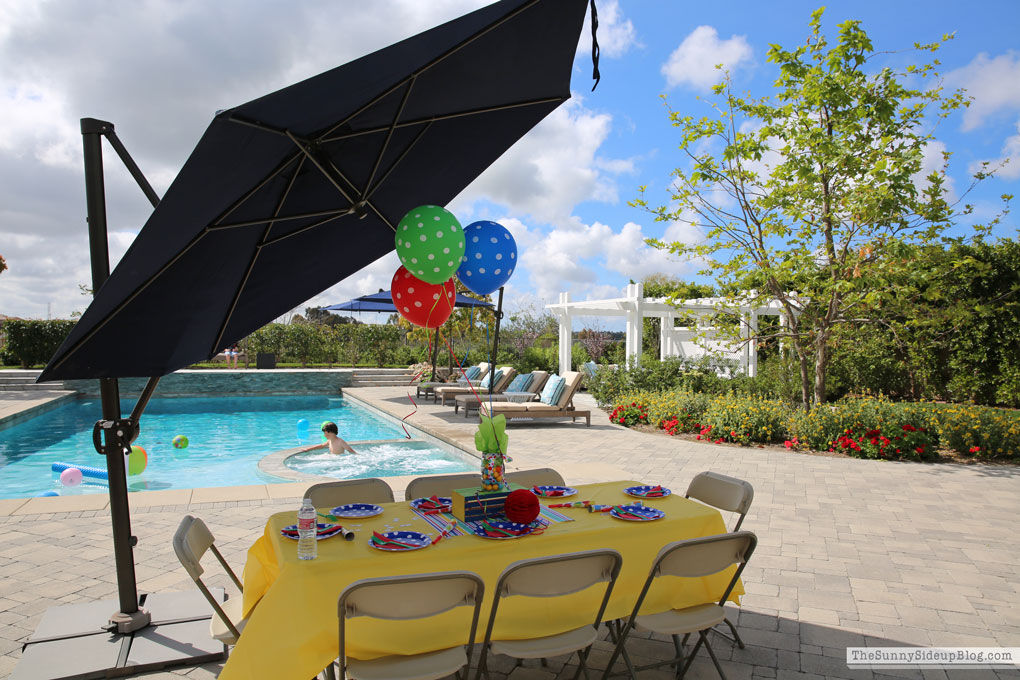 and a yellow table.  Then we used the opposite colors of plates on each to stand out.  I loved that my yellow and red flowers all started blooming so pretty just in time for the party and I had blue pillows on the lounge chairs!  Not planned to coordinate with the party decor, but I'll take it. :)
I can't take all of the credit for this cute party.  My darling friend Vanessa was a huge help!  She is a close friend of mine and I hired her this year as an "assistant."  I've mentioned before that my 3 kids are in 3 different schools this year and we have a hectic after school schedule every day.  My husband's job keeps him busy so it didn't take long for me to see heading into this school year that if I wanted to keep my blog alive and be the kind of mom I want to be I was going to need some help.  Or give up sleep completely.  I can go on about 5 hours a night but giving up more than that just wasn't an option. ;)  She was so excited to work with me and it has been a blast!  Every week is different and it's usually just a few hours here and there but I've loved having her help with things like taking pics I need to be in (so nice to not have to wait for the weekend when Kenny is home!), some of the administrative blog stuff that I get buried in, or last week.. party planning and then heading to the store to get ALL things colorful for Kole's party.  Plus it's just more fun to do things like this with a friend. :)  I laughed that we both showed up in green and yellow coordinating with the party decor.  Kenny showed up in camo.. he obviously didn't get the memo.  Ha.
I've never been a huge fan of goodie bags after a party.  We all do it – I've given them out after my kids' parties for years, but I sometimes feel like they are a waste of money because the kids chew the gum and maybe use the pencil, but a lot of times they just get trashed!  So we decided to give each of the kids a ball when they left (you can see them in a cooler off to the left of this table.)  Kole is always bouncing a ball around so it seemed like a fun and practical gift for this age for about the same price as a goodie bag.  The kids played with them at the party and then each got to pick one to take home after!  A fun party favor and it worked with the colorful polka dot theme we had going on.
Vanessa painted simple crate boxes and then we used gumballs in a mason jar with a polka dot ribbon and colorful balloons as table centerpieces.  She also found this cute dog that all of the kids signed with a pen for my party boy to keep and remember who came to his party. :)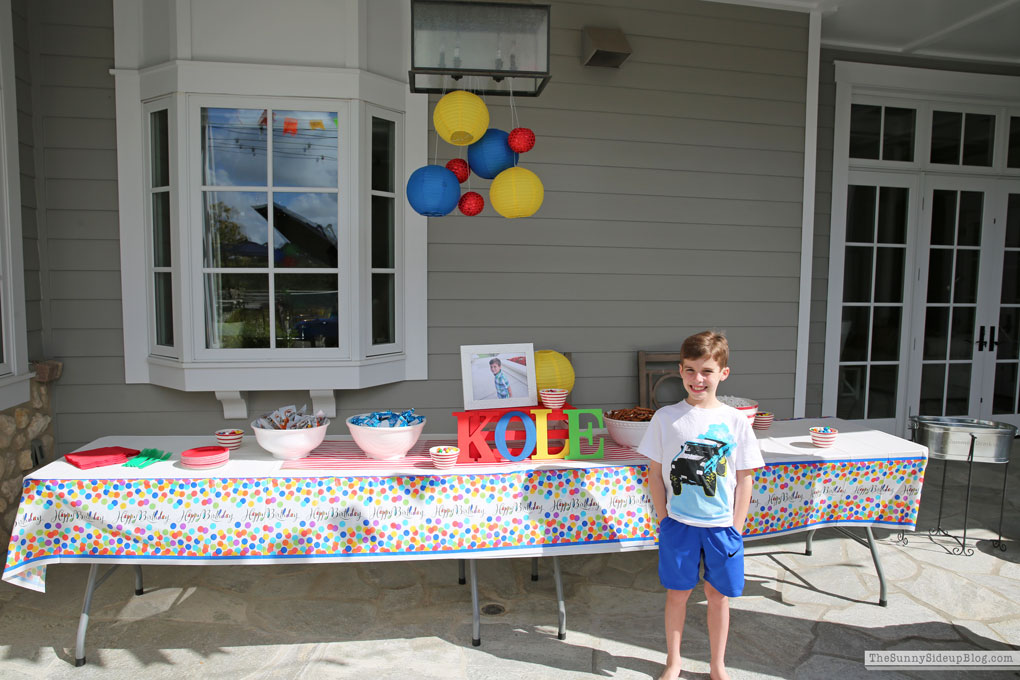 Then I about broke my neck hanging colorful lanterns from the back porch light over the food table.  But priorities.
I can't believe my baby is 9!
Costco run for all of the food!  Flowers were for me. :)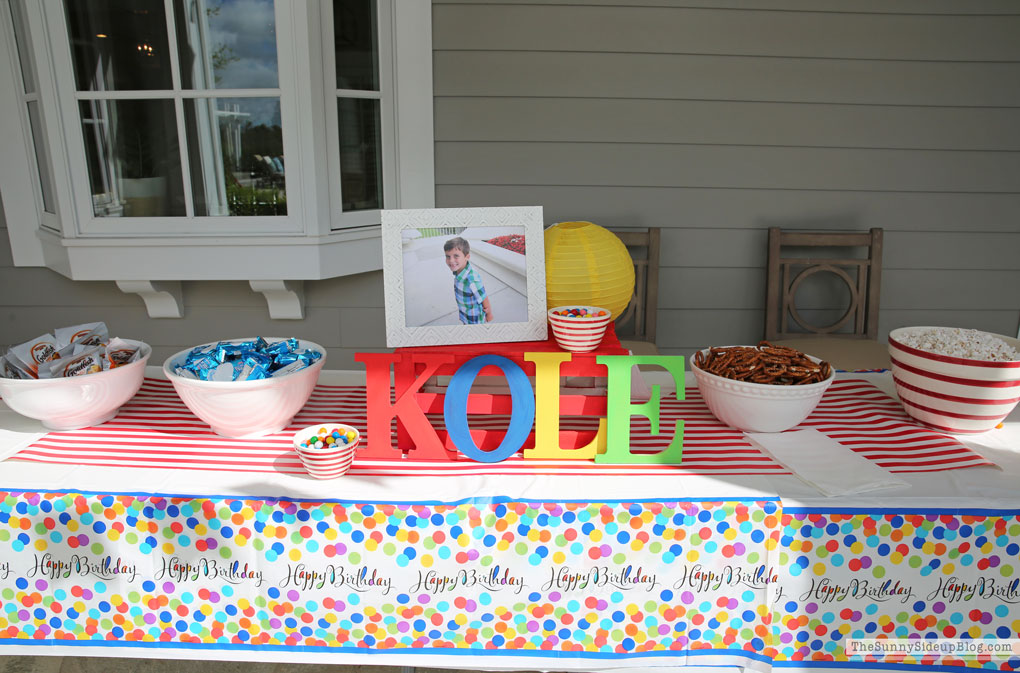 Vanessa also painted the cute KOLE letters and then I put a picture of him in a frame on top of another crate.  We got pizza and then I just served easy snacks.  We also added gum balls in cute bowls everywhere because.. why not?  :)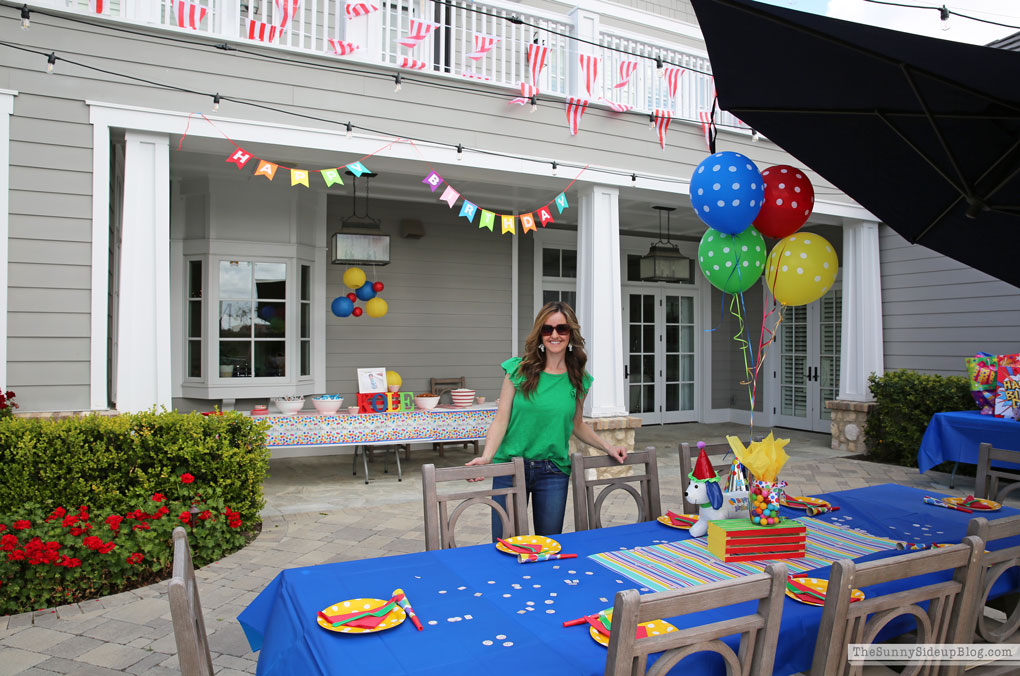 All finished setting up!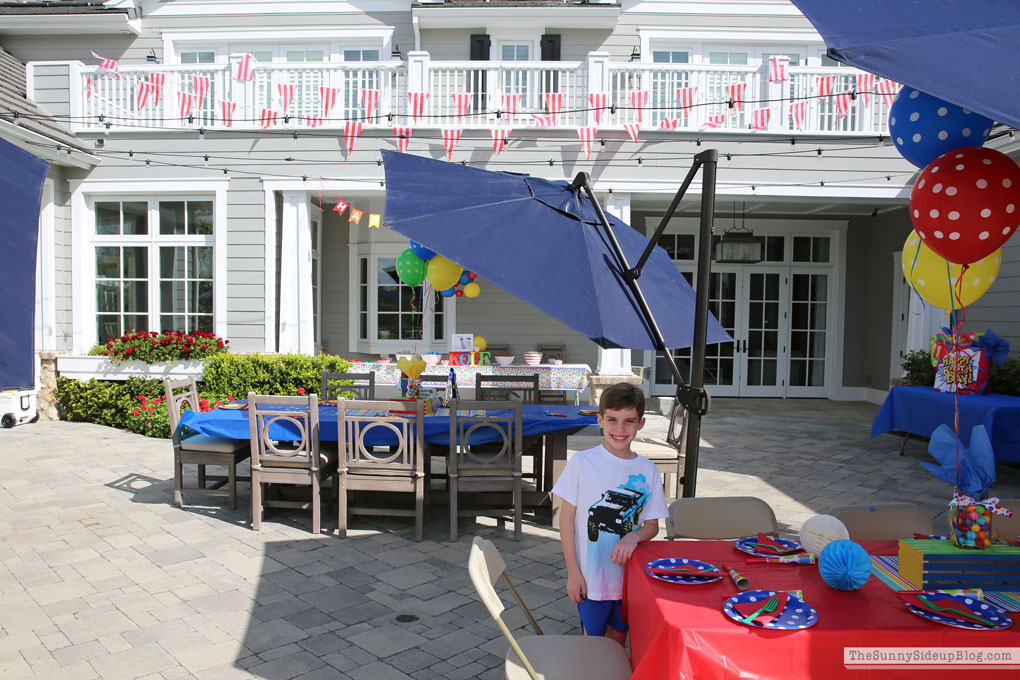 I love this smile.  It's his fake smile that says "humor mom for 5 more minutes with these stupid pictures and then I get to finally have fun with my friends."  I know that smile well because his dad does it all the time too.
They'll thank me someday.  I just know it.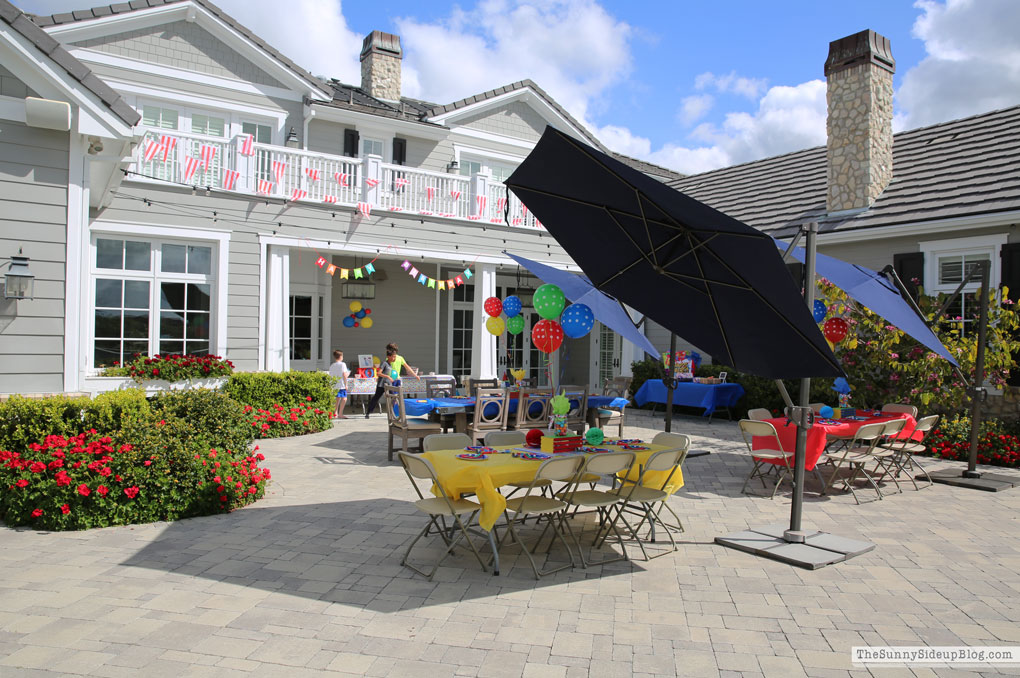 We also added a cute banner up on the balcony!  With painters tape.  But you already knew that.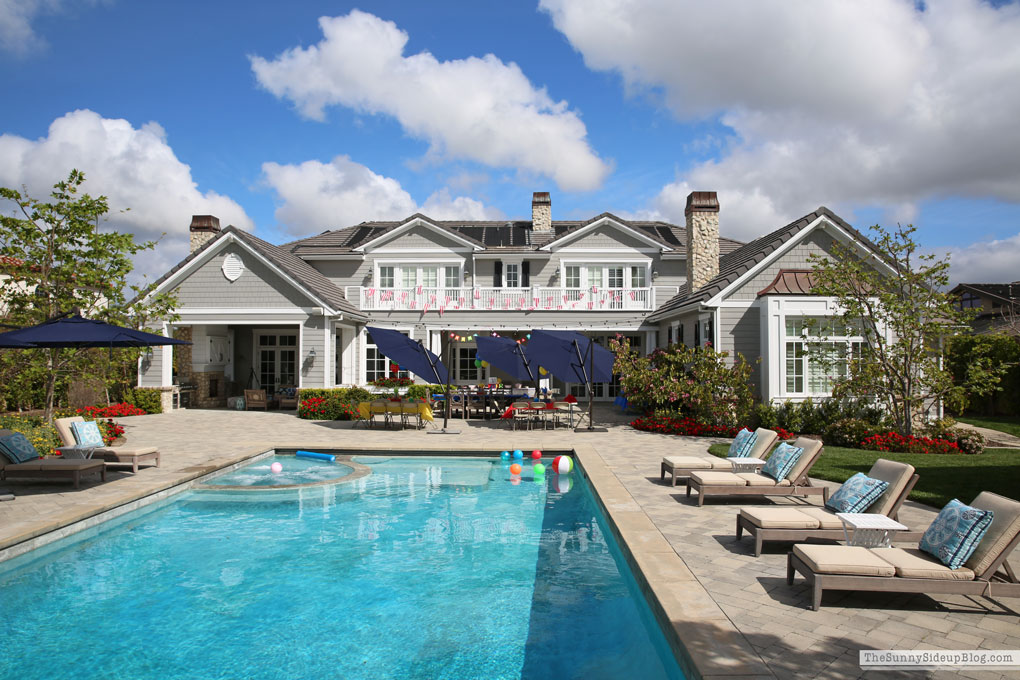 Every time I share pics of our yard I get questions about our umbrellas.  They are the older model of these Cantilever Umbrellas and I honestly can't say enough good things about them.  A splurge but they are worth every penny!  So easy to adjust to the sun and they've held up great.  (I'll link to backyard sources and similar items below.)
Oh yeah.. friends are starting to arrive.  It's party time. :)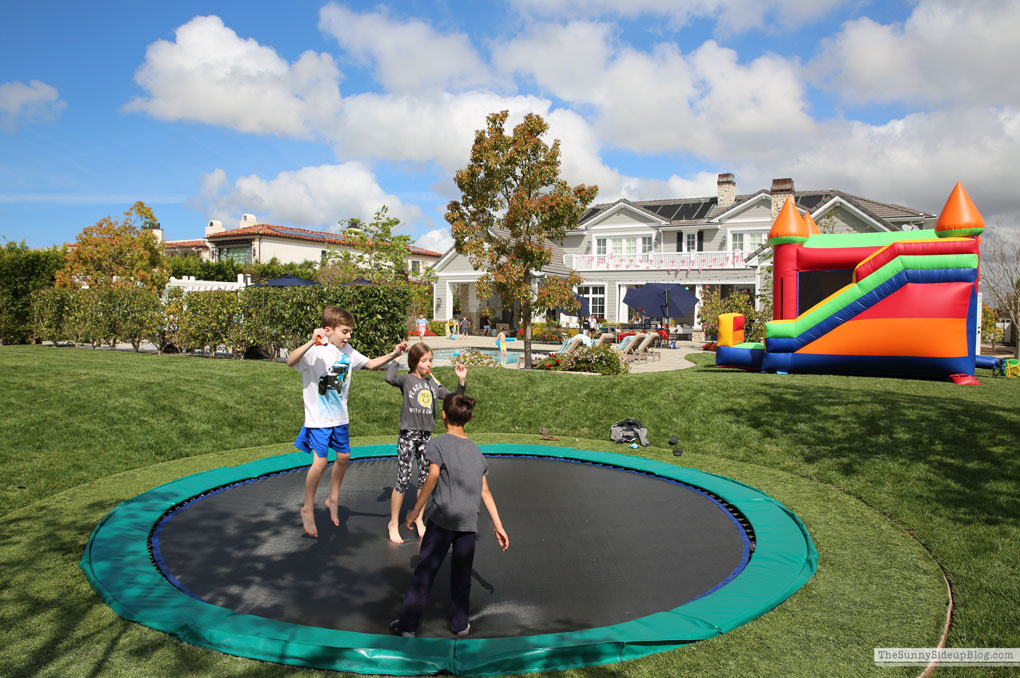 This party was so easy after set up because the kids just jumped and swam and played in the yard!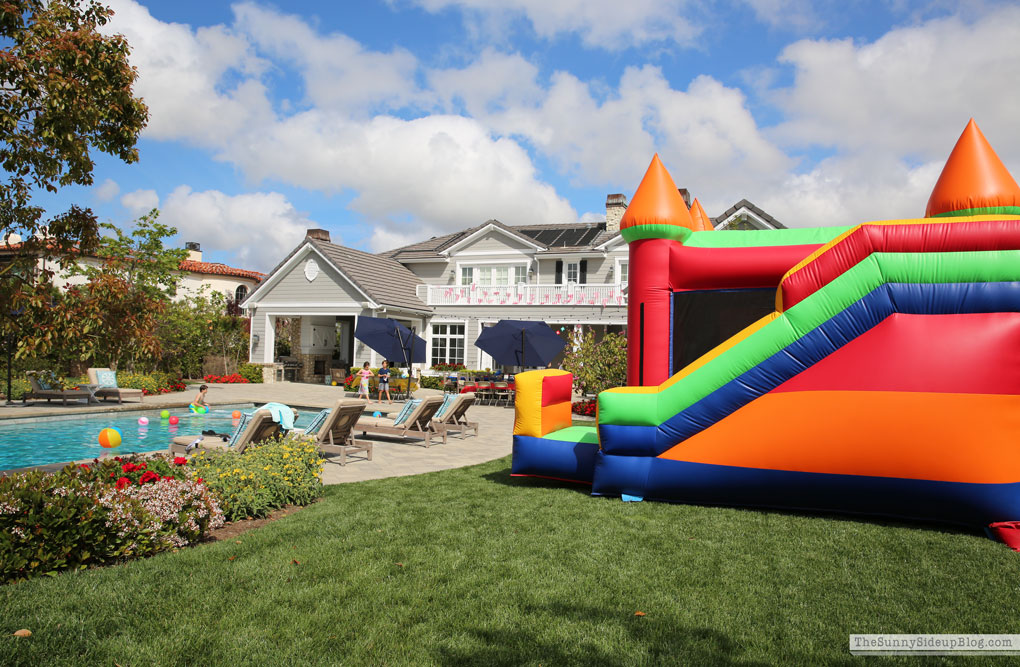 I didn't take as many pics when all of the kids were here because I was monitoring the pool, bounce house and trampoline making sure everyone was safe.  Boys stress me out!  Their "play" always feels like a broken limb will happen at any moment.
Happy Birthday Kole!  You've got great friends who love you so much.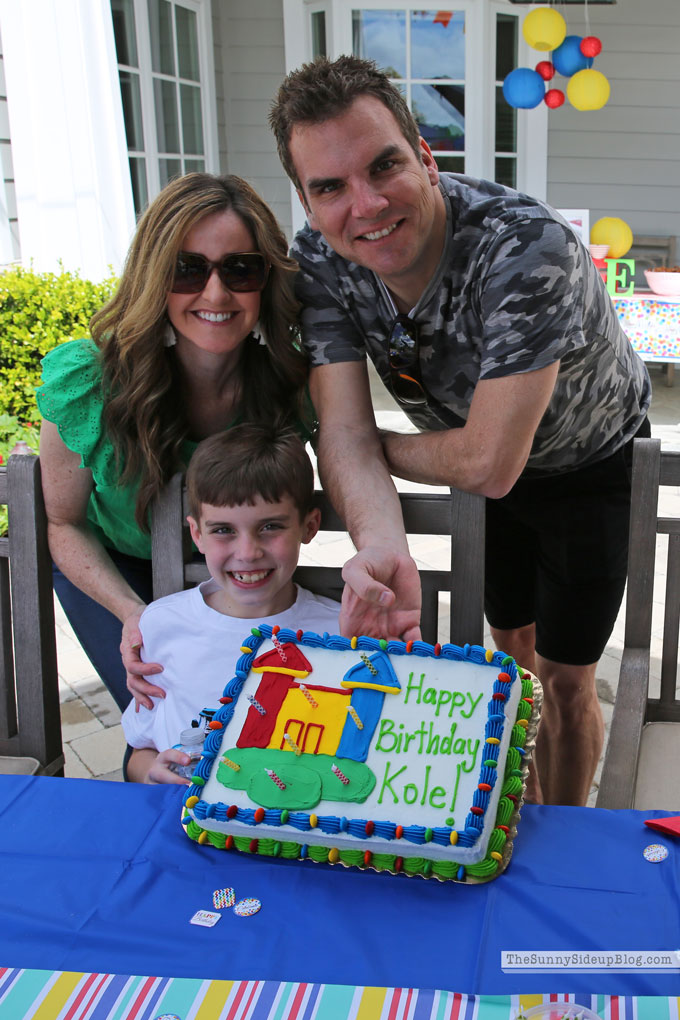 Mom and dad are kinda crazy about you too. :)
(Keep working on those smiles boys)
{OUTDOOR SOURCES}





xoxo, Erin