*Honored to partner with The Company Store for this post! They are long time favorites of ours when it comes to all things bedding!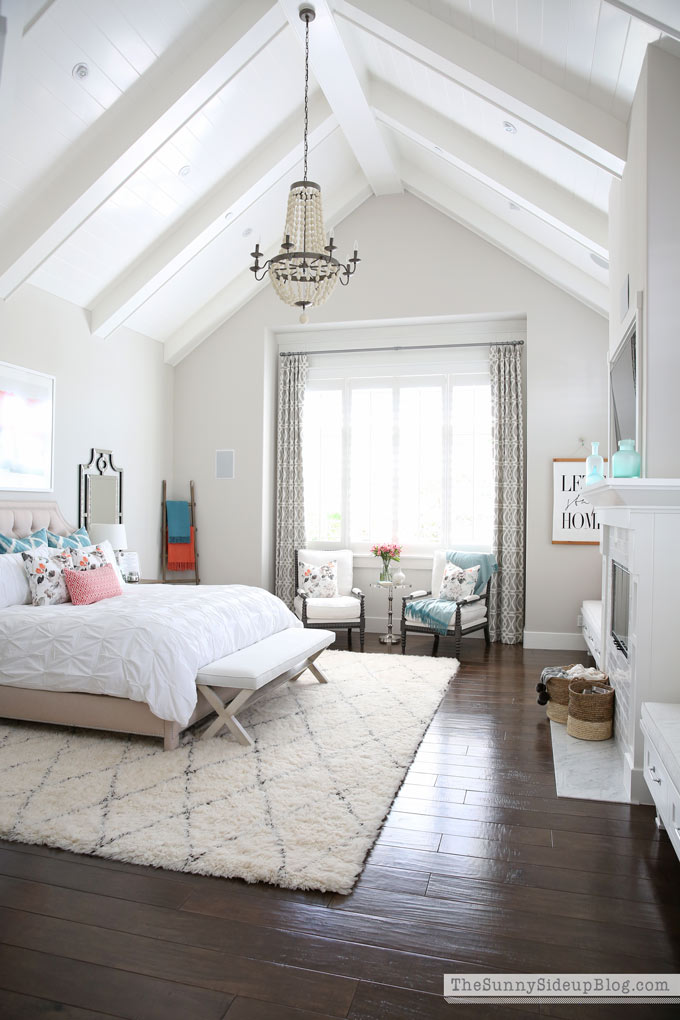 Today I'm sharing 5 tips to create a relaxing bedroom.  I feel like creating a calm, relaxing bedroom is so important and something that in a lot of cases isn't high on the priority list.  I know this because for years it wasn't high on ours!  In our previous house my master bedroom was a major source of frustration for me.  It was constantly a dumping ground for things I was too busy to put away, clothes I was too lazy to hang up and toys galore because it was located right next to my kids' play room.  I vowed that in our new home things would be different!  Now that I've decorated our bedroom and created a clam, relaxing retreat I can't believe how much I enjoy this space!  It really is an escape for me from hectic days and non stop mom duties.  A small piece of calm in the center of one crazy wicked storm. ;)
These are the 5 things I've done that I feel like have made all the difference to create a relaxing bedroom.. 
1 – Clear out ALL clutter.  Your room will never feel relaxing to you if it represents things you need to get done, projects that need to be finished, clothes that need to be hung up, etc.  If you need a dumping ground figure out a different spot in your home!  Let your master bedroom be a space that is always clean and clutter free.  If you have a dresser in your bedroom work hard to form the habit of putting away your clothes as soon as you take them off or wash them.  (This is something I've really been working on!)  I also recommend keeping your decor simple – don't over decorate.  Too many things on your walls, tables, etc. can become distractions which makes it harder for you to clear your mind and relax in your bedroom.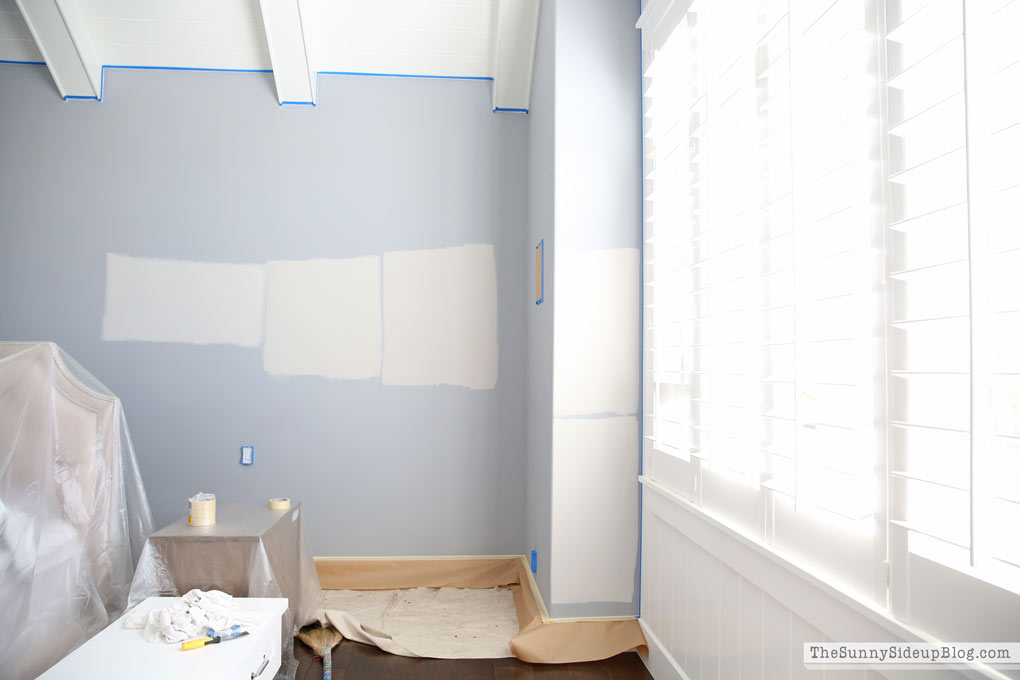 2 – Consider decorating with a calm color palate.  The colors in your bedroom ultimately should reflect you and make you happy, but it's often the soft, cool colors that help your mind relax.  I knew immediately that the original color we painted our bedroom wasn't right because of the way it made me feel.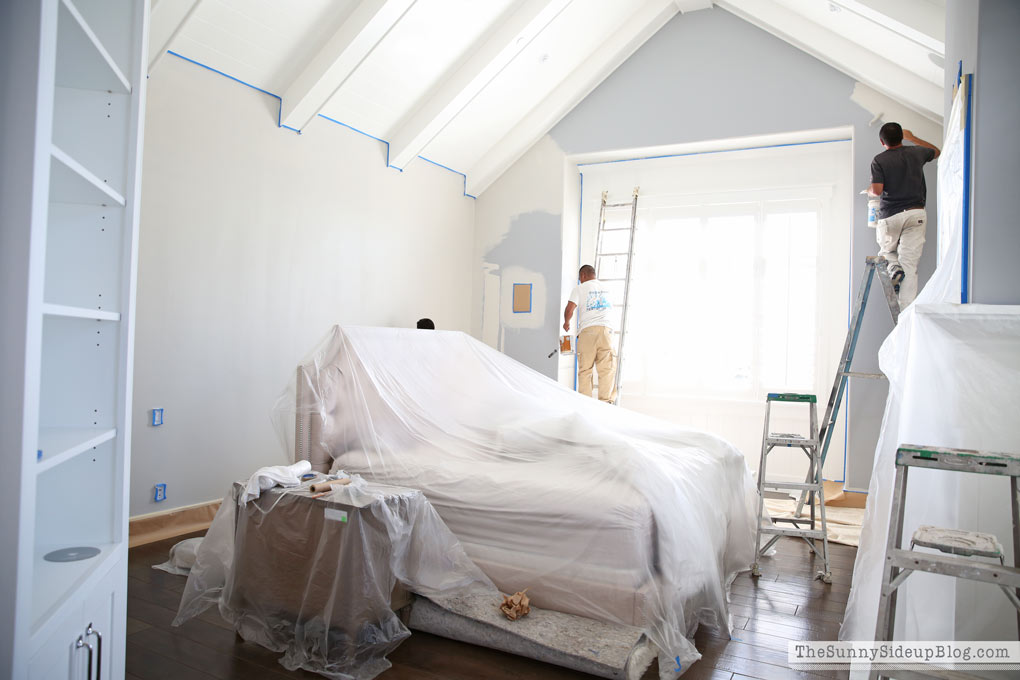 The new lighter paint was such a breath of fresh air!  It instantly gave me that relaxing feeling I really wanted for this room. (You can download a printable of all of my paint colors HERE.)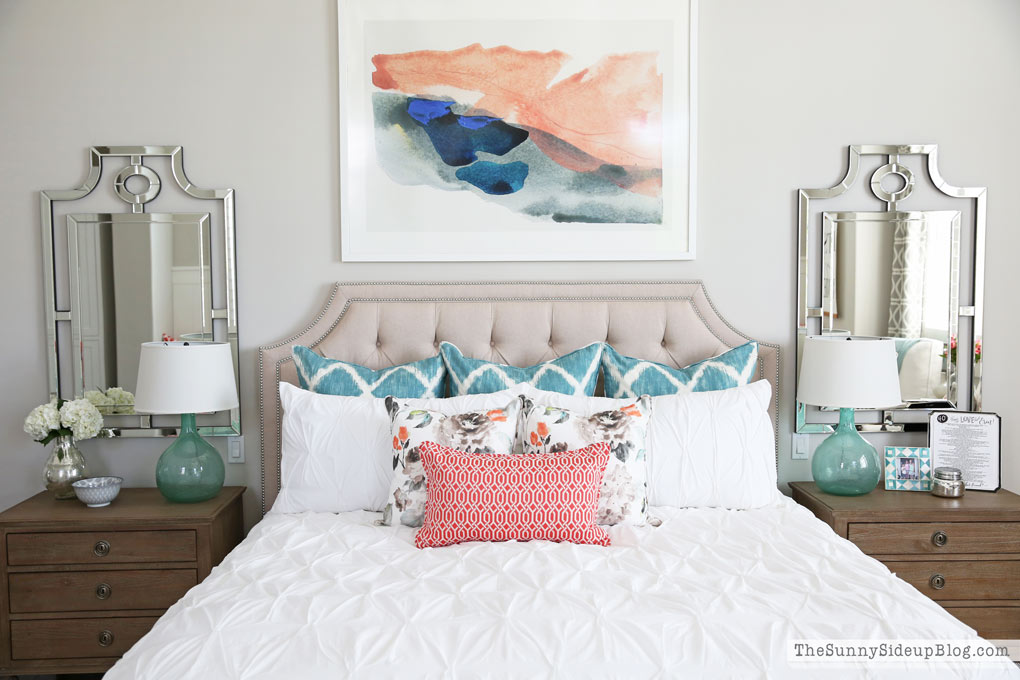 I decorated with pops of color that make me happy, but the foundation of this room (white bedding, soft paint and a tranquil painting) create an overall calm and relaxing feeling for this room.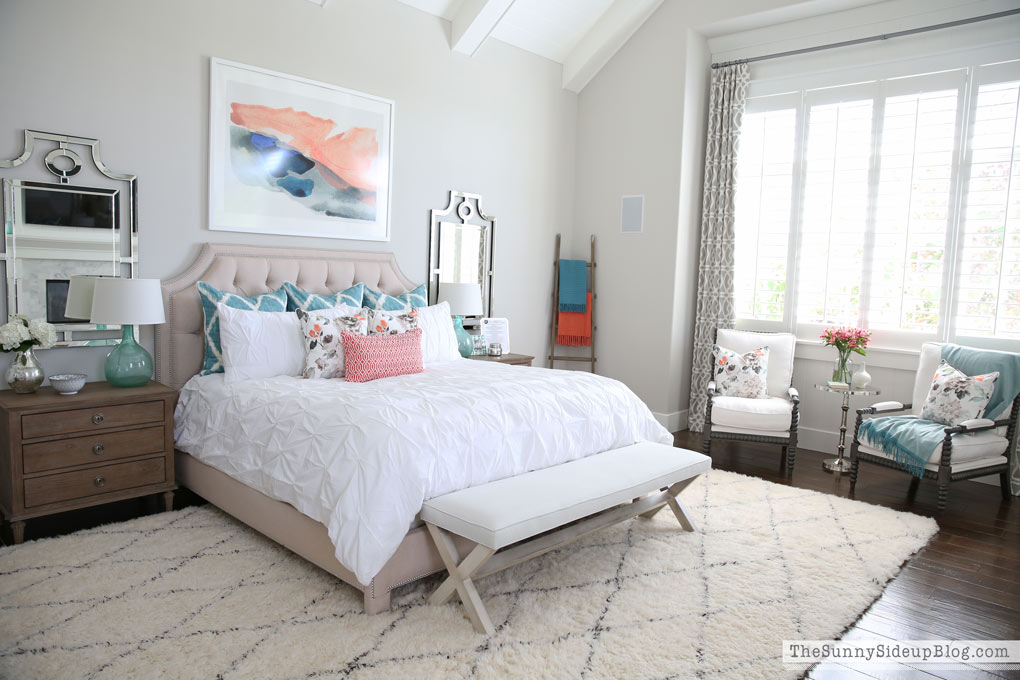 3 – Splurge on good bed basics.  This tip has honestly made the biggest difference for us!  If you don't have a lot of money to decorate your space my best advice is to de-clutter your room and then put the money you do have towards your bed basics first!  Your mattress, comforter, sheets and pillows.  A good night's sleep is so important and there is nothing like quality bedding to help you feel comfortable and get your beauty rest!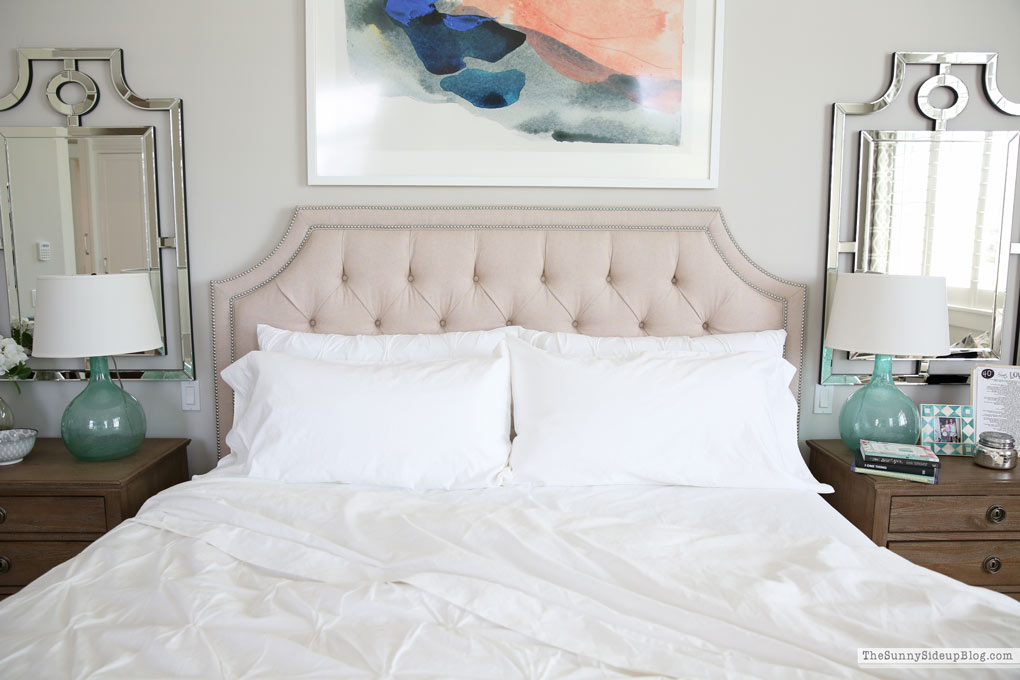 One of my favorite places to go for bed basics is The Company Store.  I first discovered The Company Store when my girls were little.  We ordered some fun bedding for their bunk beds and loved it!  Great quality products that are so soft and cozy.  (A long time favorite for us so I was thrilled to partner with them on this post!)  Their comforters are AMAZING.  I have their Legends Luxury down comforter inside my duvet cover and it's so comfortable!  They have a comforter guide on their website to help you determine the level of warmth that's right for you and all of their comforters are hypoallergenic.  #bonus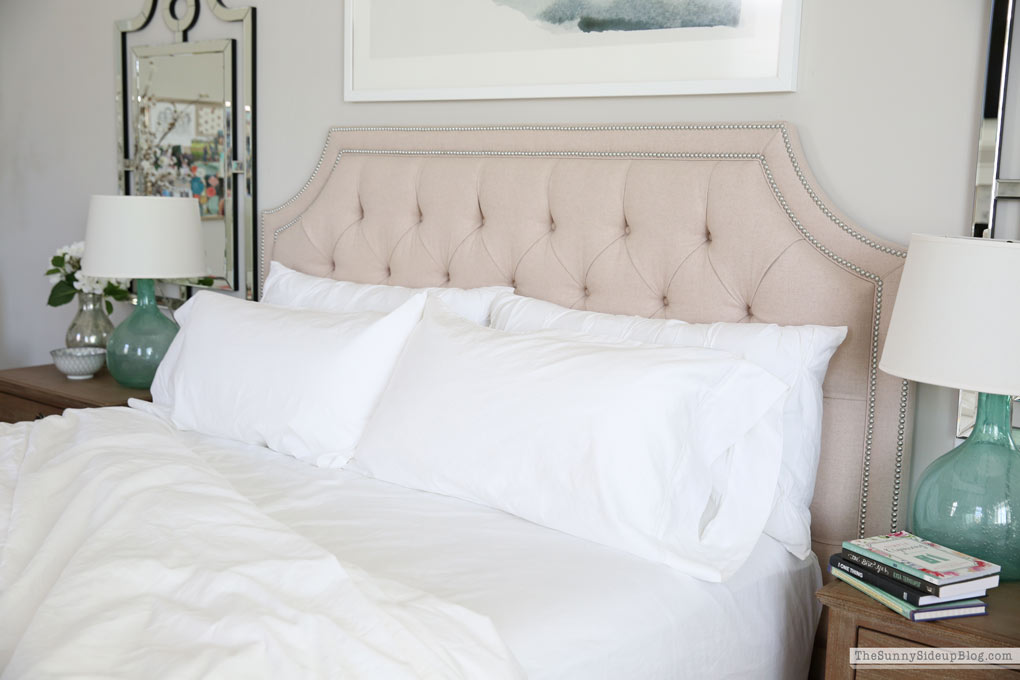 Getting a good night's sleep is so essential to our over all heath and well being.  There is nothing better than climbing into soft sheets and laying your head down on a cozy pillow at the end of a long day!  (These pillows are so soft and comfortable and these sheets are my favorite!)  Just like with their comforters The Company Store has a pillow guide to help you choose what type of pillows will work best for you.  I love that feature when I'm ordering on-line!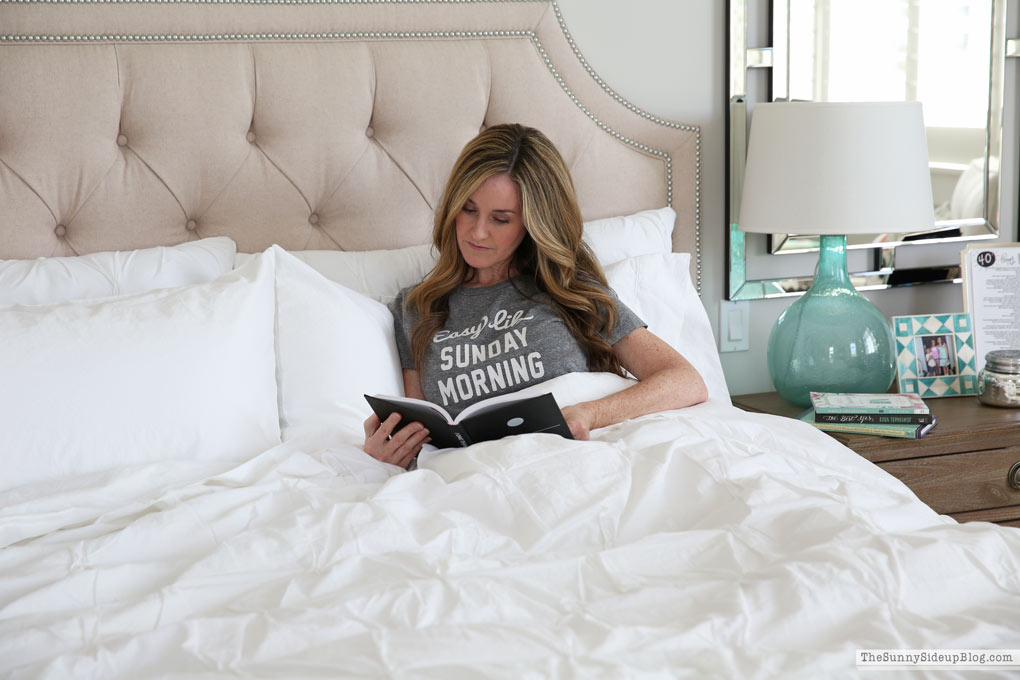 I want to stay here reading my time management books FOREVER please. :)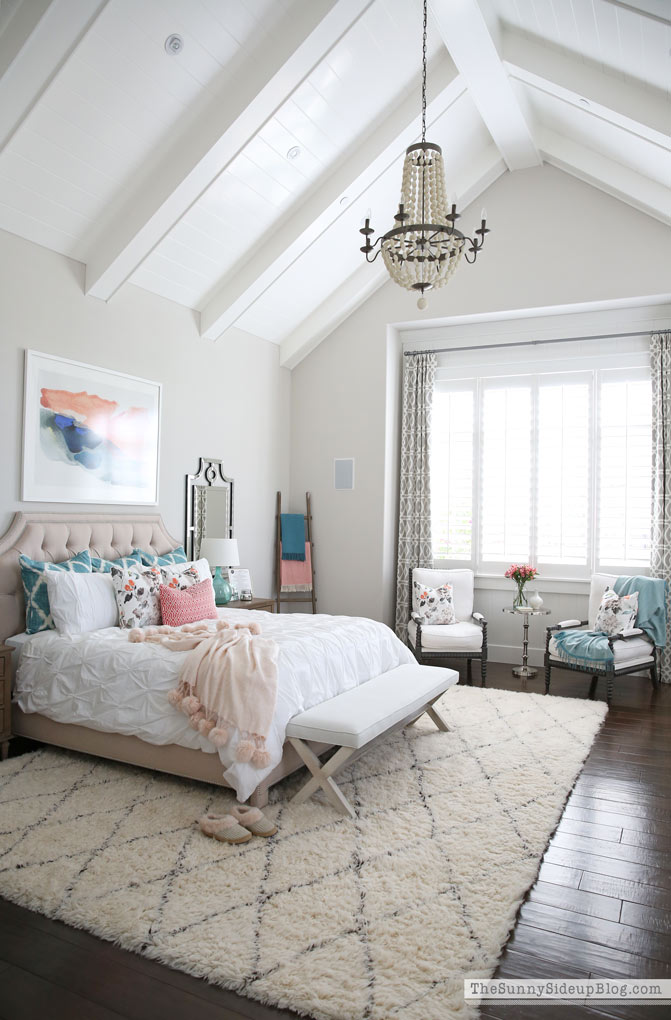 4 – Emphasis on cozy when choosing a rug or carpet.  It's not always incredibly fun to get out of bed in the morning, but having a rug or carpet that feels like heaven to step on makes it a little bit easier!  It also helps create a warm and cozy environment in your bedroom.  To be honest I was a little nervous about having wood floors in this room!  We always had carpet in our past master bedrooms and I liked getting out of bed and stepping on soft flooring so I searched for the softest rug I could find.  A cozy rug or carpet is a must for a relaxing bedroom!  (You can find my rug and other room sources in this post.)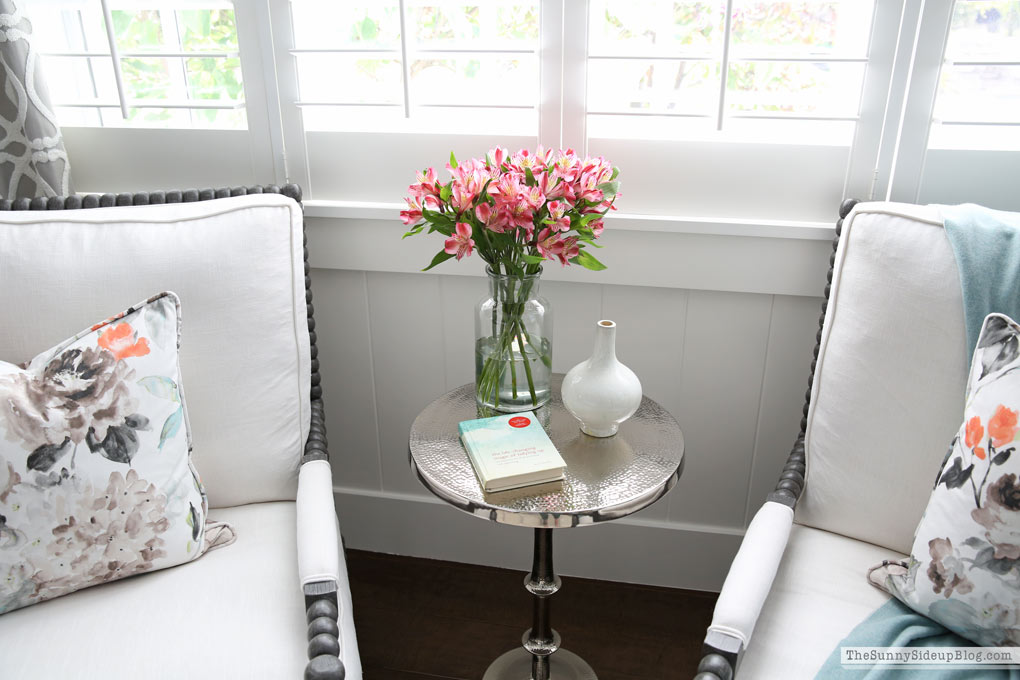 5 – Splurge on fresh flowers.  I know it can be a pain to constantly replace fresh flowers and you know I'm all about faux a lot of the time..  BUT.  I truly believe that having one spot in your master bedroom where you keep fresh flowers can make a huge difference in helping your bedroom feel put together and relaxing.  Fresh flowers are so beautiful and have been found to have positive effects on our overall mood and happiness.  I always have these fresh flowers on the small table between the two chairs in my bedroom and they make me smile every day!  I've been surprised at how different the room feels when they aren't there.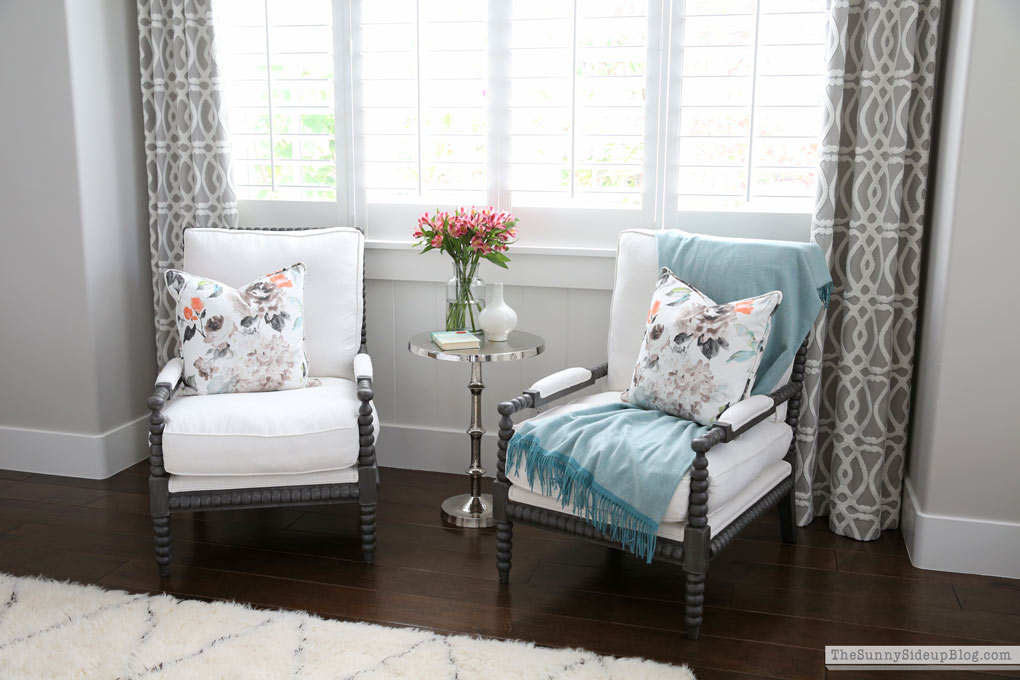 They are inexpensive flowers that I pick up at the grocery store once every other week and the life they bring into my bedroom is an instant pick me up!
These 5 tips to create a relaxing bedroom are so simple and yet a lot of us don't take the time to make them happen.  I can't believe that I didn't prioritize these things in my previous home so that I could enjoy the benefits that come from having a clam and relaxing space to retreat to at the end of a long day.  Being in the throws of raising small children I certainly needed it!  Lesson learned.  Don't put your master bedroom at the bottom of your priority list.  You deserve a retreat!
There now.. I gave you permission.. go make it happen. :)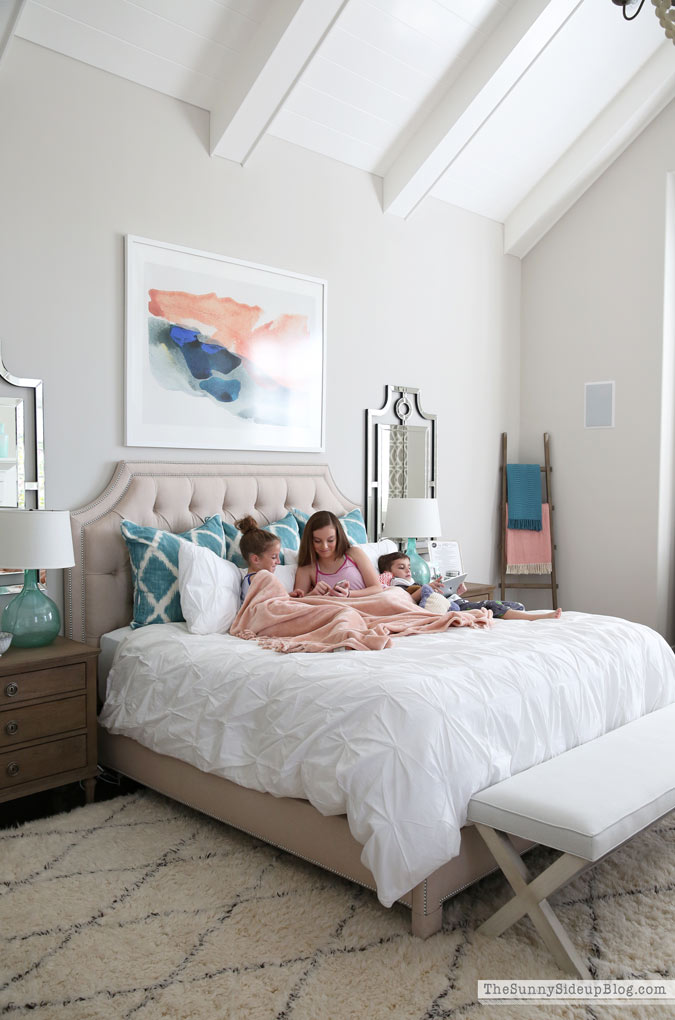 The only problem we have now is that I made this bedroom SO cozy and relaxing that I'm not the only one who wants to hang out in this space.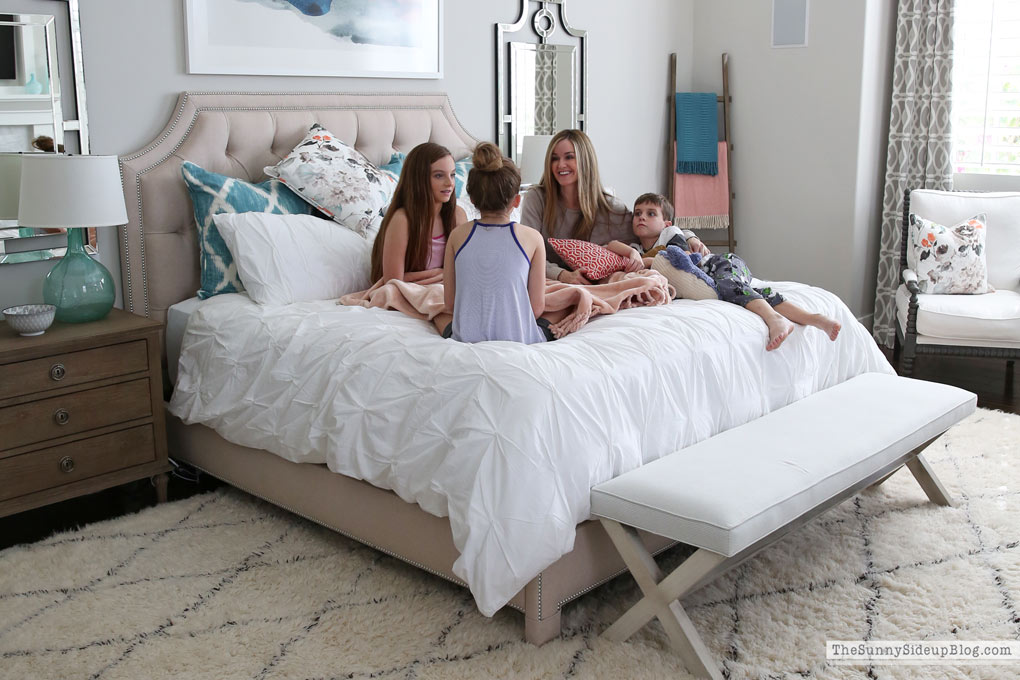 Good thing I like these three so much or no way would I let them crash on my favorite bedding. ;)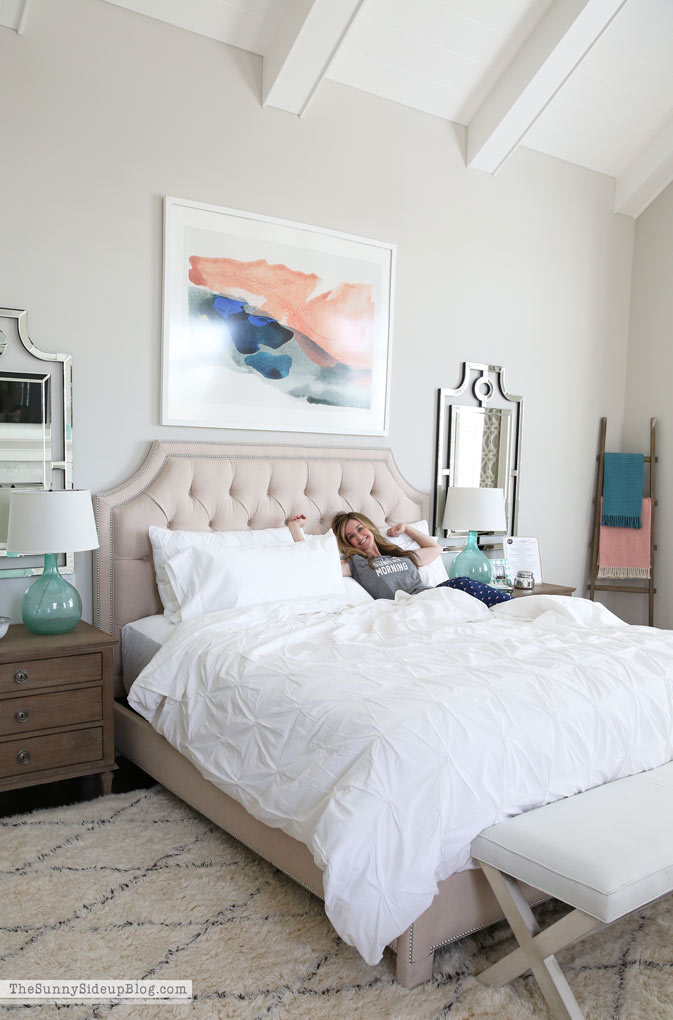 Of course the real treat comes when I get to use my cozy bedroom to re-charge and have a little time to myself.
Maybe at some point I'll let my husband join.
Verdict is still out on that one.
;)
xoxo, Erin