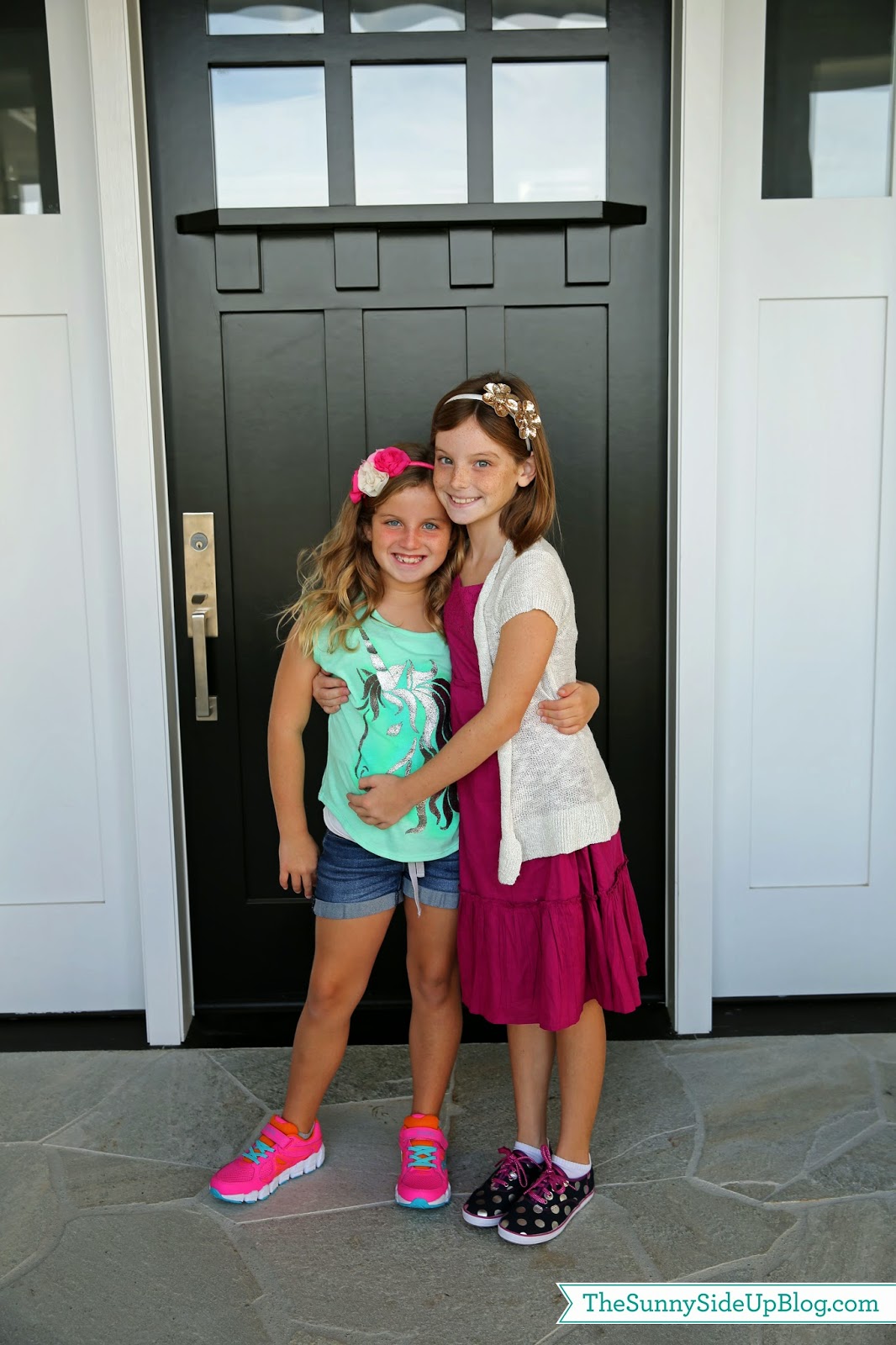 Another "first day of school" has come and gone.  So hard for me to wrap my brain around my girls being in 3rd and 5th grade!  I taught 5th grade when we first moved to San Diego.  I had Ellie in the middle of my last year teaching and remember taking her to my classroom to meet my students.  Such a tiny newborn with all of those big 5th graders.  And now she is one of those big 5th graders.  I cried doing her hair the first day.  She was making me laugh – saying something funny – and it just struck me how grown up she looked and sounded.  I always think I'm going to be fine on the first day of school (especially since by the end of summer I am ready for them to go back!) but then the first day comes and I'm not fine.  I come home to a quiet house and tear up every year.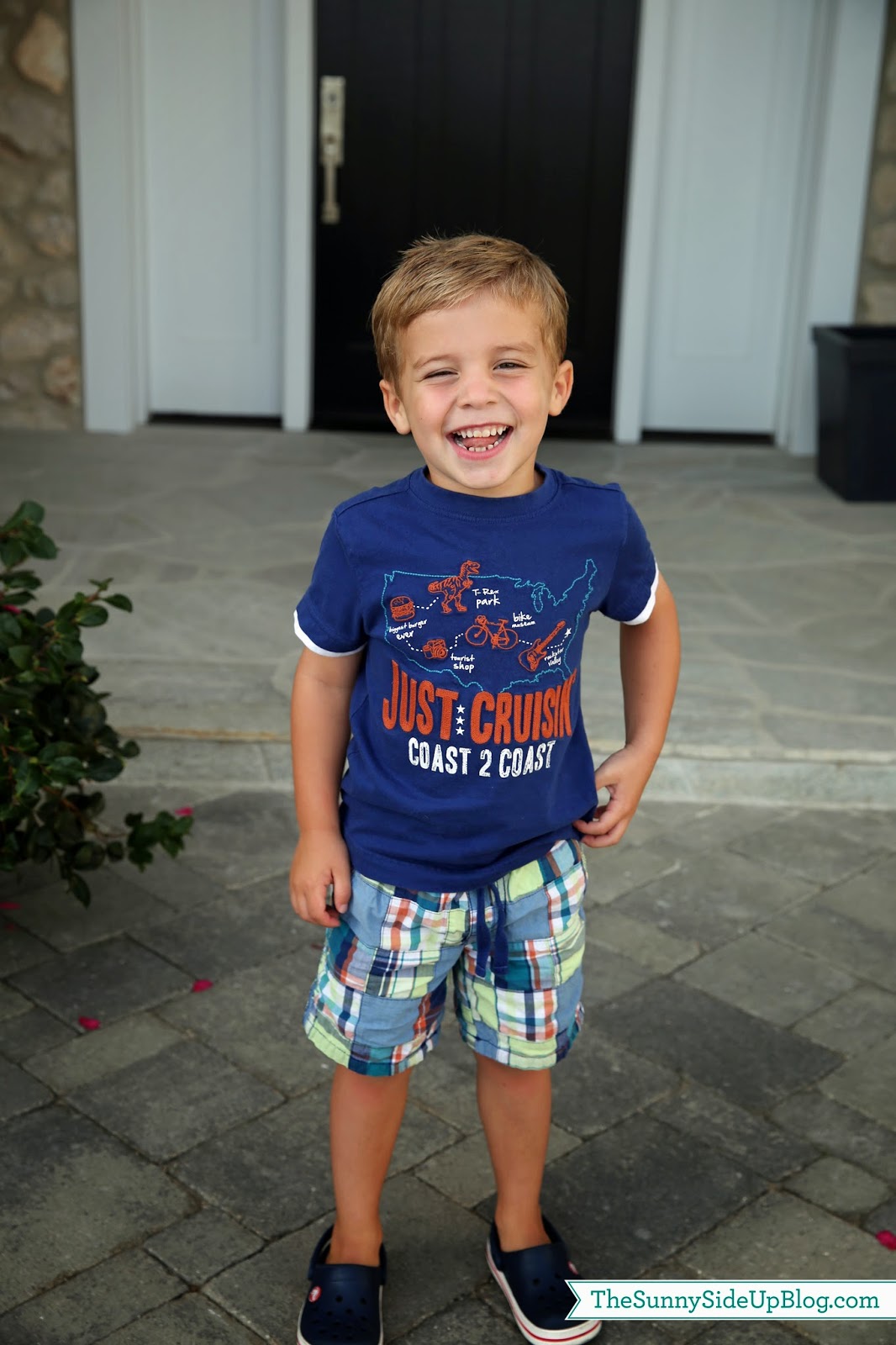 This little one was SO excited for preschool to start.  He was racing out the door so fast that I only had time to snap two pictures of him and this was the best of the two.  He's at that fun age where you say "smile" and never know what you're going to get.  :)  So glad he has one more year of preschool.  I'm going to be a hot mess next year when he starts Kindergarten!
I'm excited to share our new system for organizing outfits for school!  It's pretty much the old system with a minor tweak.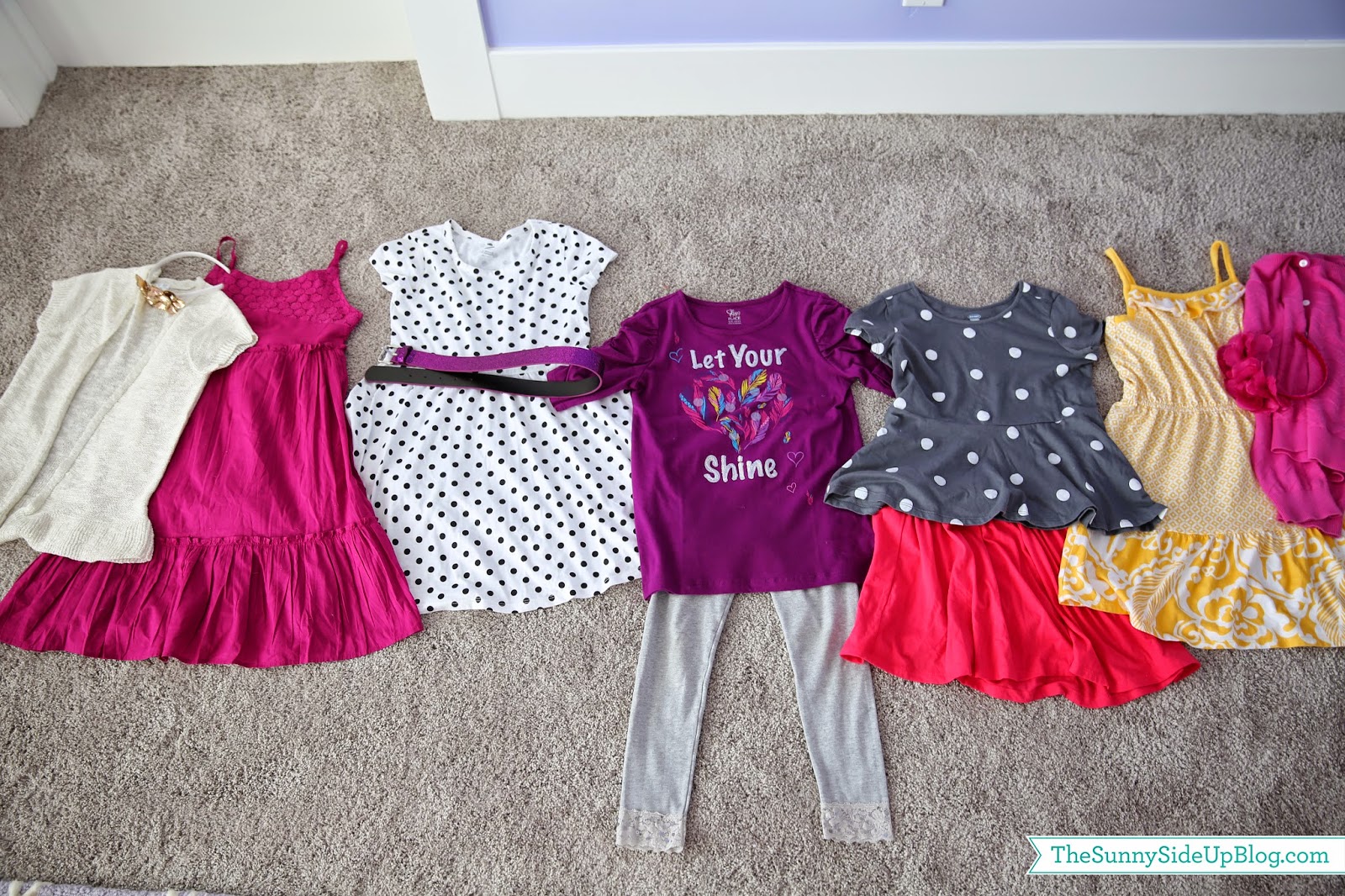 The girls lay out their outfits for the week.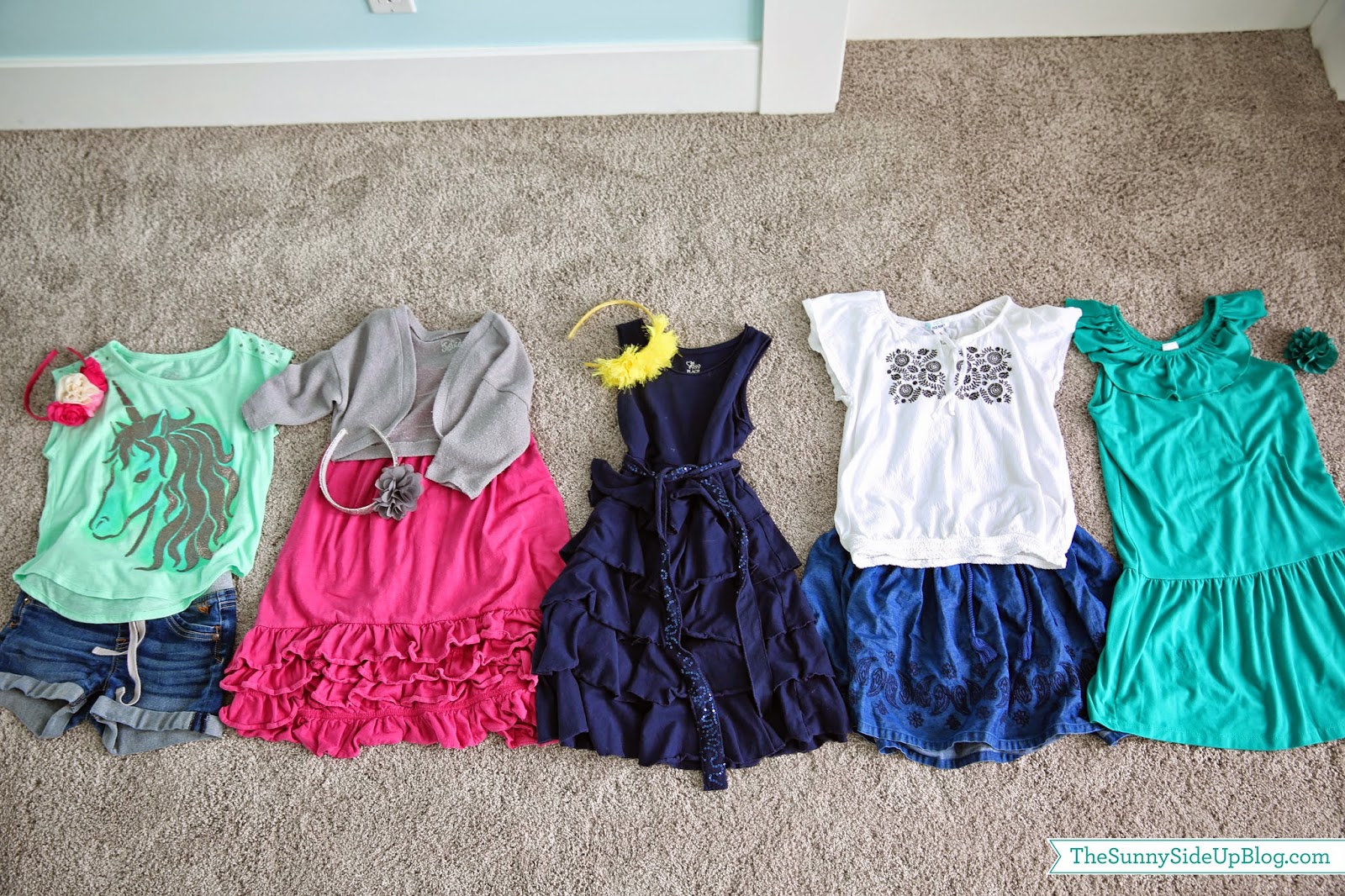 Just like they've done every Sunday for the past two years.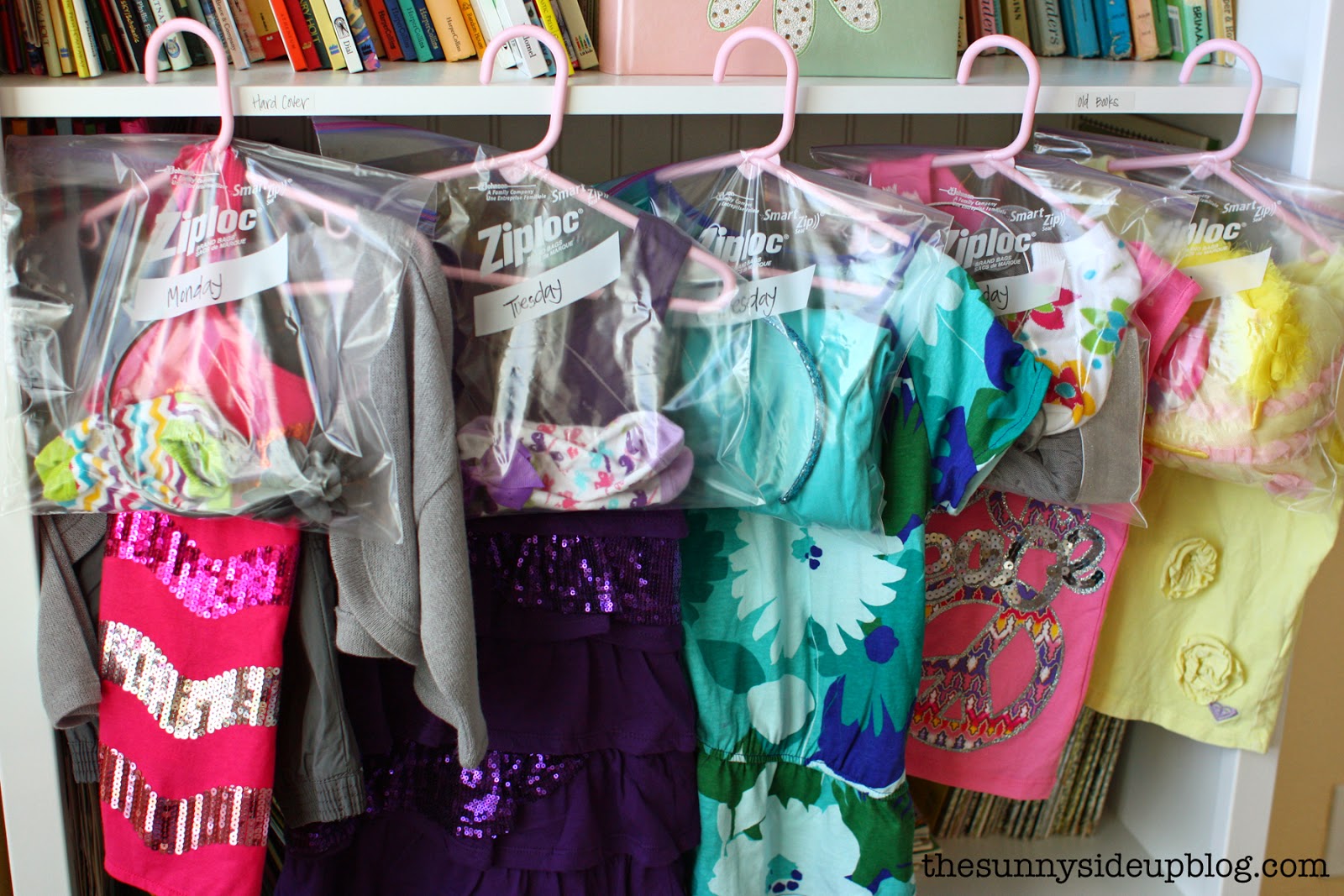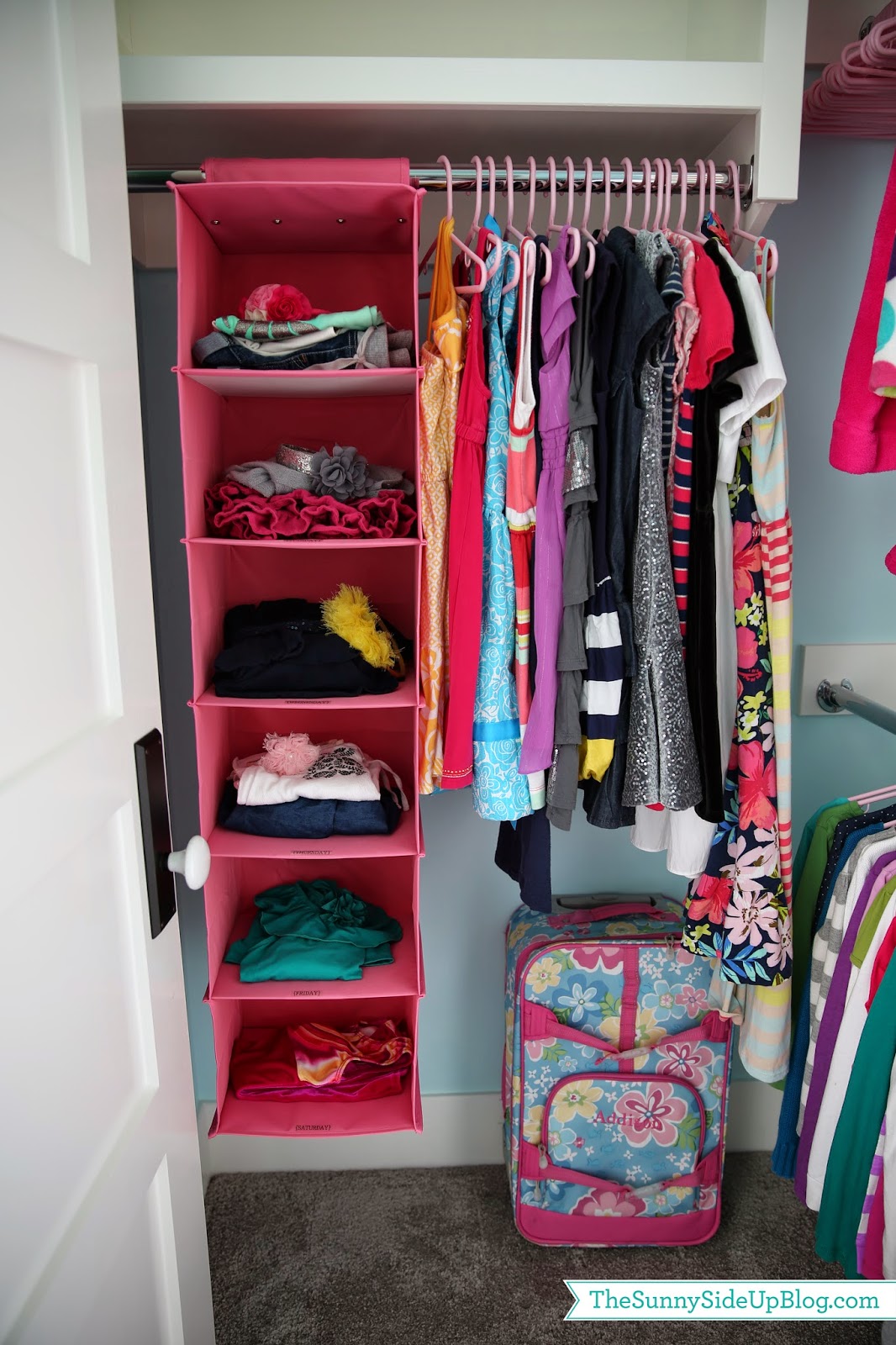 We now use these fun pink canvas closet organizers from Land of Nod.  So excited about these!  We didn't have room for something like this in our previous house because we were so tight on closet space.  But now that we have more room to breathe I love having a set place for the girls to organize their clothes for the week.  This is a peek inside Ad's closet.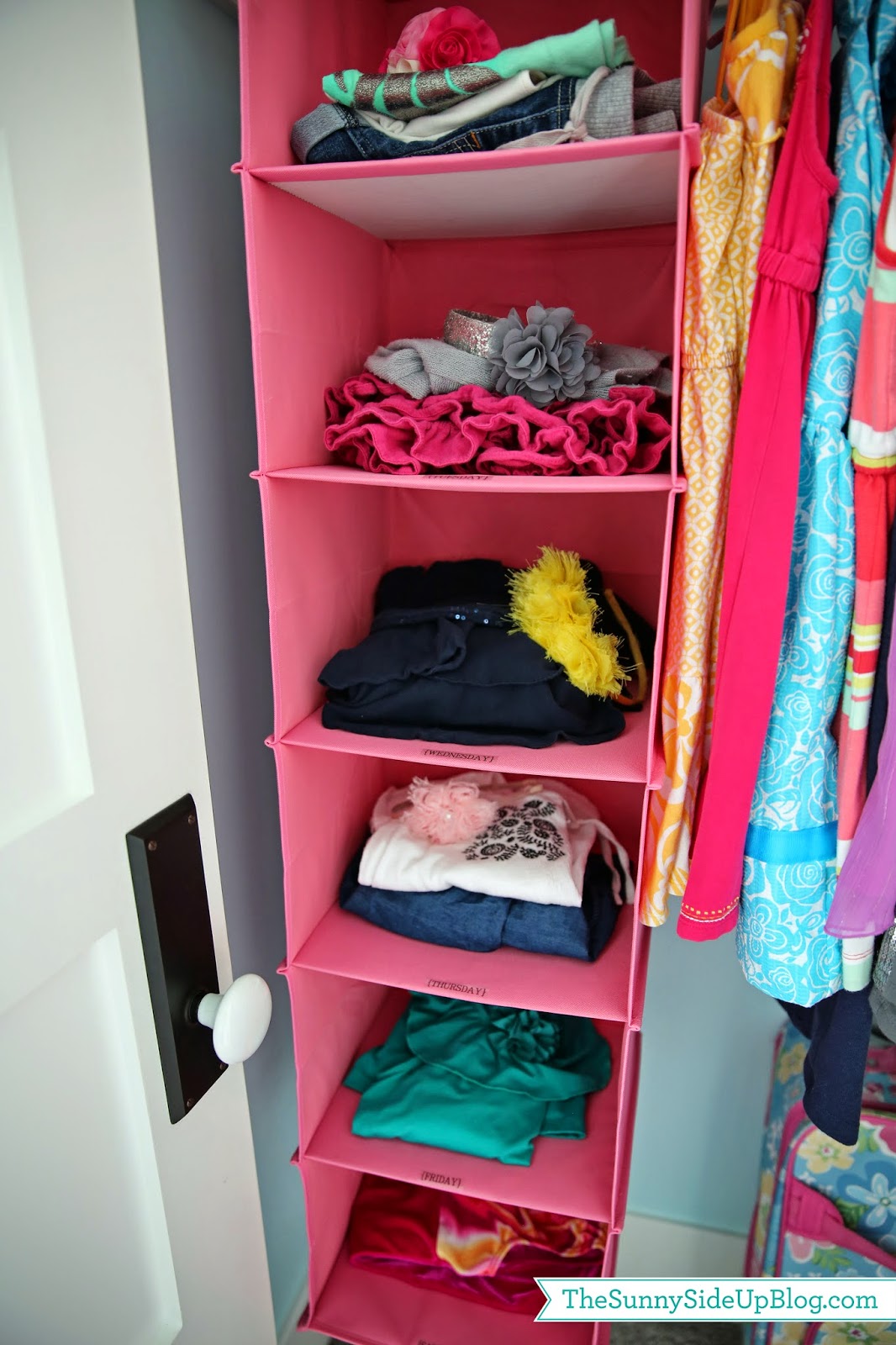 I waited for a sale and got each of these organizers for only 12 bucks!
They are sturdy and nicely made.  I couldn't believe how inexpensive they were.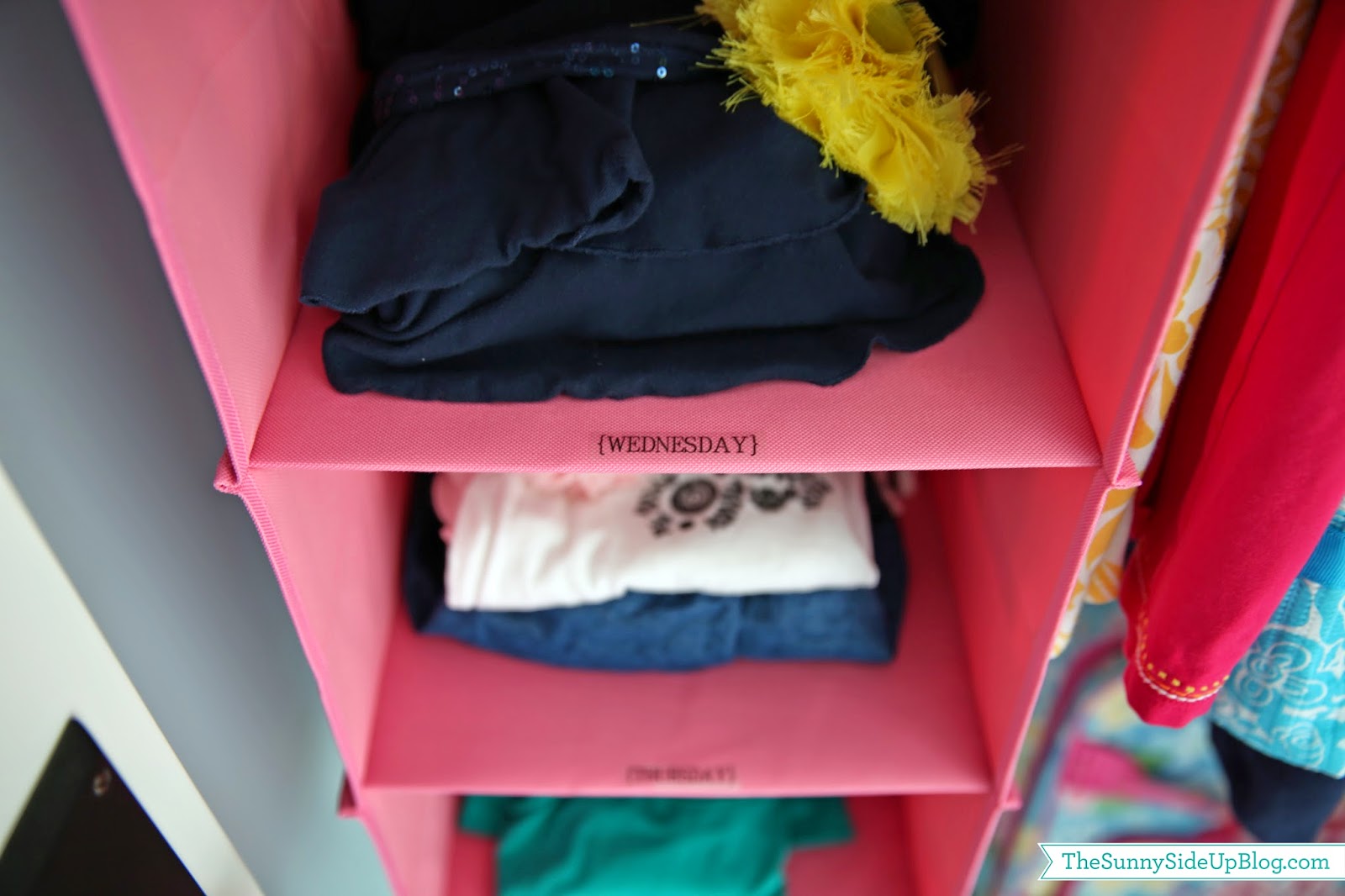 I got out my trusty label maker and labeled each opening with a day of the week.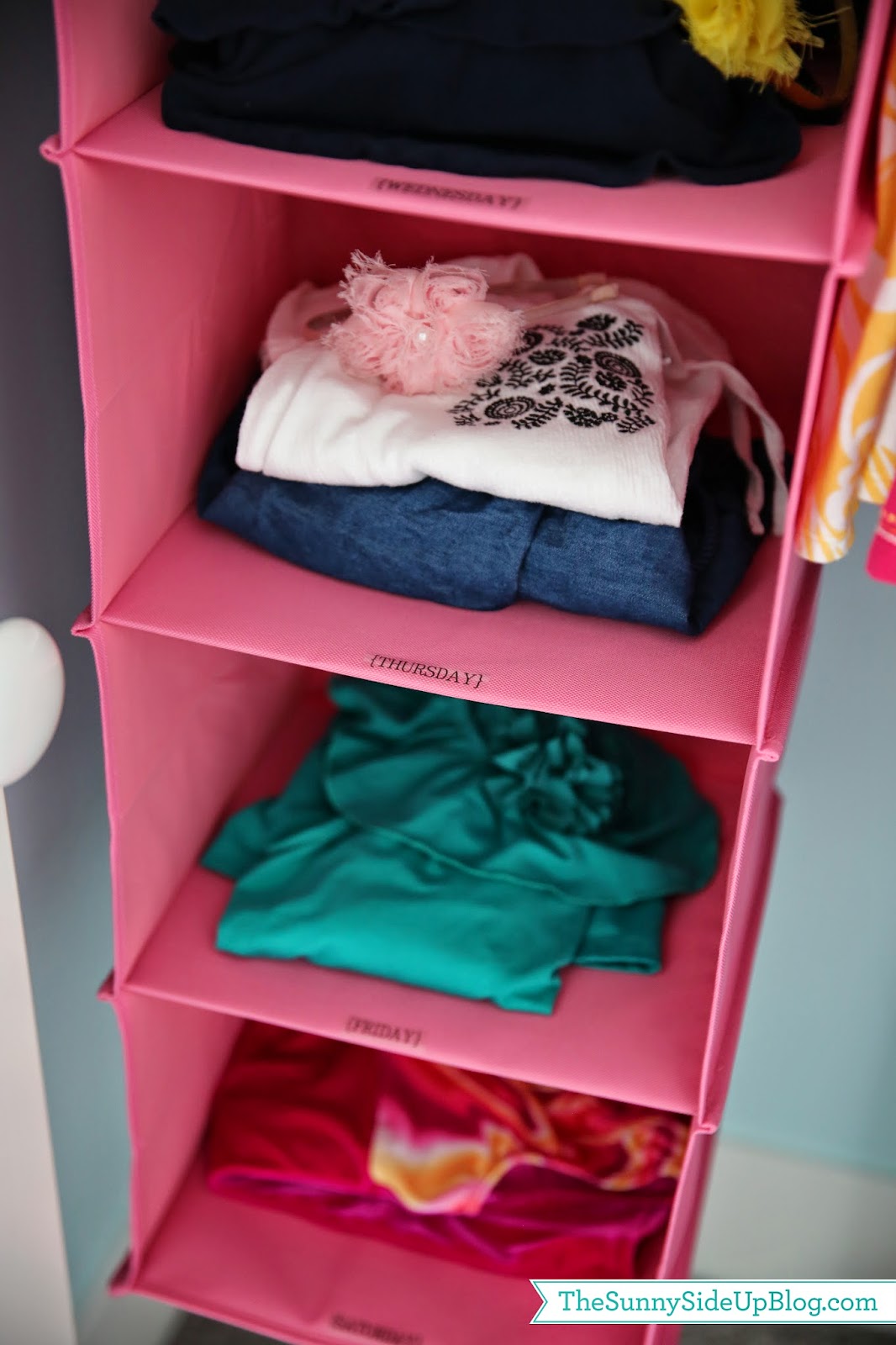 There are six slots so there was room for Saturday.  I love this because my girls take gymnastics on Saturday mornings and now we have a place for their gymnastic clothes to call home.
Here is the same set up in El's closet.  Can you tell this child of mine loves purple?  I had to really force her to look for clothes that weren't purple this year.  Last year she was in purple every other day!
She did well this week with only a purple belt and one purple top.  A new record for her.  :)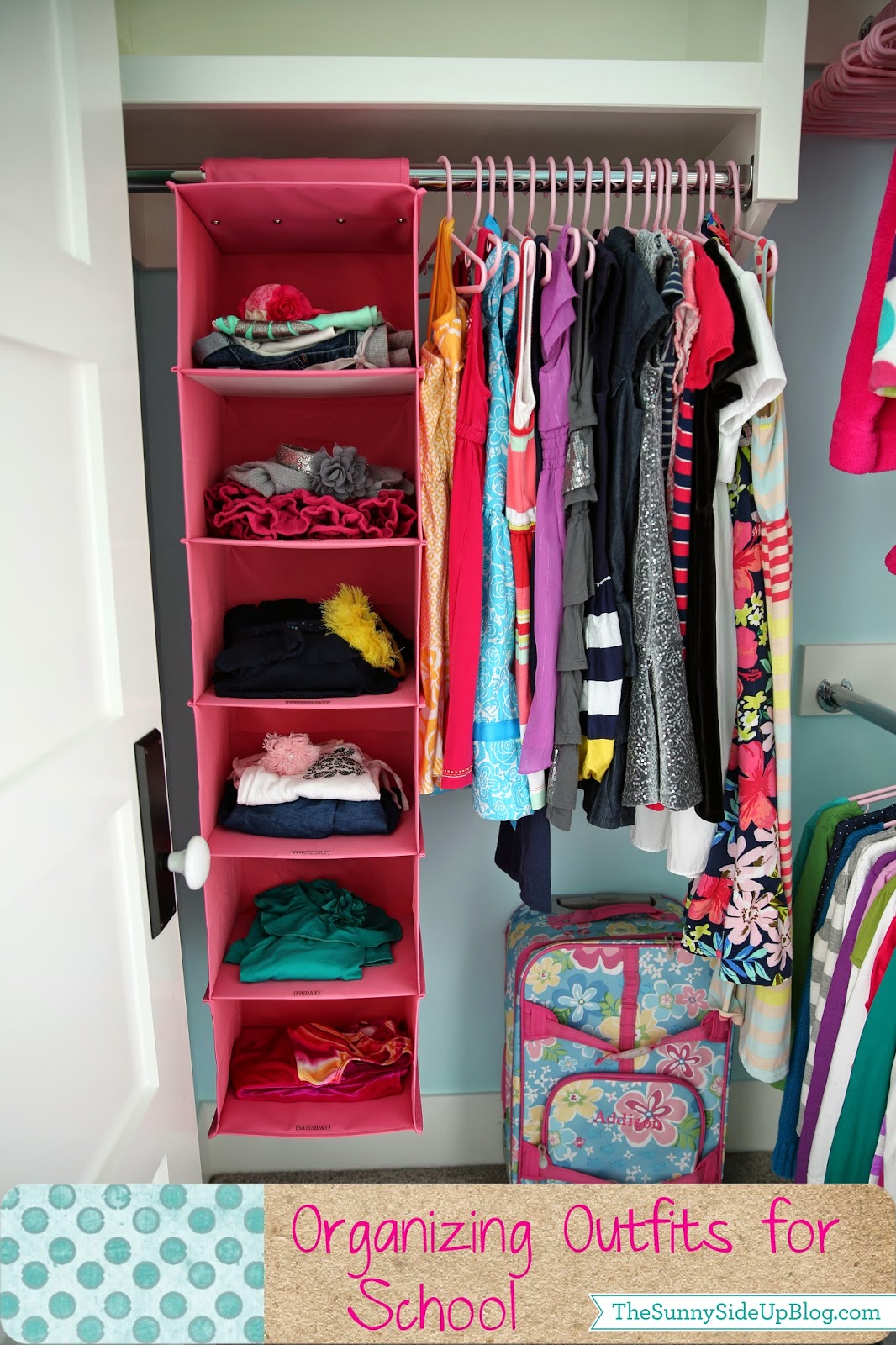 Regardless of how you choose to organize the clothes, picking out outfits for the week ahead of time always makes the morning 'get ready for school' rush much smoother!
Want to hear my crazy organized complicated system for organizing Kole's outfits each day?
You'll love it.
Ready for this?
He sleeps in the clothes he's going to wear the next day.
I kid you not.  He hates pajamas (what!?  does he even belong in this family!?) so he BEGS me each night to let him sleep in his clothes.  Over the summer I gave in because it was so hot at night and he was living in mesh shorts anyway.  So I bathe him and put him in clean shorts and a top and he's all set for school the second he wakes up.  How's that for streamlining the mornings.  Ha!  I'll have to get him back in pj's when it cools off at night because he won't sleep with covers either.  That kid.  Talk about a major difference from his sisters who are pre-selecting coordinating socks and jewelry and headbands each day.
The joys of raising daughters and a son.
:)
xoxo, Erin