Sharing a few pics I took from our Thanksgiving vacation because it's a lot more fun than unpacking and cleaning which is what I should be doing right now. :) We went to Utah. I love going to my mom's for Thanksgiving. Lots of family and fall leaves and no stress about being in charge of the meal. I can just be a helper. I've found I'm a much better "helper" when it comes to cooking.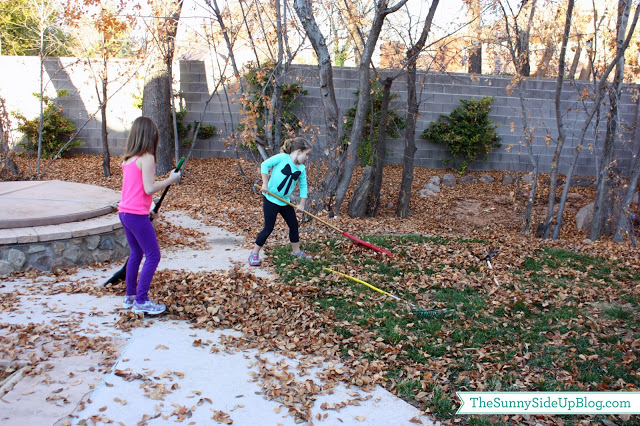 I was a good helper raking leaves this year too. We don't rake leaves in San Diego so this is actually fun for us.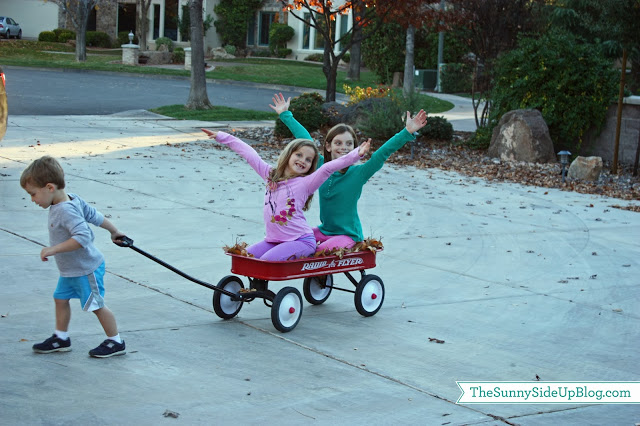 Although I use the term "helper" very loosely.
We'd rake a few leaves and then instead of hauling them in the wagon the kids started giving each other rides in the wagon.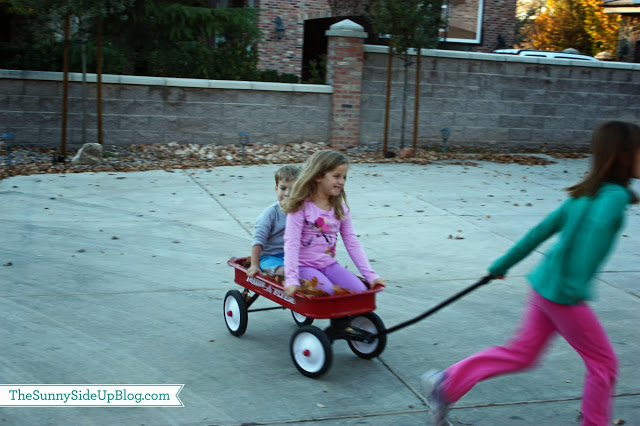 And of course I had to take a break to take pictures of them. My dad came out in the yard to see how things were going and just shook his head. What would he do without us? :)
This was a nice attempt to take a picture of all of us roasting marshmallows over the fire pit. Kids were playing in the leaves. I took this and then decided I needed a different lens and my tripod. Then I also quickly decided that I'd rather just eat some chocolate and stay warm by the fire instead of going to all that work. So this is the beautiful picture I'm left with. Photography is not for the lazy.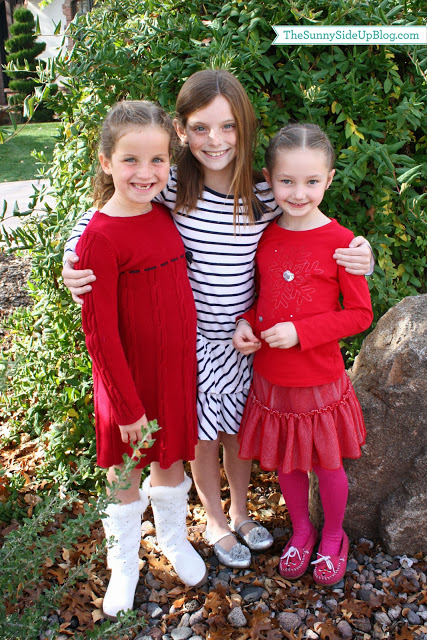 My girls had a blast with their cousins.
We tried out a few new hair styles.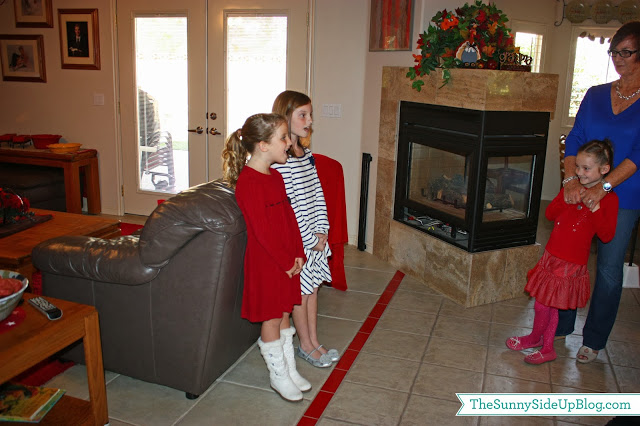 My girls sang and my niece played her violin for a little impromptu performance for some friends of my mom's. My girls have such pretty voices. They did not get this from me. But I do sing a lot. While I clean. When I drive. So I'm taking credit.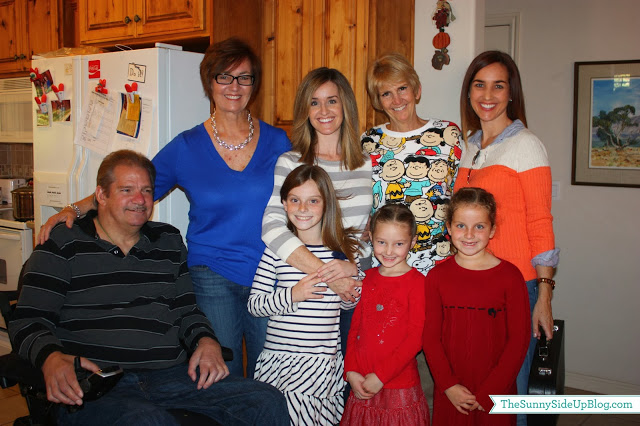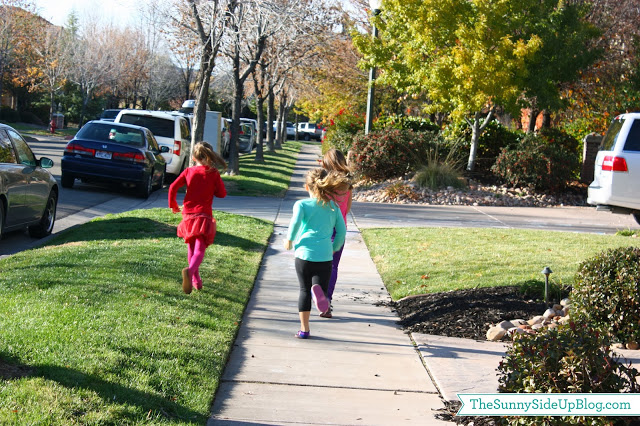 I took the kids on a little run after Thanksgiving dinner to burn off some of their endless energy.
All of the adults were thinking it was so great of me to do this but really it was just my secret way of getting out of doing the dishes. I'm tricky like that.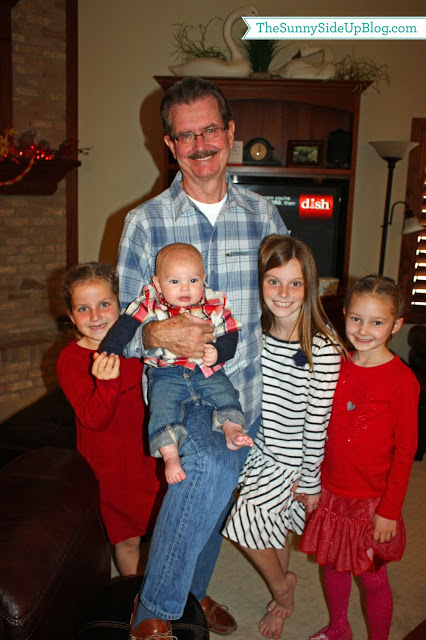 And we spent LOADS of time drooling over this little guy. Oh my word. My nephew Finn is the CUTEST. And getting so big. I think I held him for a total of 268 hours. Or more.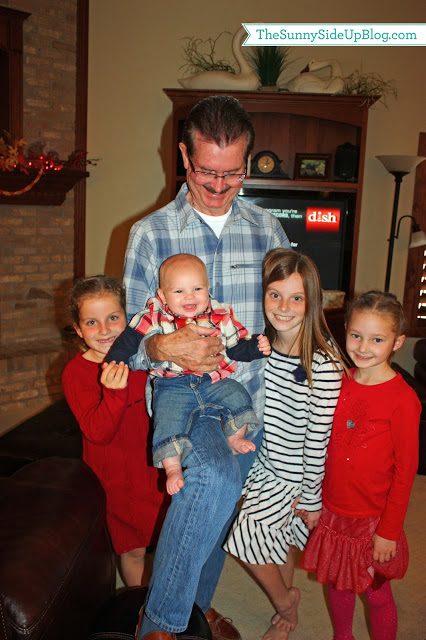 I bought him the little outfit he has on. I feel it's my duty as his favorite Aunt (sorry Carly – you know it's true) to keep him looking stylish at all occasions. The two of us are tight. I know he misses me right now. I sure miss him.
Back to unpacking and cleaning. Bummer!
Or maybe instead of cleaning my new kitchen I'll edit the pics I took of it.
And post them tomorrow.
WAY more fun.
Hope you enjoyed the holiday too! And are being much more productive than I am today.
Wouldn't take much.
:)
xoxo, Erin