I've been living at the new house lately. Seriously considered taking a sleeping bag up there last night. All electrical decisions had to be made this week and I had no clue what I was in for. My builder introduced me to the electrician and said "you'll love working with Erin – she's super organized and knows exactly what she wants." Then the madness started. And I didn't look super organized or like I knew exactly what I wanted. "do you want can lights or fixtures? where will they go? how many in this room? pendants or sconces? where do you want plug outlets? how many outside lights and outlets? flood lights for the yard? which ones will be set to a timer? where will that switch go? where do you want Christmas light outlets? where will your TV outlets go? do you want ceiling fans? do you want bathroom lights and fans together or separate? where will you have lamps? what about central vac?
uh uh uh……
It took two days total and at this point I'm so brain dead that I can't remember where I put anything. It will not surprise me at all if once we're living in the new house I walk into my pantry and flip a switch and it turns on the bedroom fireplace. Let's just say that I am so glad to be done with electrical. My brain is tired. Last night I went to a baby shower for a friend. It was the second time I went to her shower. One week ago I told Kenny to get home from work by 7:00. I rushed to get kids bathed, fed, and homework done. I wrapped a baby gift, got cleaned up, and drove to the party. Almost there and it hit me that it wasn't December 4th, it was still November and I was a week early. Kenny maybe wouldn't have minded except I did something similar a couple of weeks ago. I was on the phone with my builder dealing with something that had to be taken care of right then and it was getting close to the time I needed to pick up the girls from school. I frantically text Kenny on my cell while I'm talking to my builder on the home phone – go pick up the girls at school – I can't make it. He leaves work and rushes to pick them up only to find my neighbor picking them up because we carpool and it was HER day to drive.
Yeah. Good times around here.
I'm not quite myself lately. And I can see very clearly that this is how we're going to roll for the next six months. So if I go days between posts and then ramble on and on about nothing when I do post, you'll know why. And hopefully understand? :)
A few iphone pics because clearly this post isn't random enough already…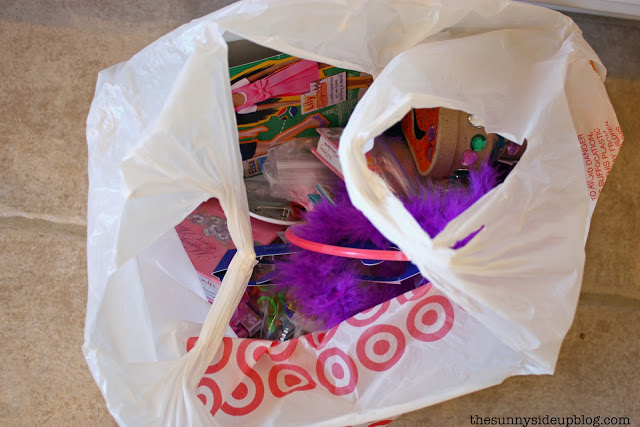 Old toys and games, etc. always go to goodwill, but this has been my method of cleaning my girls' small extra stuff/junk lately. I walk around their rooms with a Target sack and toss everything that doesn't have a place in the sack. I hang onto the sack for a week or two. If nothing gets mentioned or is missed, I trash it. GONE and DONE. Kids come home with so much extra "stuff" every day and it just leads to clutter. They never miss a thing I toss in these sacks which shows me how important it all is. Not important. Clean rooms without all the junk and clutter? Important.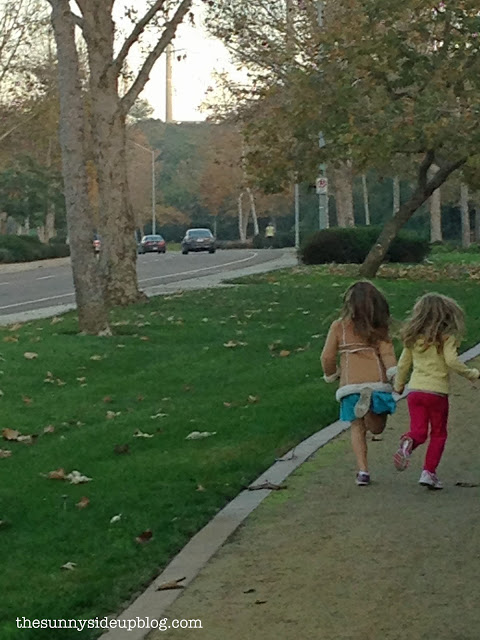 A walk to the park last weekend. Girls like to hold hands and run ahead.
I like to watch them holding hands and running ahead.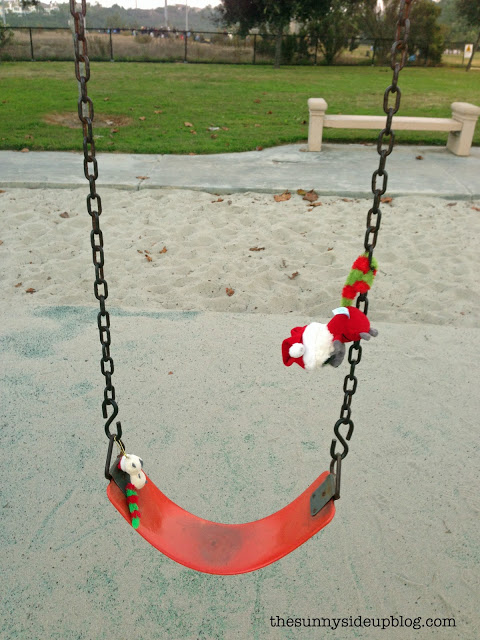 A sign that my Ellie has been at the park.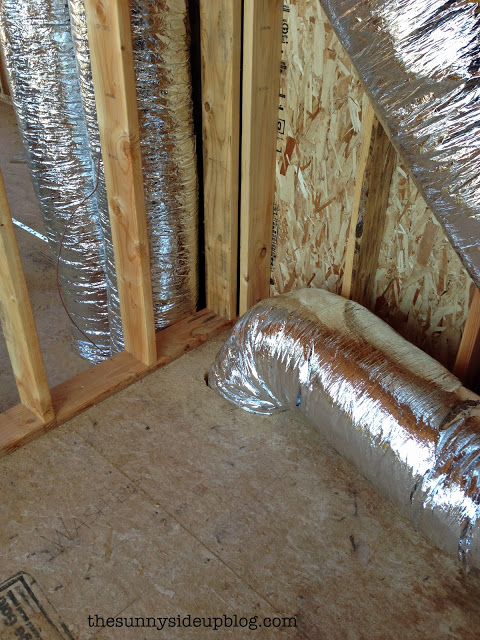 The heating and cooling ducts are taking up precious space in some of my rooms/closets.
Not a fan.
This pic was taken in the new playroom. See that pocket of space underneath the window where the roof slants? I've been finding all sorts of extra little storage space in this house because our roofs are so pitched. I was wondering what I could use that space for and then it hit me!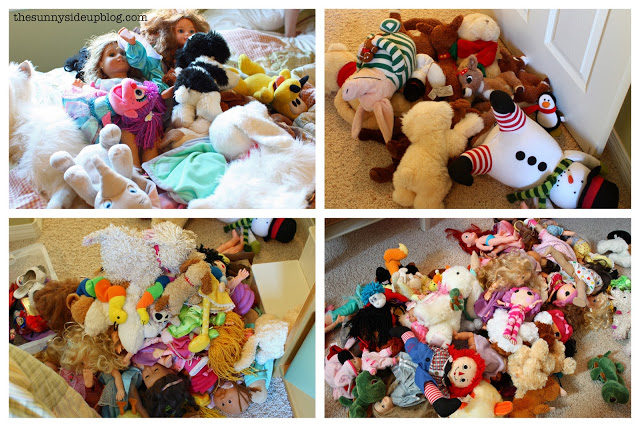 Remember the crazy amount of stuffed animals and dolls my girls have?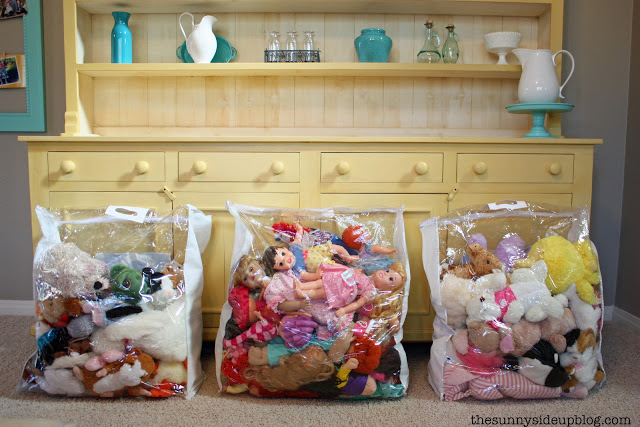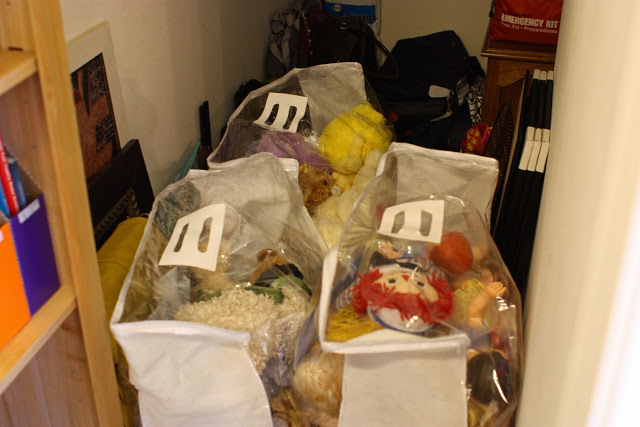 And how they are shoved into our closet under the stairs?
Perfect! Pull out drawers under the window for all of the stuffed animals. I came up with that one at 2 in the morning the other night. Then I fell back asleep and dreamed that Kenny told everyone to make everything in our new house black. Black floors, black counters, black everything. Then he couldn't understand why I was so upset about it. You know those dreams that are so stupid but they seem so real? This was one of those. I woke up so happy and relived it was just a dream! :)
We've been planning the pool and landscaping. Here are a few pics I took while we were figuring out where the pool will go…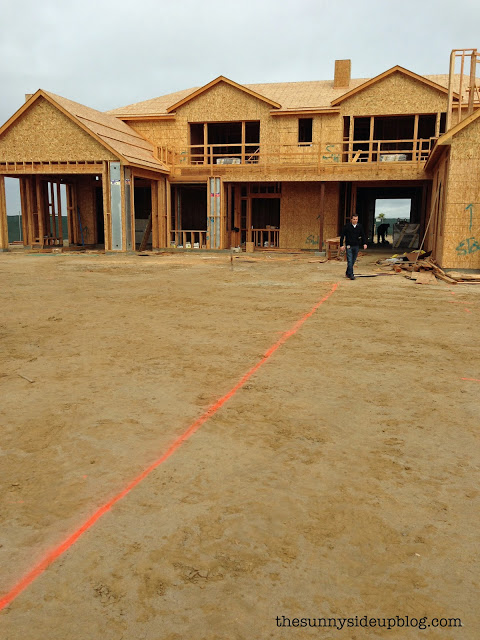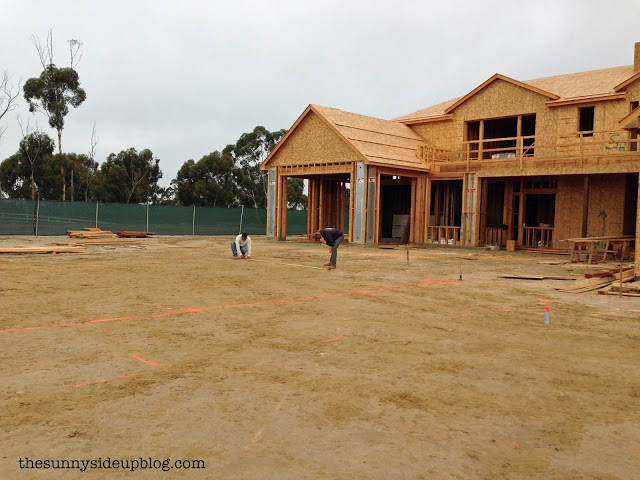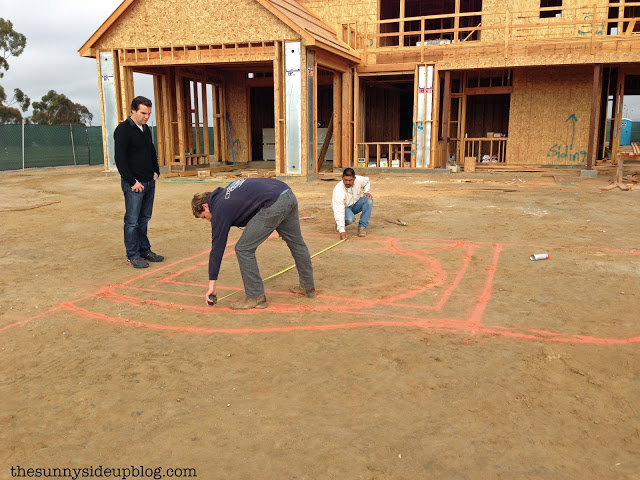 We're going to put the hot tub inside the pool. I wasn't crazy about this idea at first, but now I'm really excited about how it's all going to work. That way we can cover everything together. To be honest, swimming pools scare me to death. If it was up to me, we'd wait a few years to put one in because of Mr. I love to live on the edge of danger…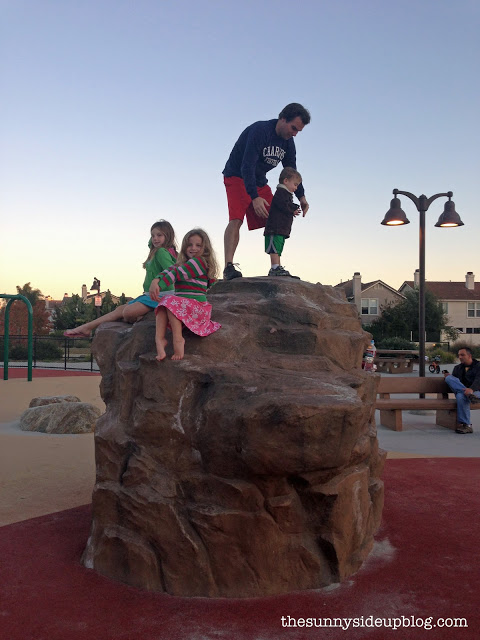 I think you all know who I'm referring to. :) But it's easier and cheaper to put a pool in now while we are in the middle of construction anyway so we are looking for ways to make it as safe as possible.
Well. That's it for now friends. I'm off to give my brain a much needed rest. Until tomorrow that is.
Enjoy your day!
(What day is it again?)
:)
xoxo, Erin