The outline of the house is chalked and tomorrow the digging begins for electrical and plumbing! Woot Woot! It's official. We will no longer be staring at just a chunk of dirt. It's about to be a chunk of dirt with holes. :) Kenny and I met at the lot this afternoon to check it out. While we were there we met two of our framers. They were SO nice. I see many banana bread muffins in their future. :) I took a few pics… ok… I took around fifty pics. I meant that I'm going to share a few pics. I'll explain our floor plan better at some point, but here is just a peek at where some of the rooms are located.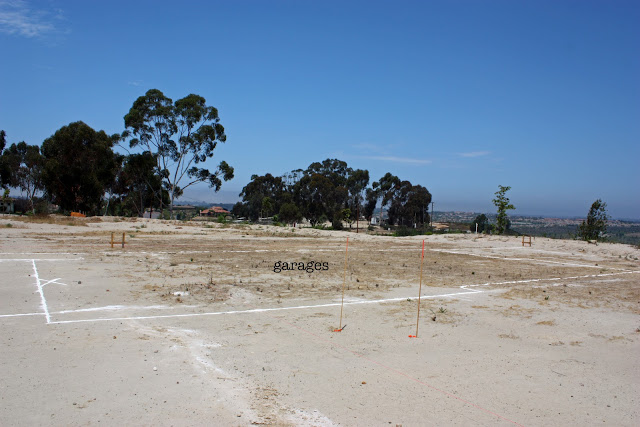 I mentioned before that our lot is a rectangle so the house almost makes an H shape. Our garages are located in the front right section if you're looking at the house from the street. I wasn't standing at the street when I took this picture. I'm facing the front of the garages (where the garage doors will be). If I turn my head over my left shoulder I would be looking at the front of the house.
This is the left side of the house (if you were looking from the street).
Flipping things around… I took this picture from the back yard – left side of the house. Is this confusing anyone yet? Because I'm getting confused. And if I'm getting confused the rest of you are in trouble. :)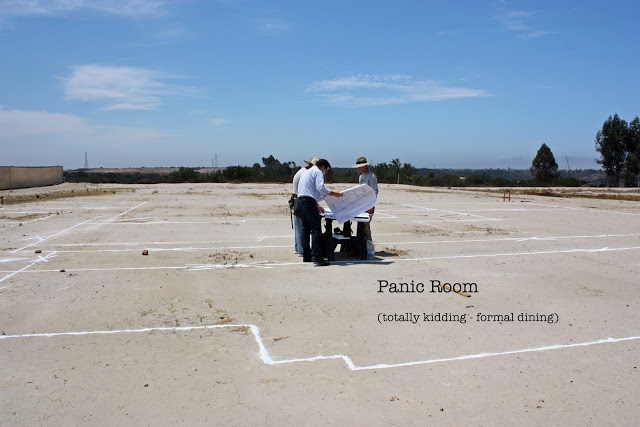 I didn't get a good picture of each section so I'll have to share the rest of the floor plan later. A few more random pics I took today…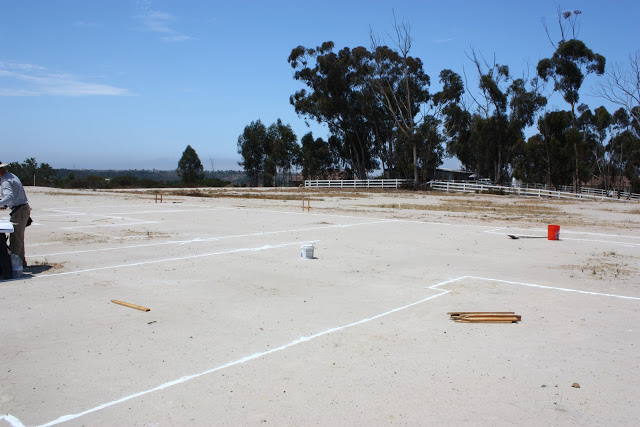 I'm excited. And I want to thank all of you who have been so excited with me! Your kind comments and e-mails make my day and I feel incredibly lucky to have so many wonderful people reading my blog. I'm going to try not to overload this blog with new house stuff, but I love sharing pieces of this building journey with all of you. Just wait until I move in! There will be so much to organize and decorate! Makes me giddy just thinking about it. Blogging material for years and years to come…
:)
BTW – I have received so many e-mails lately asking if there is a way to subscribe to my blog through e-mail. I don't have that set up yet. I know. I am SO behind the times! I don't tweet, I'm never on facebook, instawhat? Pinterest and blogging and e-mail maintenance take up more computer time than I have right now. As you can see I haven't even had time to change my blog header from Spring to Summer! (Easter eggs work in July, right?) BUT. It's on the to-do list. I'm planning to make a few blog changes, create a facebook page, and to look into the whole subscribe through e-mail feature. Of course "update the blog" is written on the same to-do list as "start Kole's scrapbook" and you all know how well that's going. So my message is that I'm working on it! Hopefully at some point I will have more ways to subscribe to my blog. Thanks to everyone who has asked. I'm honored that you want to make checking in with Sunny Side Up part of your routine. :)
Have a great Thursday!
xoxo, Erin