I always have mixed feelings about my kids going back to school. By the end of summer I'm usually ready to regain some sort of schedule, but I dread getting back into the business school brings. Plus I get so sappy every year knowing my girls are moving up a grade and are getting one year older. I totally bawled last year when Addison started Kindergarten (and according to my friends I had no business doing so since she wasn't my first and I still have one more baby home – ha!). We still have plenty of summer left around here (my girls don't start until the beginning of September) but I don't want to make the same mistake I made last summer. Last summer I didn't start thinking about preparing for school until about a week before. The backpacks I tried to order on-line were sold out. School supplies were picked over. Kole was so hard to shop with that I was only able to get the girls one or two new things to wear. None of this was that big of a deal, but more than anything I didn't love that I spent our last week of summer running around feeling stressed instead of enjoying that time with my kids. So to ensure that doesn't happen again, this weekend I made a back to school checklist. Of course I did! Because what's better than a good checklist, right!? :) My plan is to start slowly getting ready for the beginning of the new school year so that as summer winds down I can relax knowing that I'm on top of things.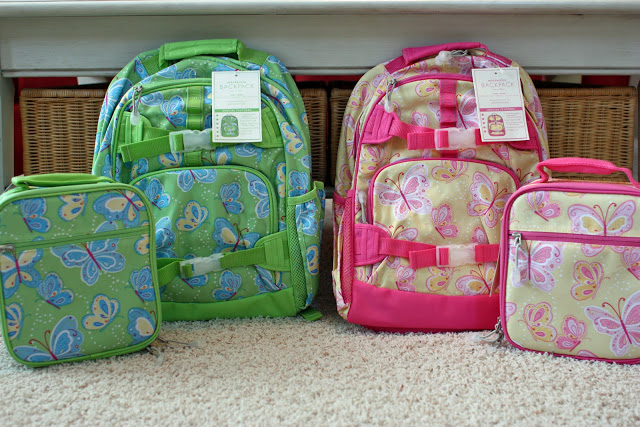 I was strolling by Pottery Barn Kids in June (my girls were still finishing up last school year) and noticed that all of their summer backpacks were on sale. Score! I knew I didn't want to make the same mistake I made last year…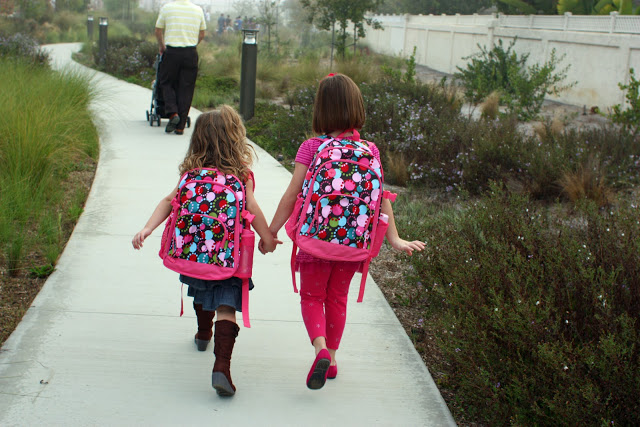 Identical backpacks were a joke. Even though I had their names on them we still got them mixed up a time or twenty. Ellie's homework would end up in Addison's backpack, Addison would end up with two water bottles, etc. I'm all about making my life easier this year! Now let's just hope they don't both want the same one.
2)
Buy containers for water.
Check!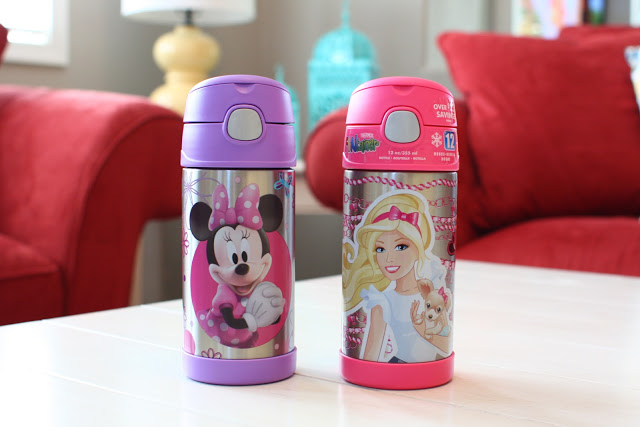 These are my favorite water bottles for my girls' lunches. I bought them at Target. They have a lot of different styles and I've tried most of them. These hold up the best and they keep the water ice cold all day long. The button is easy to push and a straw pops up making them less likely to spill all over the place. Again, I got them two different styles.
3) Buy the girls each two pairs of shoes. Our school has a closed toe shoe policy so no sandals or flip flops. I need to find them each a good pair of running shoes and then something a little more feminine that will work with skirts. This is always my most dreaded back to school purchase. I hate shoe shopping with my kids! I'd elaborate on the pains of it, but I don't think there is any need. Those of you who have kids know exactly what I'm talking about. If you don't, consider yourself very lucky.
4) Sort through all of the clothes in the girls' closets and drawers. I'm going to sort through every article of clothing they have and clear closets of anything that doesn't fit them and they aren't wearing anymore. This will give me a good idea of what I need to buy for each of them.
5) Shop for clothes they need. Easier said than done with my little man in the picture. Definitely getting a babysitter and just taking the girls this year! I think we'll also get lunch and make a fun "girls date" out of it. :)
6) Get all medical forms signed by the doctor. Take forms and medication to the school nurse. We have a child with allergies so we always have a ton of forms that need to be signed by our pediatrician and our allergy doctor (almost as fun as the shoe shopping).
7) Print supply lists and shop for school supplies. YEA! My FAVORITE part of back to school!
8) Make appointments for all three kids to get hair trimmed.
9) Create ways to simplify our morning routine as much as possible. School mornings are crazy at our house. Mostly because my two year old senses that it is a busy, rushed time and naturally does everything in his power to make life difficult. It's what two year olds do best. :) I've been thinking a lot this summer about what I can do to make mornings run a little smoother and allow for more Kole hiccups. Aside from getting lunches and backpacks ready the night before, I also want to start picking out outfits for the girls a week at a time.
I love this hanging outfit sorter (sorry I couldn't find the link!). The only problem is that I don't have room for something like this in the girls' closets. So here is another option I'm considering –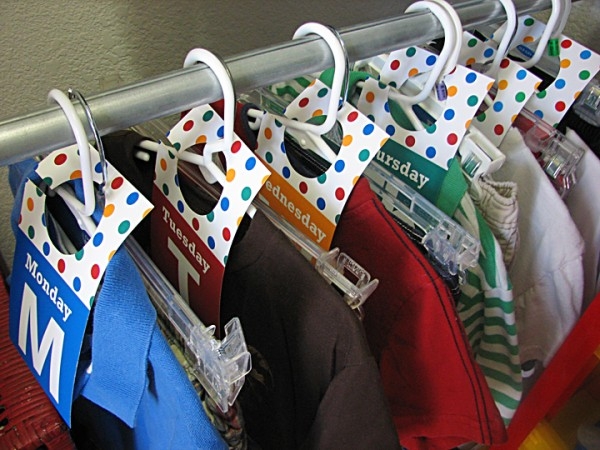 Making some sort of daily labels for a weeks' worth of outfits. (You can buy these
here
.) Every Sunday I'll pick out a few outfits and the girls can pick out a few outfits. Then everyone is happy! I'm planning to have them pick out every little thing right down to the headband they are going to wear in their hair that day. Then we are sticking to our outfit plan! No more clothes debates in the morning! No more
"this is too itchy… this skirt doesn't fit right…"
and then three outfit changes per girl later we are finally ready to walk out the door. I never thought I'd be an advocate of school uniforms because I love clothes so much, but by the end of last year I would have welcomed the thought of my girls having to wear the same thing every day. I'm over the outfit drama!
10) Be prepared with a variety of school lunch ideas.
Man. This is a hard one for me. My school lunches are so boring. I've been pinning pictures of some fun, creative ways to serve my girls their lunch in hopes that they will start eating everything instead of coming home with their apple slices still sitting neatly in a zip lock bag untouched. Here are a couple of fun ideas I'm going to try –
Love the idea of putting cheese, fruits and veggies on a stick.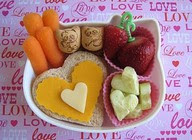 I'm also planning to use cookie cutters to cut some of the girls' food into fun little shapes.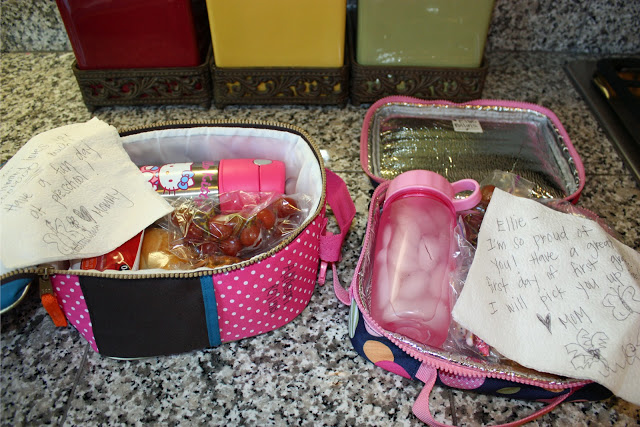 And of course I'll continue to leave napkin notes in their lunch every day.
One of our favorite daily traditions. :)
I don't have time for anything too crazy creative, but these ideas are an easy start to making school lunches a little more fun.
So that's it! My back to school checklist. Baby steps all the way to a smoother transition. :)
xoxo, Erin