WHERE has this week gone!? First week of summer has definitely been a busy one. Summer actually hasn't happened yet for my Addison. This is her last week of pre-school and this weekend is her little graduation ceremony.
For Ellie's teacher, I kept things simple and just did my standard gift card (always to either Nordstroms or Target – the two places I'd want a gift card to!) along with a personal card from me and one from Ellie. But with Addison, we went a different route because she has SO many teachers who have had an influence on her during the last two years.
First, Addison made cookies. I hate to bake so I just turned it all over to her.
Kidding! Kidding. Kind of. She did help a lot. And yes, she's wearing a Halloween outfit. In June. Because that's the way we roll around here. And once Addison is on outfit number 6 of the day – you just stop caring. Ya know?
Kole was our official "cookie watcher." He took his job pretty seriously pulling himself up to his post every few minutes to make sure the cookies were progressing to his satisfaction.
Since Kole had everything under control in the kitchen, Addison and I got to work on our cards.
Addison drew a picture of her with each teacher. She is the one on the right with the curly hair. :)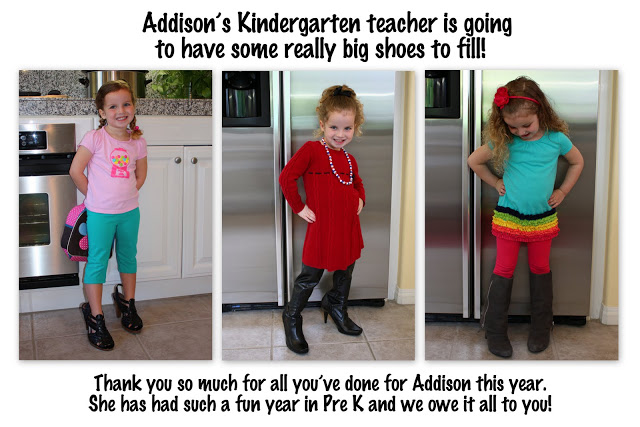 Last week I found some cute plates on clearance at Target and snagged about 15 of them. They were perfect to hold our oatmeal cookies. Which thanks to Kole, were cooked to perfection.
Then I just used some scrapbook ribbon and plastic wrap I had on hand to tie everything together.
A quick and easy gift with a personal touch. My favorite kind.
We gave them to her teachers today and I couldn't help tearing up. So did several of her teachers. I am so sad to say good-bye to this second family of mine.
Even if it is just for a couple of years until my little "cookie watcher" is ready for pre-school. Good thing that isn't for a while though – this little one is needed in the kitchen.
xoxo, Erin