Hello friends! Sharing pics of my home with a few touches of Spring! I had so much fun decorating my mantel for Valentines Day —
that I decided to change things up a bit for Spring–
It was hard for me not to use red! But I love the way the green and white work with the black to give my mantel a cleaner, softer, more "Springy" look.
I already owned most of the stuff I used. Just switched out the candles, added a simple white pitcher,
and moved the plant around. I found these cute Easter eggs and put them in some Apothecary jars (how can you not love Apothecary jars!?),
and of course kept up my favorite little black jars. I first tried filling the jars with Easter candy, but ended up just leaving them empty. I like the simple, clean look for this simple, clean time of year.
Here are a few more Springy updates:
Welcome! A fun Spring wreath on my front door. I fell in love with this wreath when I saw it because it looks so real! It reminded me of all of the wild flowers that grow on Boulder Mountain (a favorite family camping spot). Plus it cost me a whole 11 bucks. What's not to love about that!?
Of course there have been all sorts of tulip arrangements in various spots around my home. Tulips are my favorite flower and my friends and family all remember that every March for my birthday. This particular arrangement was left on my door step a week ago. A special gift from Kenny. While I didn't get my diamonds last March because I opted to have the baby early ;) I did get a year of fresh flowers. Kenny gave me a card that said he had ordered me a year of fresh flowers (one arrangement would be delivered each month) to get me through the "year of the baby." I have so enjoyed finding a new bouquet of flowers on my doorstep each month that represent the current season and time of year.
LOVED the tulips. Almost enough to forgive Kenny about the diamonds. :)
This really has nothing to do with Spring, but we finally hung the family portrait…
and the picture of the two of us. The individuals of the kids will be trickier because I need to figure out how I want to collage them on the wall. I found this plant when I was visiting family in Utah in February and fell in love with the vase. I can't get seem to get enough of yellow lately! Yellow is such a happy color, isn't it!?
Speaking of yellow, I fell in love with this little yellow and gray set. I put them on our black coffee table in the family room because this has become a landing spot for Kenny's keys, wallet, and Blackberry after he gets home from work. I have tried putting other decor here only to be annoyed when it is tossed aside so that he has room for his loose change. I finally decided — why fight it? Now he has a place to put his things after work that is stylish and makes us both happy. Ok – Kenny is actually pretty indifferent. I'm the happy one. :) Would have photographed it with his keys and wallet in their new stylish home, but those items are only there at night and I'm usually too tired to think about taking pictures at that stage in the day!
Last year I filled this fun, little set of jars with flowers from my yard…
This year I filled them with Easter candy. We had to have jars of Easter candy somewhere! It has been great motivation for kids who choose to have a good attitude during homework. And for a certain mom who feels she too deserves a reward for maintaining a good attitude during homework.
Found these shiny Easter eggs and hung them from the kitchen shelf. They look a little cheesy, but my girls love stuff like this.
This is a fun little tree I picked up at a great specialty store I just love called "my mom's house." (for real – I stole it from my mom's last time I visited. Her house is one of my favorite places to shop. You can't beat the prices. ;) Love you mom.)
I'm crazy about these little lemon trees I bought at Pottery Barn last year when all of their Spring decor went on sale.
I love them so much…
that I have to share them…
from every possible angle.
Our Easter tree didn't really work with the decor I had going on downstairs…
so I brought it upstairs into the girls' bedroom and created a festive little Easter display for them to enjoy.
Ellie's contribution was the little framed picture she made of herself last year in Kindergarten. She even put the scotch tape on the back herself and got it all ready for me to hang. :)
You all know that I'm in a constant state of "Spring cleaning" at my house no matter what the season, so Spring cleaning doesn't feel like much of a change. But I do have my one shelf of dishes I make sure to wipe down from top to bottom every time Spring rolls around. My little way of welcoming in the season!
The Bougainvillea in our yard is growing like crazy! It always brings a smile to my face when I pull into my garage.
p.s. That may have been more than "just a few" touches of Spring! Sorry for the picture overload.
p.p.s. Linking up at The Stories of A2Z!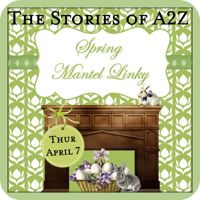 xoxo, Erin