Just wanted to give a quick shout out to my darling friend Shari who turns 40 today! Ok…did I really just type that? I CAN NOT be friends with someone who is 40! Sorry Shari. It's been fun and all but it's time to part ways.
Kidding. Totally kidding. :)
I love this girl to death. Let me tell you a few things about my friend Shari. She is AMAZING. She has six kids. Yes, I said six. Ranging from ages 4 to 18. She somehow manages to be there for each and every one of them and stays sane (mostly) in the process. She is a huge support to her husband. She cooks homemade meals each night. She exercises and looks amazing (you would NEVER know she is 40 and has six kids – seriously. It's unreal.) She is blunt and to the point. She tells it like it is and I love this about her. She is down to earth. She is real. She is a great listener. She is ALWAYS thinking of others. Always. She is the type of friend who will pick up your kids and take them to the park to give you a break (you who has half the kids she does and way less on your plate). She is the first person to bring a meal, call, send a note, drop off a treat, come by for a visit if you're having a rough day…and sometimes even if you're not. She is like this with all of her friends and we all look at her in wonder and amazement asking ourselves and each other…how does she do it? When I started my blog she was (and still is) my biggest support. I think she has left a comment on every single post I've written and I always look forward to her sweet and witty commentary. She has laughed with me and cried with me. She has been there for me more times than I can count. I love this girl so much. She is loved by everyone who knows her.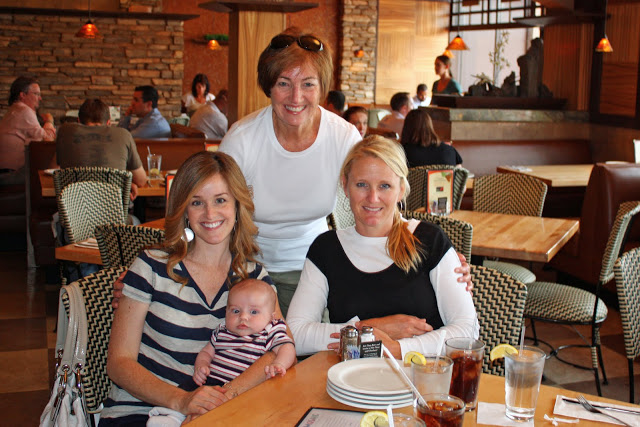 {lunch with my mom and Shari at our favorite pizza place. Shari and I live at this place. We always share the mushroom pizza and the grilled balsamic chicken salad. We crave it daily. Yes – the two of us eat the whole pizza. Never a bite left over to share. My mom adores Shari too. Shari brought my mom diet cokes and helped with

Kole

while I was in the hospital last April and they bonded. :) }

When I grow up and turn 40 (way way in the future) I want to be just like you. ;)
xoxo, Erin