Is it really Thursday already!? This week has been a busy one. Addison started pre-school on Monday.
The morning before included lots of outfit changes (before finding something we both agreed on) and lots of picture taking.

It also unfortunately included lots of tears when I dropped her off. But, this is her second year at a pre-school we LOVE and after just a few short minutes she was back in the routine and not ready to leave when it was time to go home. :)
Other happenings this week: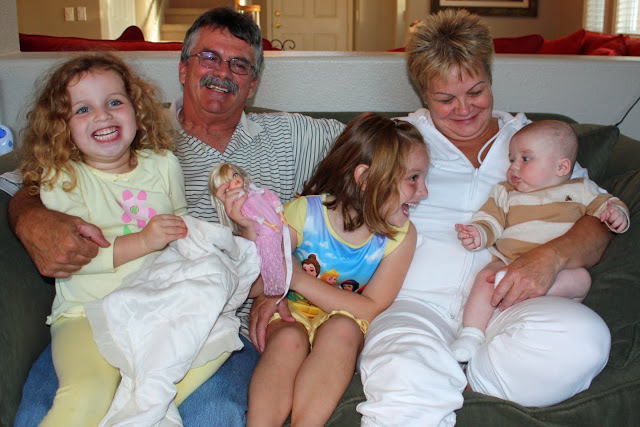 Lots of laughs with grandparents (Kenny's mom and dad came for a visit).
Lots of play dates and carpooling.
Lots of cleaning and organizing.
Lots of picture developing.
Lots of back to school shopping. (clothes, shoes, school supplies – doesn't get much better)
Lots of exercising. I tried a Latin Heat aerobics class Tuesday morning. Oh my. I moved my hips in ways I didn't know was possible.
and…LOTS of cooking! Yes. You will all be so proud of me! I have become one with my inner Betty Crocker and have cooked more in the last three weeks than I have in my whole married life.
My goal has been to cook more and eat less. Nice one. :)
When my sister came to help out after
my surgery
she made the best fajitas. I called her and got the recipe the other day and I've made them twice since then because they are easy to make, healthy, and taste so so good. Thanks Car!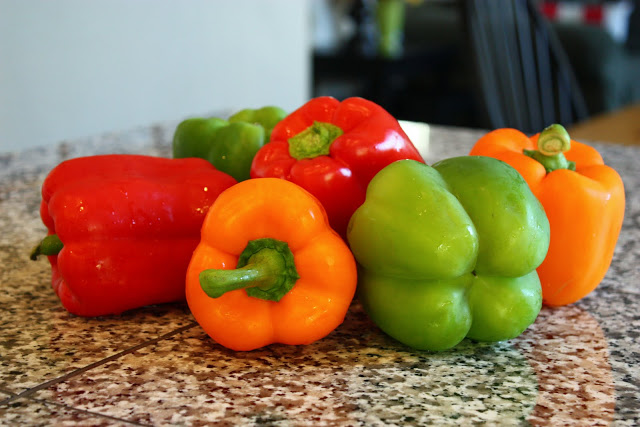 All you need is a few peppers (green, red, and either yellow or orange), an onion,
some low fat cheese, whole wheat tortillas, and pre-cooked southwestern style chicken strips.
(
side note:
pre-cooked chicken! Are you kidding me!? I didn't know this existed! It has changed my life! I hate cooking chicken – I actually don't like dealing with raw meat in general. But to have the chicken already cooked and spiced and ready to throw in the meal! Genius. Pre-cooked chicken, where have you been all my life!!?)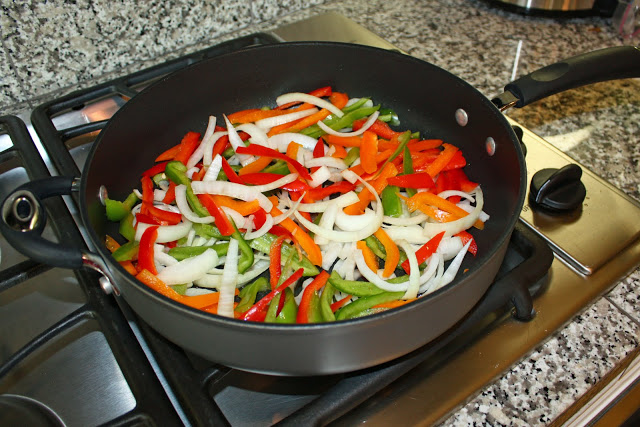 Anyway, slice everything up, put in some olive oil and saute the onions first. Then add the peppers. When the onion and peppers are almost done, toss your fabulous, pre-cooked, already spiced chicken into the pan and warm everything up.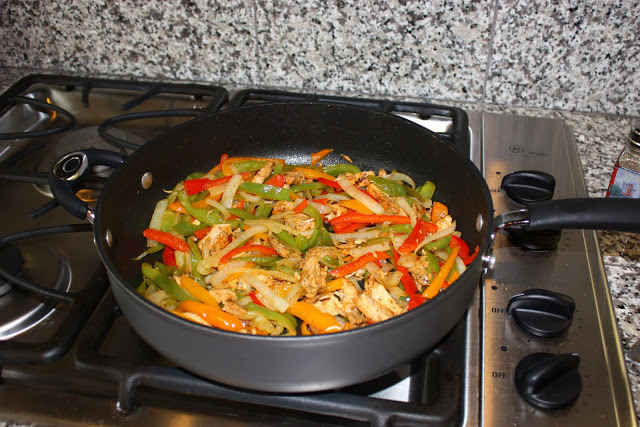 Serve it with salsa and chips. The chicken gives everything the best taste! Your family will ohhh and ahhh and you will feel oh so chef like. Right up until your kids don't eat it and you end up just fixing them a tortilla with a little melted cheese. But you and your husband will love it! So you will still feel oh so chef like.
At least that's the way it went down around here. :)
xoxo, Erin