Last week I mentioned being in a funk and going on an organizing rampage. Since my mom was here to help with the kids I was able to get so much done! (thanks mom!) Here are some of the before and after pics.
I've been wanting to use my bedroom hutch to house all of the educational workbooks, flashcards, etc. for the girls. Beginning of summer seemed like the perfect time to get this mess in order.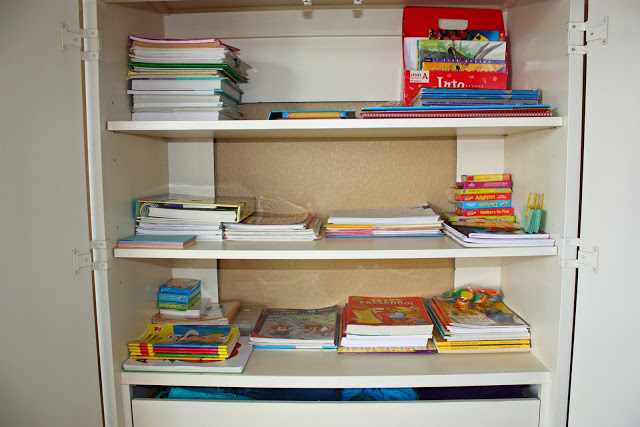 Everything is categorized – bottom shelf is stuff on Addison's level, middle shelf for Ellie, and the top shelf for educational stuff that they aren't quite ready for. Now when we have down time over the summer it will be so easy to pull out something to work on with them.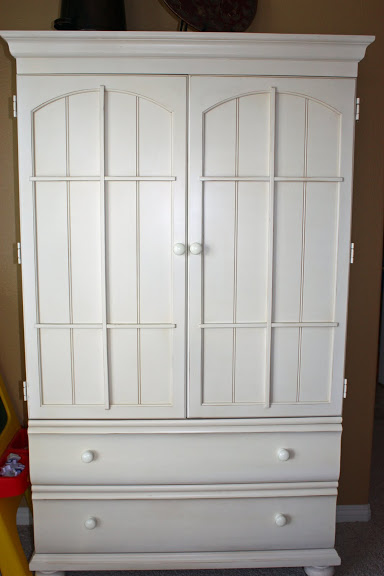 Love being able to close the cupboards and have it put away so the girls aren't getting into it without me.
Next I attacked the games. Our games were spread out all over my house. Some were in the girls' closet, some were in the hutch, some were in a cupboard downstairs – none of them were getting played with much.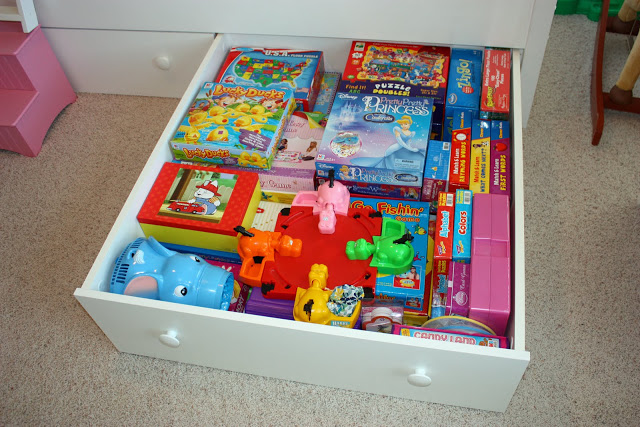 I rounded them all up and put them in this big drawer below the girls' bunk beds (these big storage drawers were the reason I fell in love with their bunk beds in the first place). Now they are all together and in a location that the girls can get to easily. Ready for summer afternoons when we need a little down time.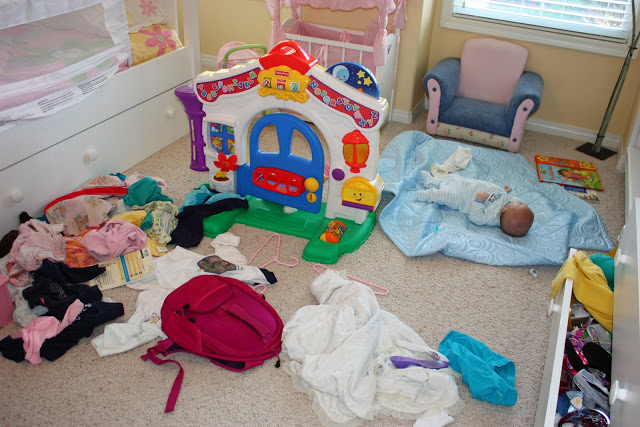 On to closets! Here's another mid-mess picture.
Kole
loves to stare at the light coming through the window almost as much as I love to stare at him.
I went through all of the girls' clothes (I do this every six months) and got rid of the stuff they aren't wearing and organized all of their summer clothes.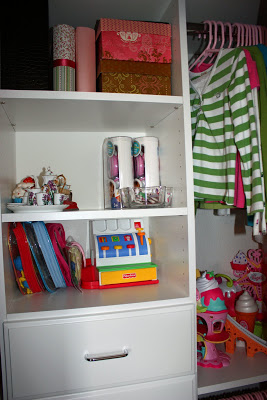 Warmer clothes that will still fit them next year are on the other side of the closet.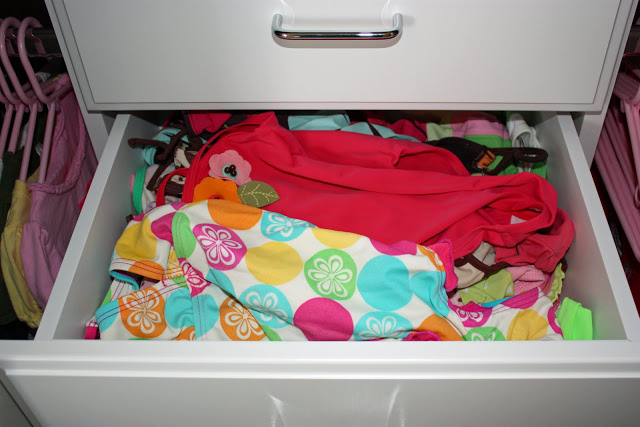 Then I organized all of their drawers. One for ballet clothes/shoes, one for summer nightgowns, one for swimsuits, etc.
Since I had so many bags already going to Goodwill I decided it was a good time to go through the baby toys and get rid of stuff I didn't think I'd use for
Kole
.
Fun to see all of these toys out again. :)
Since the girls' closet and games were organized I decided to complete their room by going through all of their books.
Kole
is an organizing maniac!
I got rid of A LOT of books. We had too many and there were quite a few the girls weren't reading anymore.
Love it! Now we have room for new books. I put all of the leveled books for Ellie to read this summer on the bottom shelf (along with a few for
Kole
) and then just straightened the rest.
xoxo, Erin