While summer is carefree and fun, lately I've been feeling like most of my days are not so carefree. Or so fun. I've been spending most of my days yelling things like: "Enough fighting! Pick up those toys! Let go of your sister's hair! Yes you ARE wearing that! Addison can "be" that princess if she wants to! Just put it on! Don't make me ask you again! I thought I said to let go of her haaaaaiiirrrrrrr!!!" You get the point. We needed a little extra motivation around here. So…I made these fun Star Behavior Charts for the girls. There is a pocket for goals the girls are working on (these change weekly) and a pocket for rewards they get at the end of each week if they have most of their stars. I decided they get a pass on two stars since perfection is a bit much for a 3 & 5 year old.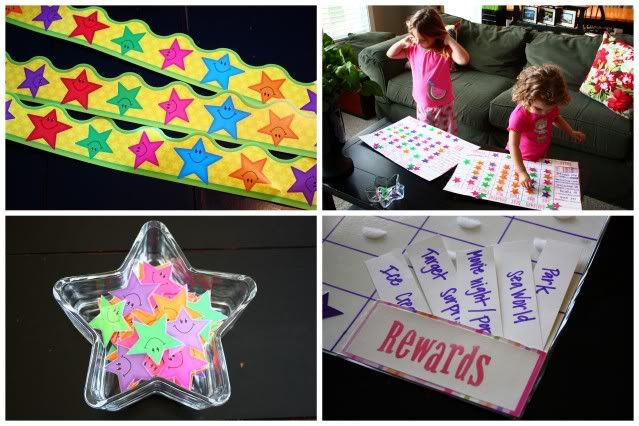 I made two charts because sometimes the girls will be working on different goals and… well… because a fight over the one star chart would have completely defeated the purpose. :) The stars I cut from a bulletin board border I had from my teacher days and then I just drew a grid, laminated everything (I so love to laminate), and then cut the laminate to make a pocket for goals and rewards. The great thing with the rewards is that they are things we would have done anyway…a trip to SeaWorld, movie night with popcorn, the park, ice cream, etc. The girls decide what they want and then work for it all week. It's nice each time I feel like screaming to simply state "if you keep this up you won't get a star on your chart." Kids calm down and I don't worry about losing my vocal cords.
These are their charts after the first week (you can see that on Tuesday the fighting continued despite the charts…). Overall though, things went well and at the end of the week we had a fun family movie night with popcorn. They got all of their stars on week two so we spent last Saturday at SeaWorld. This week the girls are working towards a toy (a green monkey stuffed animal Ellie has had her eye on – to be exact). :)

Free printable of the paint colors throughout my home!
Enter your name and email address to get instant access to my paint colors along with other free organizing printables. More will be coming soon!
Exclusive to subscribers!