really isn't a baby anymore. When I picked Addison up at her little 'pre' pre-school last week she had made this orange caterpillar. While she was feeding it some leaves in our backyard I noticed that it just happened to match the outfit she had on that day.
I also noticed how well the little orange outfit fits her right now and I remembered a day not so long ago that her sister wore that same outfit to meet her for the first time.
Feels like that was yesterday. It also feels like just yesterday we bought and assembled bunk beds because we found out we were having another girl. My sister and I shared a room and slept on bunk beds and I wanted the same for my girls.
(me and my sister on our bunk beds – 1983

ish

)
(Ellie on her new bunk beds – age 2 – March, 2006)
I remember Ellie was so excited and kept calling them her "big girl beds that daddy made." Kenny loved taking all the credit for "making" them when all he really did was hook them together. :)
Two nights ago for the first time, we moved Addison in to also sleep in the "big girl beds that daddy made." The girls were so excited.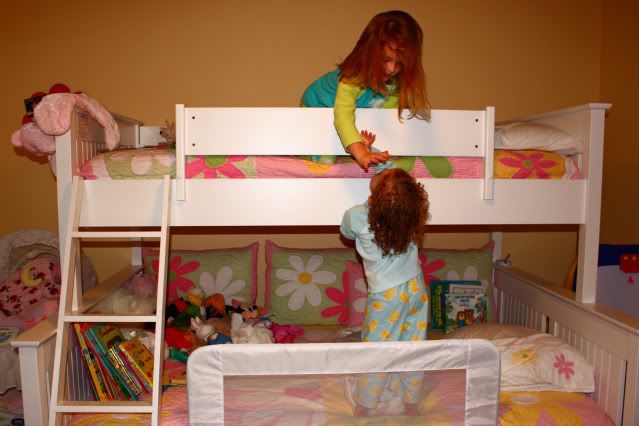 They said good-night.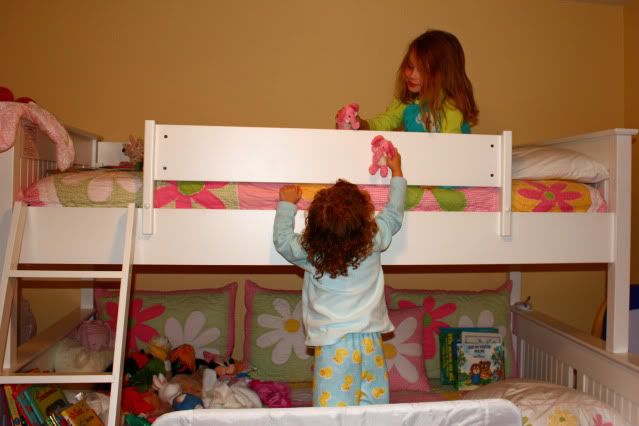 And their elephants said good-night.
And then Addison stayed up reading books…just like her sister used to do. They also talked and giggled until way too late. Just like me and my sister used to do. And Kenny had to go up and tell them it was time to get to sleep…just like my dad used to do.
After they fell asleep, I went to check on them. And then I walked into Addison's room and looked at the empty crib. And then I started to cry.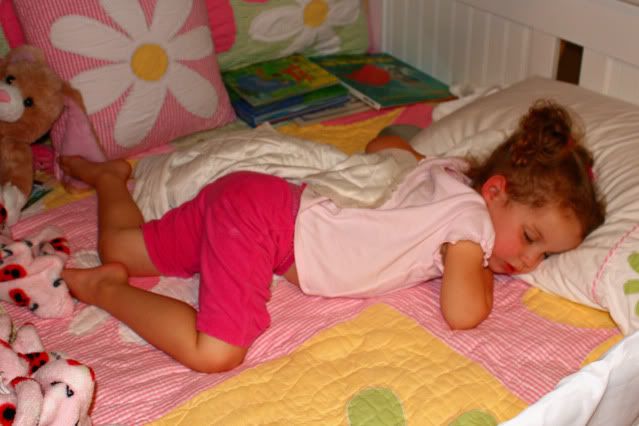 My baby really isn't a baby anymore.
xoxo, Erin