Happy Birthday to my cute sister Carly! She's 30 today. Welcome to the 30's Car! So far they haven't been too bad. Here's a fun mini trip down memory lane…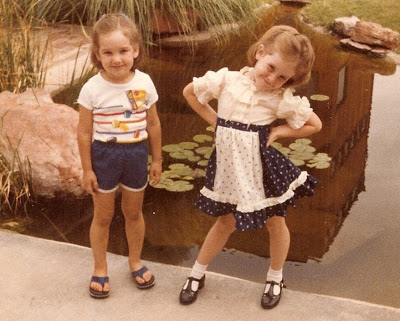 Now you know why my kids pose so much. The apple doesn't fall too far. While I may be the one posing however, at least my shorts aren't up to my chin. :)
I love this picture (think we're in a hotel room?) because we are reading Sweet Valley Twins. Remember those books? They were the BOMB and Car and I worshiped them! Yes, I'm the one with the pasty white legs. Carly and I look and act completely different. She is 21 months younger than me but has always been taller and tanner and older looking (thighs I would kill for!). The looking older thing always bugged me when we were little and people mistakenly thought I was the little sister. Now that we're BOTH in our 30's…payback time!!! :) Ok Car – you still have the tan skin. And the thighs.
Skiing Brian Head with mom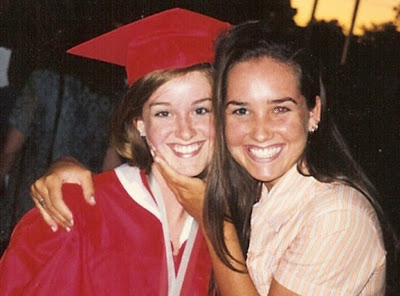 College Graduation (Car – I know you're going to complain about your left eye in this picture. Sorry. I couldn't get the "red eye" tool to work on that eye for some reason. Still wanted to use it because I like the picture. I'm laughing right now because I know how bugged you'll be. My blog – remember!) :)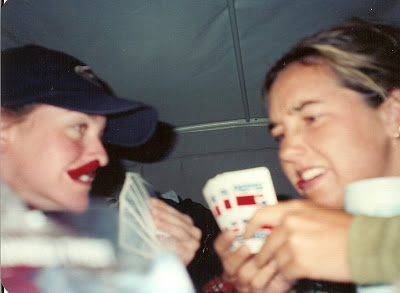 Mean game of Poker
Christmas 1998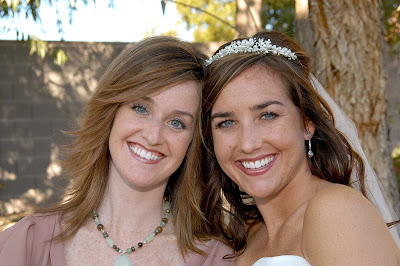 Car's Wedding
Soon after Claire (Car's baby) was born
Car with my girls (Addie left & Ellie right)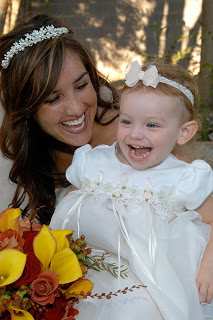 More of Car with Ellie

5 Things I love about Carly:

1)
She is FUNNY.
There is no better way to say it. Carly is just funny. Her sense of humor is
hilarious
and she can have anyone laughing in minutes. Everyone who knows her loves this about her. Car and I don't talk without breaking into laughter at some point. Doesn't matter what we're talking about. She and I have so many private jokes and know each other so well that we sometimes laugh just looking at each other.
2)
Car knows fashion

.
She has always been on the cutting edge of style (even in Elementary) and while she used to NEVER let me borrow clothes (unless I swore I'd tell everyone in the halls at school that what I was wearing was a Carly original), she has loosened up a bit. ;) I now call her with any and every question about what to wear and how to wear it.
3) Speaking of calling Car with any and every question….another thing I love about my sister is that
she knows how to handle me.
I am extremely indecisive. It's something I hate about myself, but I can't change. I really struggle with making decisions (big and little) and Car is always there to rescue me! I constantly call her and drive her nuts asking if I should do this or that…buy this or that…then return this or that. She laughs, teases me, tells me I'm making her crazy…but in the end she helps make my decision for me, spends an hour assuring me I've made the right decision, and the next day when I call and tell her I've changed my mind – she understands. My mom and Kenny refuse to put up with this, but not Car. In the end she is always my 'go to' girl. I do have to say though that I payed her back for all of this by making a pretty important decision for her a few years ago: YES! You have to go on a date with Shawn
Hazen
. The rest is history. :)
4)
Carly has been an AMAZING Aunt to my girls.
She flew out to visit after both of my girls were born and has been a big part of their lives ever since. She loves them, plays with them, and always makes them feel special. Ellie adores Aunt Carly and gets so excited to see her. I love the way you love them Car.
5)
Carly is just plain impressive.
She is independent, career oriented, extremely intelligent, a great people person, beautiful, witty, and now she can add "amazing mom" to the list. She has always been there for me and I don't know what I would do without my sister. I was so excited when I found out my second baby was going to be another girl. Sisters. Just like me and Car.
Happy 30

th

Carly. Love you so much!
xoxo, Erin