Just got back from our girls weekend in Salt Lake. So much fun! Total girl time…we shopped, got pedicures, shopped, ate WAY too much junk food, shopped, stayed up too late talking, shopped, caught up on recent Oprah shows (something is SO off with Tom Cruise), laughed so hard, did I mention that we did a little shopping? We had a great time and I'm already looking forward to doing it again next year! Thanks for the fun weekend mom and Car! Car – your house is beautiful! Also thanks to my cute husband – he spent the weekend entertaining the girls…took them to Sea World and enjoyed some fun daddy/daughter time so that I could enjoy some fun "no kid" time. :)
Added bonus: Getting to also spend time with my adorable niece. How cute is she!!!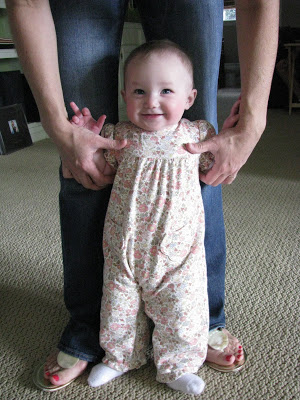 Now for my latest and greatest obsession…
So last week I finished the Twilight Series and I hate to admit this, but I am now joining all of the other obsessed female Twilight fans who can't stop thinking about Vampires, Werewolves and of course…Edward Cullen. I know…I'm late to jump on the bandwagon and I'm not proud of myself that I have, but I can't help it!!! I LOVED these books and I CAN'T WAIT until the next one comes out. I also can't wait until Midnight Sun comes out (Edward's version of Twilight). That is going to be
SOOOOO
good. I'm not that jazzed about the Twilight movie because I don't want anything to mess with the perfect vision I have of these characters in my head, but the next books need to be released immediately! Probably good that they aren't. I'm really behind on my life because of these books. The house is a mess, my kids feel abandoned and I can't show my face at the gym. I kept reading them on the bike to sneak in a chapter or two, but I couldn't
suppress
my giddy smile. Kenny's had it with me. I'm not allowed to mention the books or EDWARD anymore. So…guess I'll TRY to think of something else for a few months and stop stalking Stephenie Meyer's website…waiting…hoping for new material. Not going to be easy…

Free printable of the paint colors throughout my home!
Enter your name and email address to get instant access to my paint colors along with other free organizing printables. More will be coming soon!
Exclusive to subscribers!