*This post is sponsored by Walmart and affiliate links are used. All opinions and product selections are my own!
Hello hello!  Talking about our outdoor deck today.  I'm so excited about this little project I've been working on recently!  When we designed our house I loved the idea of having an upstairs balcony deck.  We have beautiful views of neighborhoods, open greenery and a golf course behind our house and I wanted somewhere that we could sit and enjoy the view!  We seriously debated putting our master bedroom upstairs so that we could enjoy the view even more off of our bedroom, but ultimately decided to put the kids' upstairs and us down.  It's easier for us to not be up and down stairs all day plus now that our kids are older it's nice to have a little separation!  The upstairs has become the "kid zone" and is where my kids and their friends all hang out.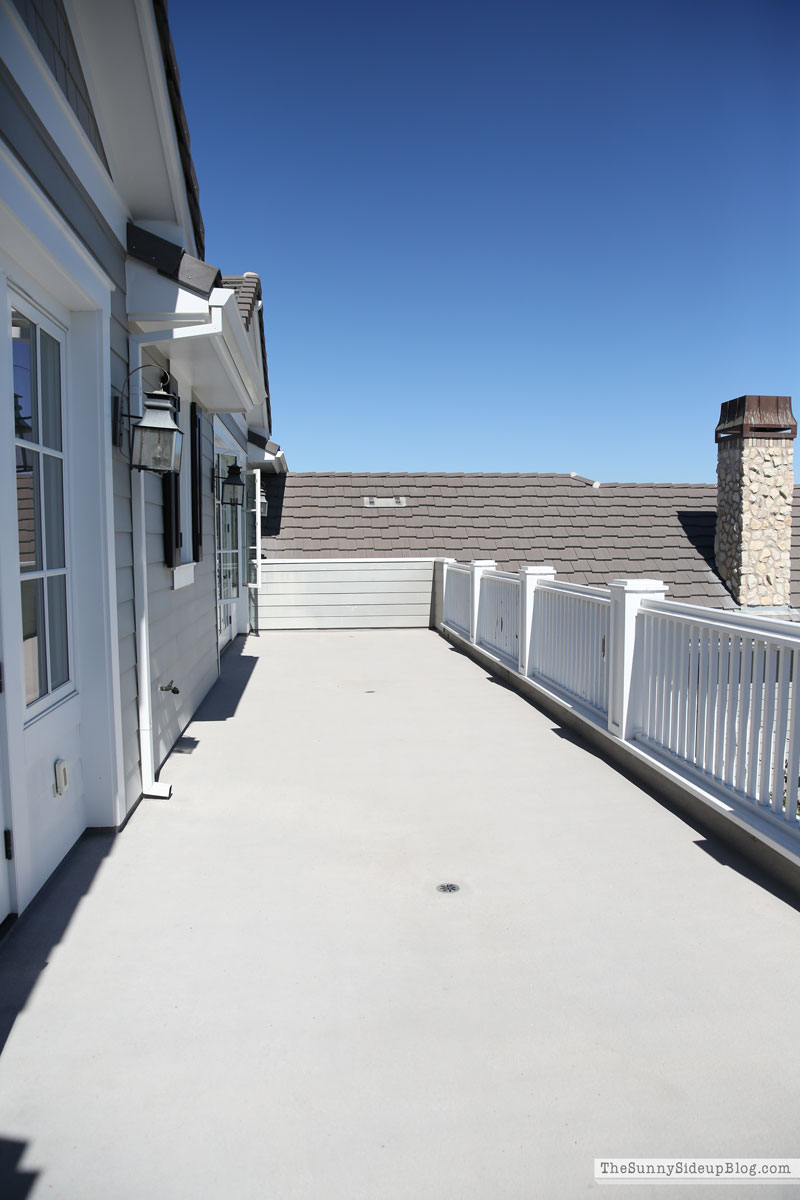 What I didn't factor in was just how HOT this back deck would be.  It gets hit with direct heat during the day and we've talked about possibly putting an awning or something over it so that we can use it more.  But other projects/life got in the way and for almost 7 years this deck has sat empty.  When everything shut down and my kids were forced to spend more time at home I noticed my girls started using the deck a lot more.  They were pulling out a chair or towel to sit down and talk to a friend on the phone, coming out on the deck to do TikTok routines, pulling out a blanket to sit on together to chat in the evening, etc.  When Walmart reached out to me to possibly partner on a backyard space makeover I was thrilled!  I knew exactly what I wanted to do. :)
I found so many fun outdoor furniture options!  They have everything you need to update an outdoor space.  I ordered every item for this easy deck makeover at once and took over Addison's room when it all started to come in.  Everything shipped so quickly and once it all arrived I got to work and had the new deck set up in 30 minutes!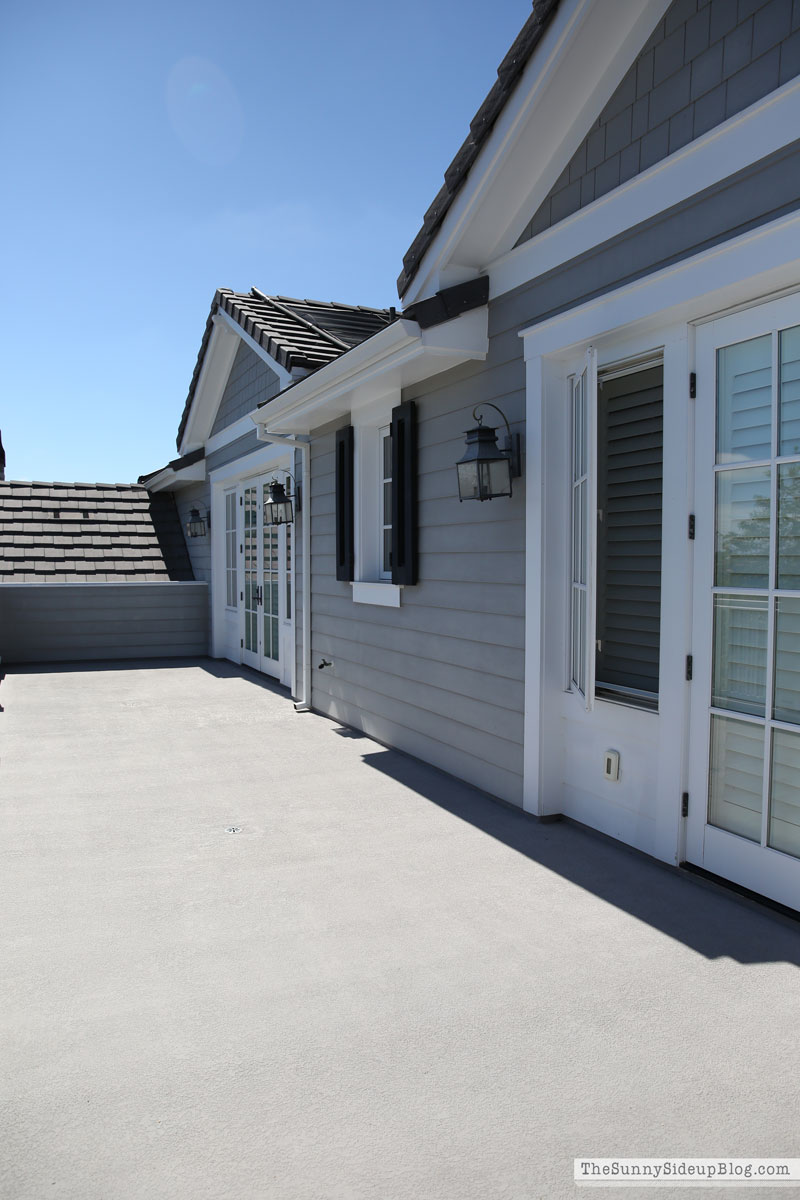 Here is our upstairs deck "BEFORE" (after a good sweeping!). :)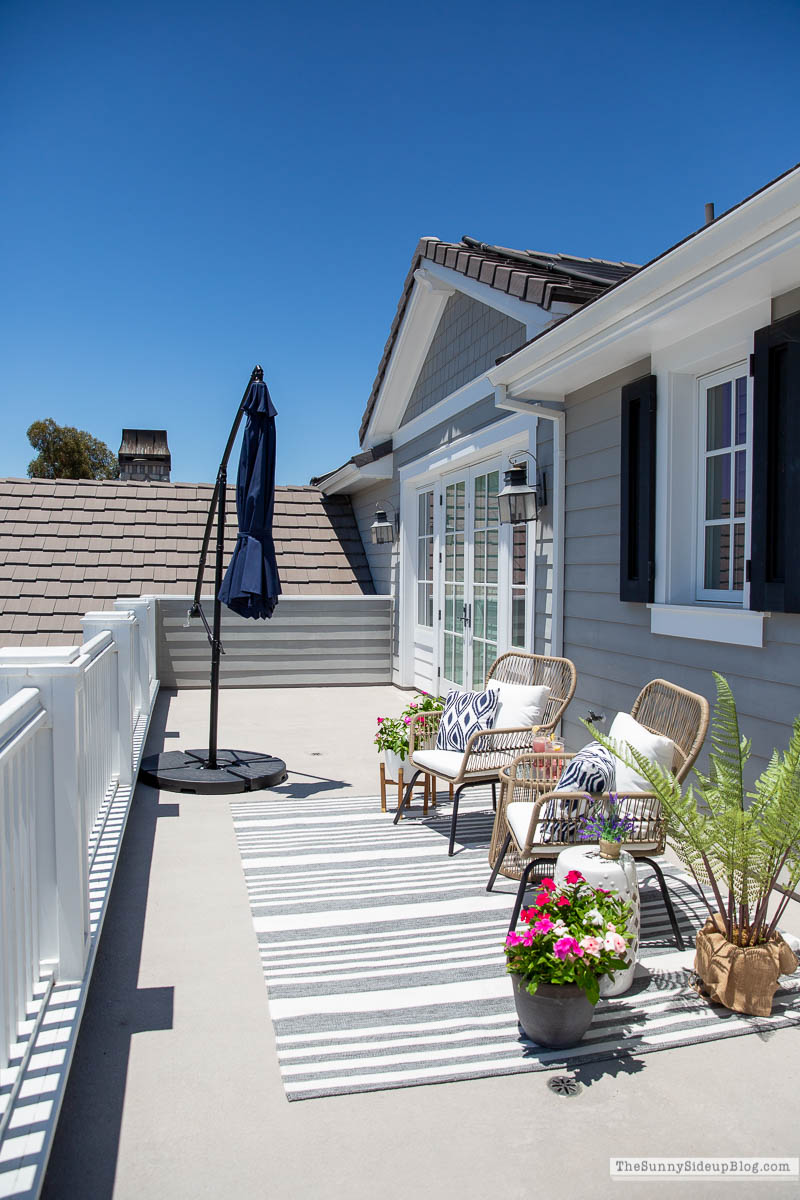 And this is what it looks like today!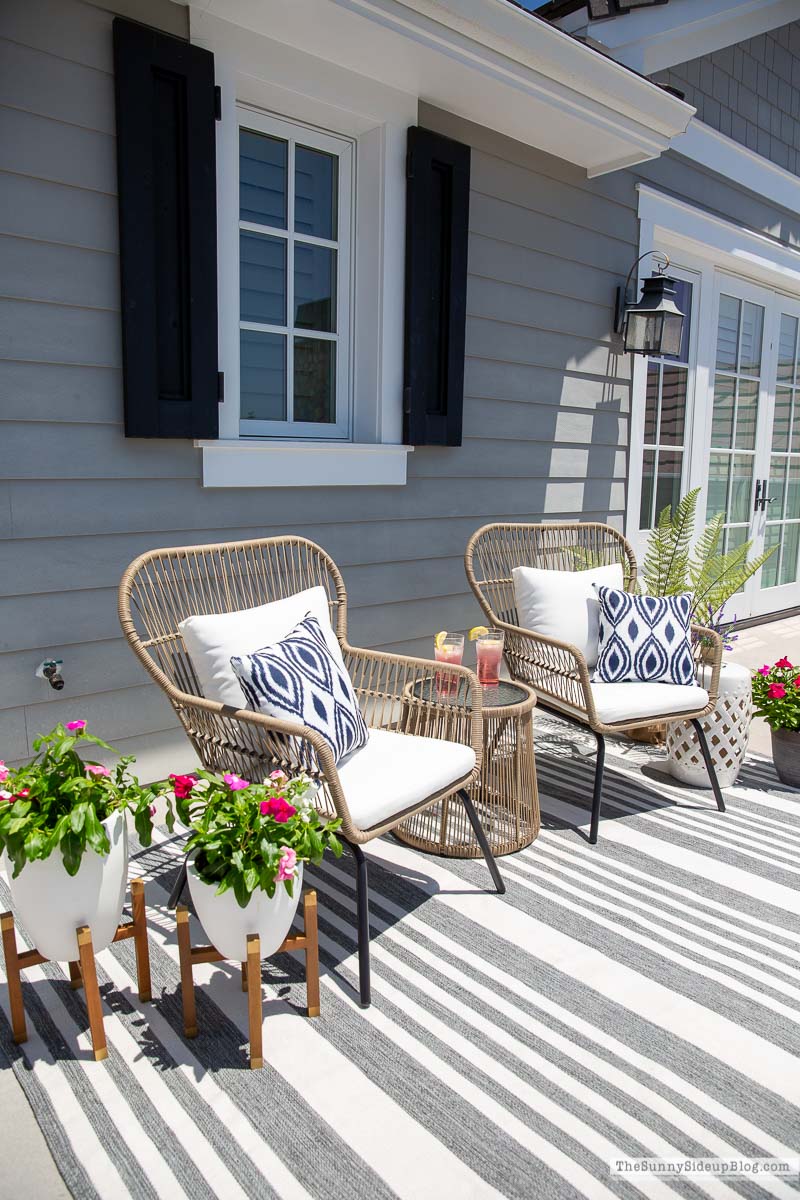 Honestly this came together so quickly and turned out even better than I pictured!  I'm just kicking myself that I didn't do something like this right after we moved into our house.
My main priority was creating a cozy spot for my girls to sit and I fell in love with this Best Choice 3 piece wicker set.  I bought the tan, but it also comes in a grey and black and is a perfect little set for relaxing and having a conversation.  It's so comfortable and I love the style of the chairs!
(*sidenote.. if any of these products you are interested in are showing they are out of stock click the blue "get in-stock alert" button.  Most items come back in stock quickly and you'll get an e-mail alert once they do!)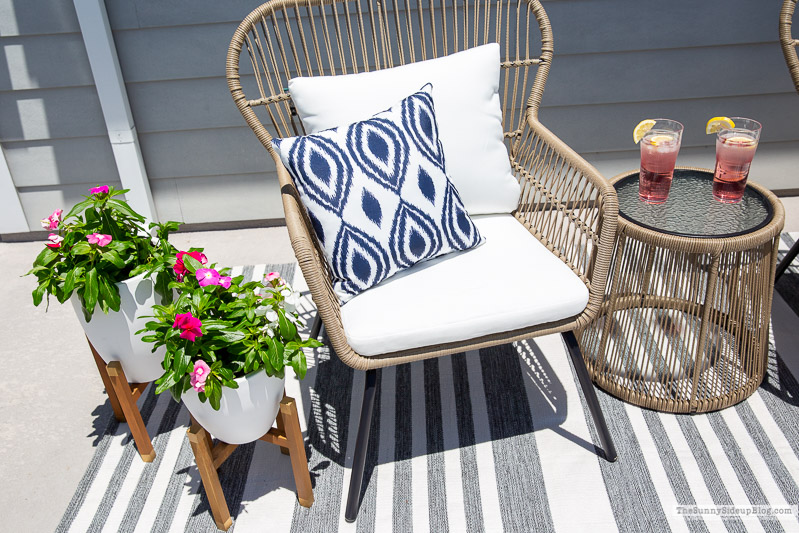 I knew a few real plants would be perfect to add some greenery and color to brighten up this space and when I found these modern planters with wood stands I was thrilled!  I've seen identical planters for a much higher price and couldn't snatch them up fast enough.  (I have the medium and large sizes.)
I bought some plants and transferred them.  One hasn't perked up yet!  Let's see how long I can keep these babies alive.  I'll probably have more luck just turning them over to my girls to water.  I feel like I'm cursed when it comes to potted flowers and plants!
This cute outdoor striped rug was perfect to create a little sitting area and my girls have loved having a soft spot where they can be barefoot and not worry about the hot deck hurting their feet.  (My rug is 6×9.)
I also fell hard for these cute blue Ikat outdoor pillows – the set of two was just $19!  The ceramic lattice garden stool was another fun find (I told my girls I might want to move that somewhere inside later but they aren't parting with it!).  I bought this beautiful faux fern to add some greenery and these cute little faux lavender plants to set on the stool.  Happy I don't have to water and take care of too much in this space. :)
In the summer my kids will mostly be out on this deck in the morning or evening when we aren't getting such crazy heat, but I wanted an option for shade in case they ever do want to spend time out here in the afternoon.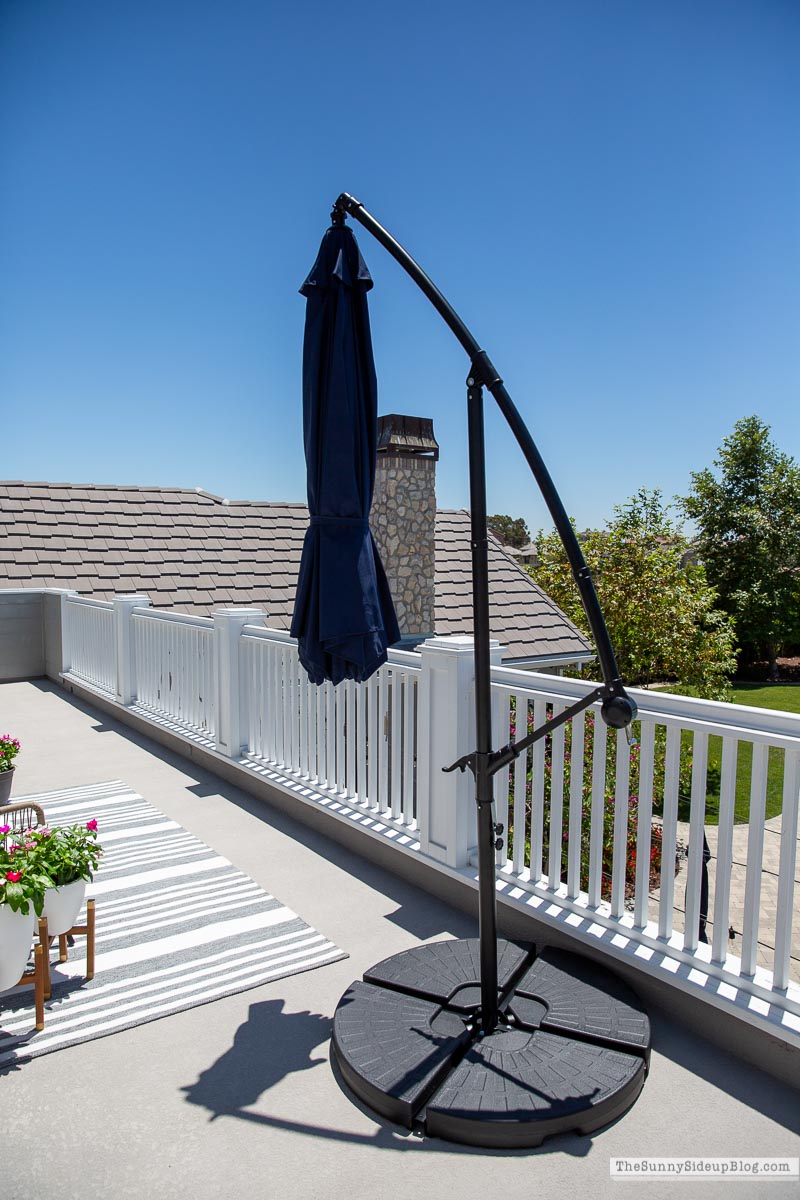 I was so excited to find this Best Choice Market Patio Umbrella!  It comes in so many colors and looks just like the other outdoor umbrellas in our yard but for a fraction of the cost.
You have to also buy a base to help hold it down so I purchased these water weights.  There are also other options you can choose from here.
The umbrella opens huge and adjusts just like the others we have.  It's seriously such nice quality for the price!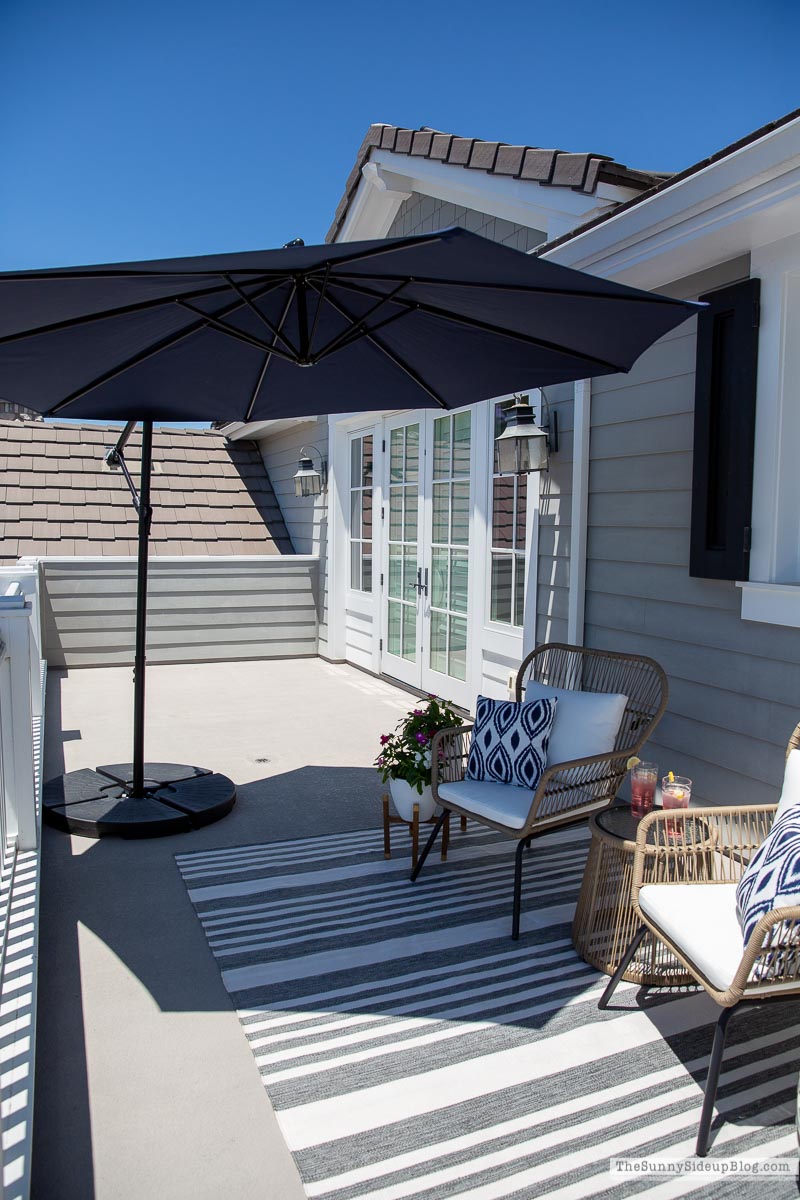 A perfect solution for having instant shade when they want it!  To shade both chairs I can just pull the umbrella to the middle of the deck.
Now this space is perfect regardless of the weather. :)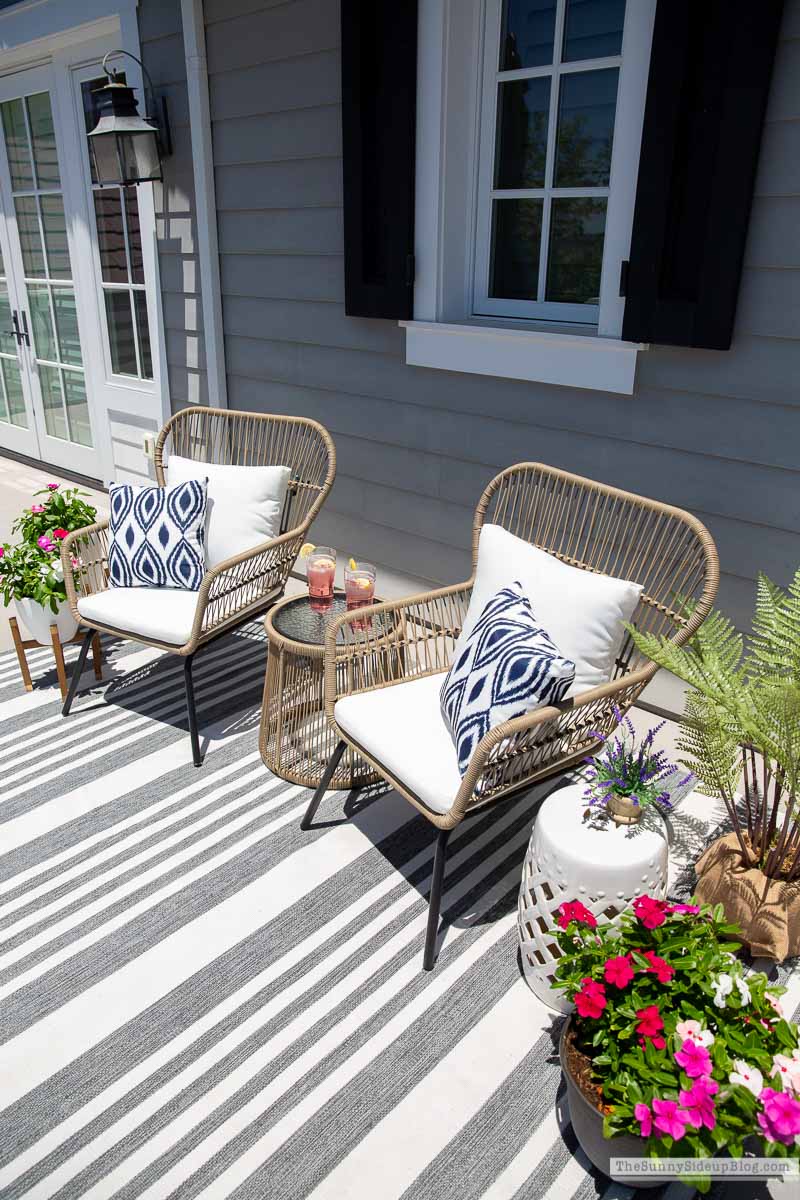 This was such a simple makeover and I can't believe the difference it made.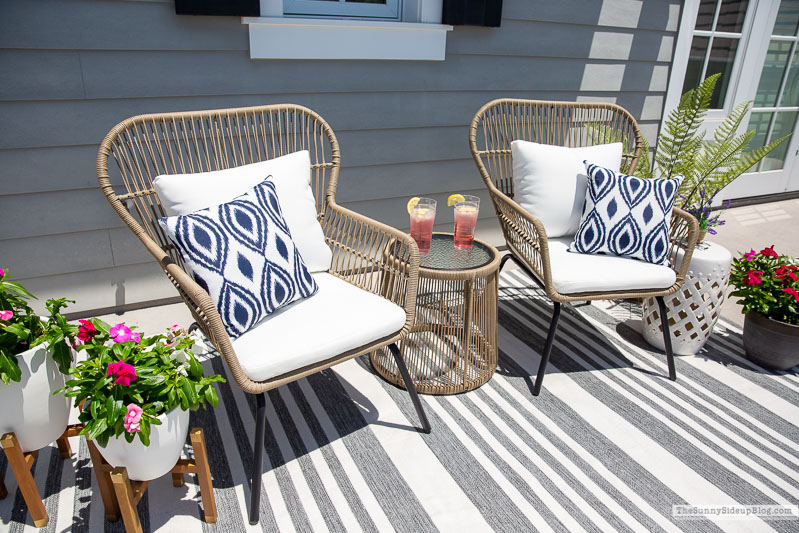 Now everyone wants to hang out on the deck!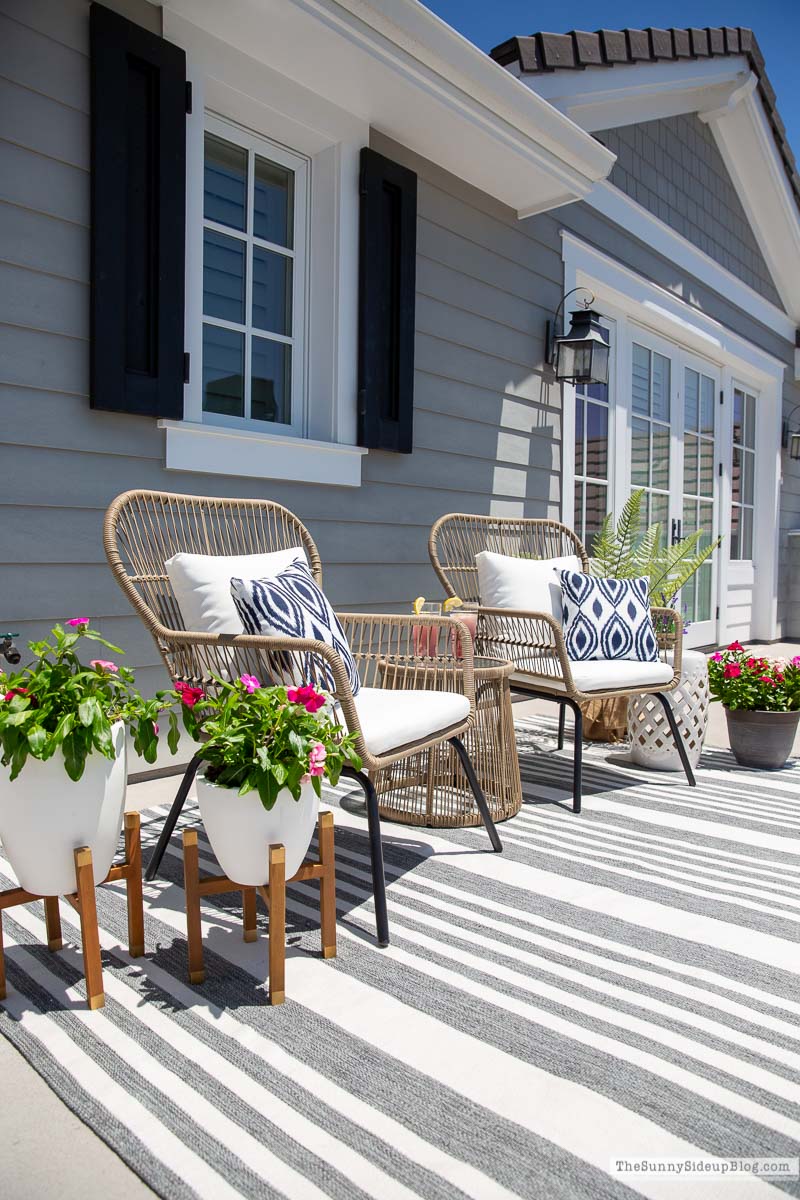 It was a good reminder to me that you don't have to have an elaborate plan, a lot of time and a lot of money to makeover and enjoy an outdoor space.  I didn't put anything here for years thinking the furniture would be expensive and that we needed an awning or something large for shade.
Most of the time all it takes is a cute set of chairs, a durable rug and some pretty flowers.  Real or fake.
Or both. :)
I don't want to waste any more time not enjoying the view!
These two wanted to sit out here a few nights ago with their drinks and a snack and I snapped this pic quick.  (I've been loving this cute divided plate for fruits/veggies for the kids this summer!)  I'm not sure what Ad was talking about but it must have been funny.  Ha. :)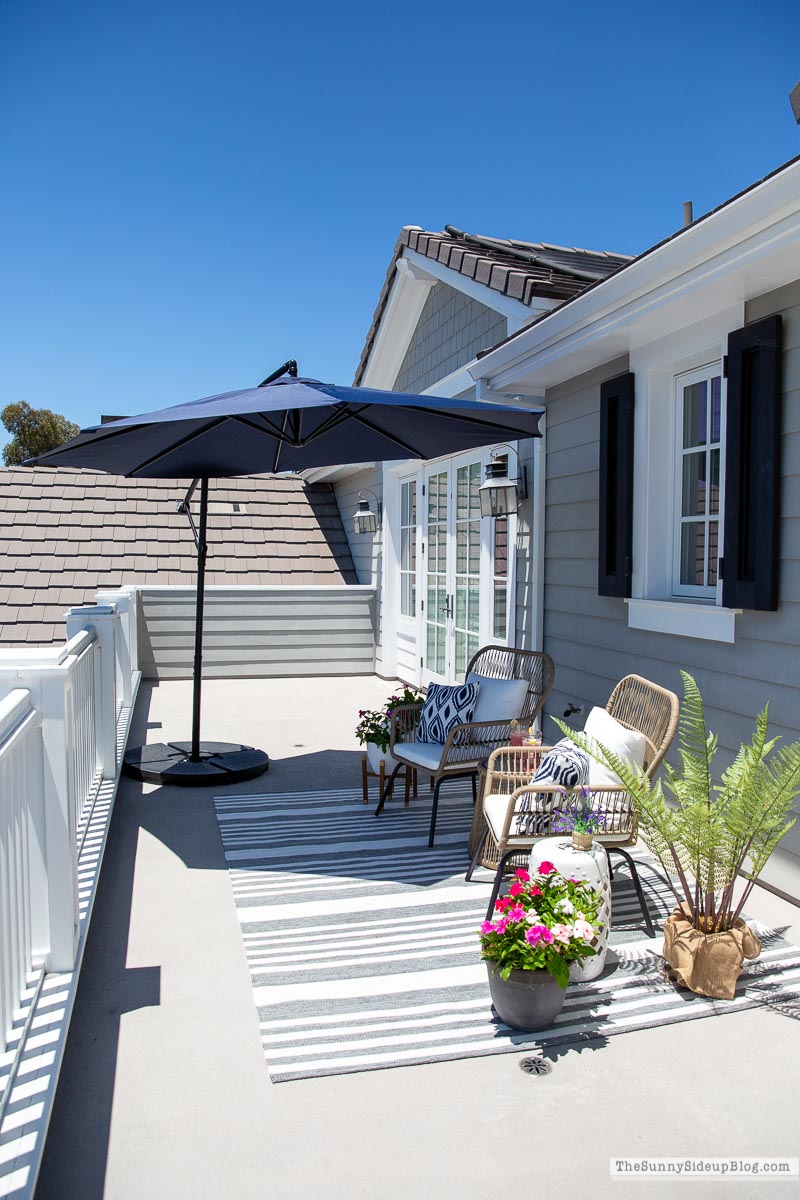 My kids are so excited about this deck makeover (they were honestly all 3 giddy when they came home and I showed it to them!).  I love it too!  Plus I'm thrilled that they have another spot to hang out since it's looking like we'll still be spending a lot of time at home this Fall.
Open the umbrella and bring on the TikTok dances. ;)
{POST SOURCES}


xoxo, Erin