*This post is sponsored by Walmart and affiliate links are used.  All opinions and product selections are my own!   
(*Thanks to my cute little models who go back and forth between being best friends and mortal enemies.) 
Isn't it crazy how quickly summer always flies by!?  I can't believe we are already nearing the end of July!  My kids don't head back to school until closer to the end of August but by the time July is winding down I always start doing a few simple things to get ready for the start of a new school year.  I'm going to share some things we've been doing to get organized before school starts in a separate post soon (I like getting ready early instead of doing everything the last week of summer!) but today I wanted to show you some fun, inexpensive clothes I found for my kids at Walmart.  We scored and picked up some really cute things!
Kole wears uniforms at his Elementary school but he hates them (ha) so I always just stock up on some soft play clothes for him to change into after school for our afternoon activities.  He won't wear anything "itchy" so soft shorts like these are his absolute favorite.  I let him pick out his backpack every year.  This cute shark backpack is the one I liked.. but he wanted the giant dinosaur head. :)  I know my years of themed backpacks are numbered with him so I just go with the flow and am soaking it up while I still can!  My baby is getting so big.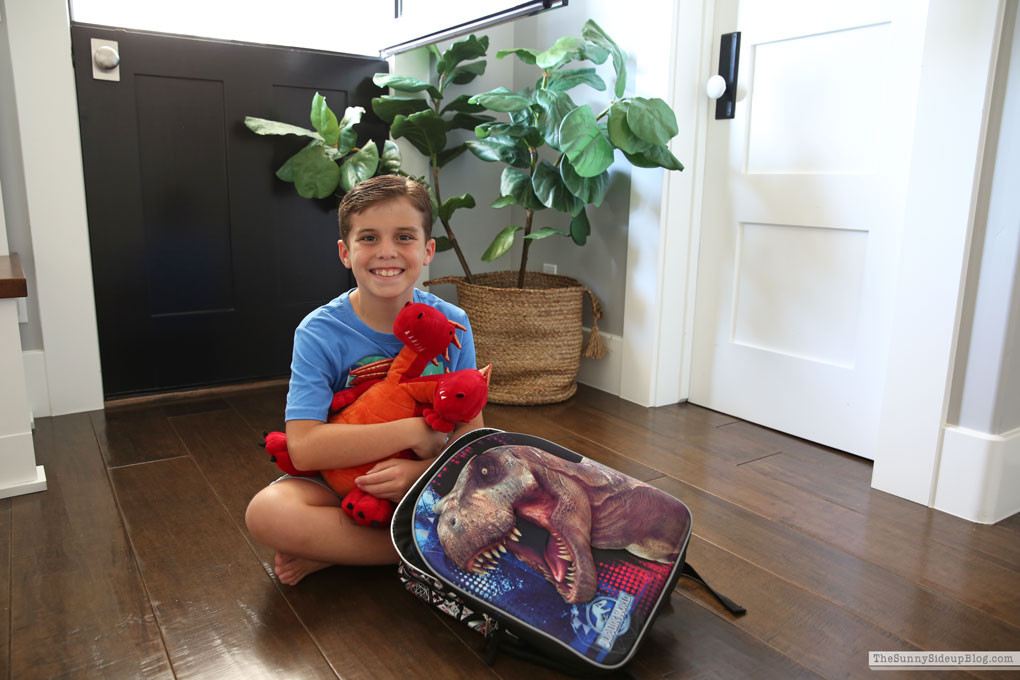 He couldn't wait to use his new backpack so he has been carrying it around with all of his toys and "friends" in it. :)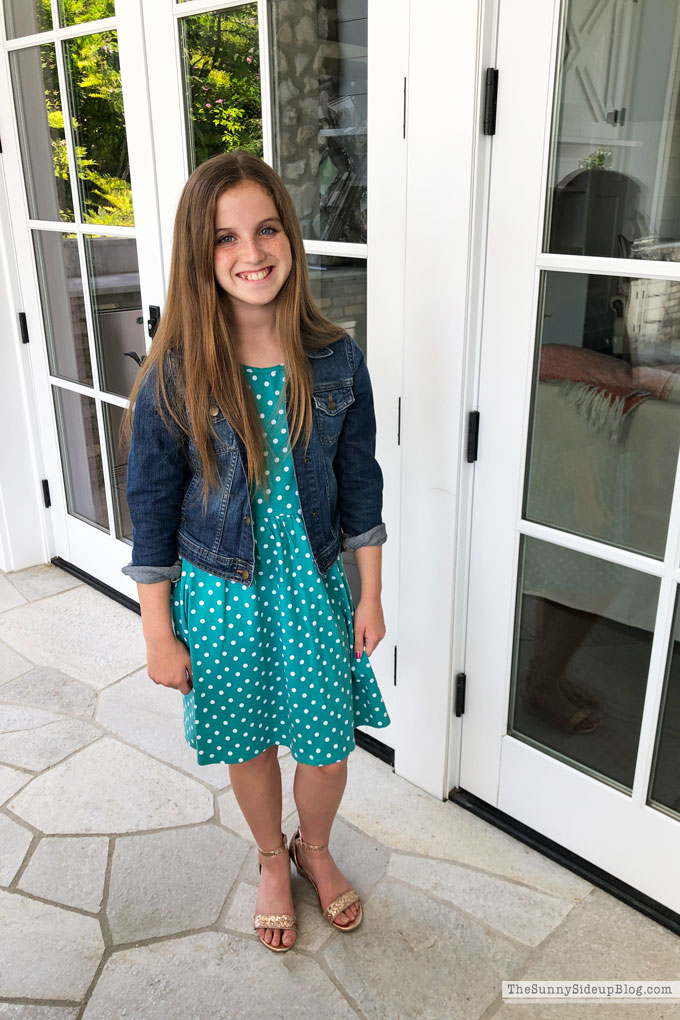 (Printed A-Line Dress for big girls/Printed A-Line dress for little girls/Similar jean jacket)
Ad and I both love this darling polkadot dress and it comes in so many colors and patterns.  Six bucks you guys!  They also have it available in little girls sizes.  We bought it in the navy dot too.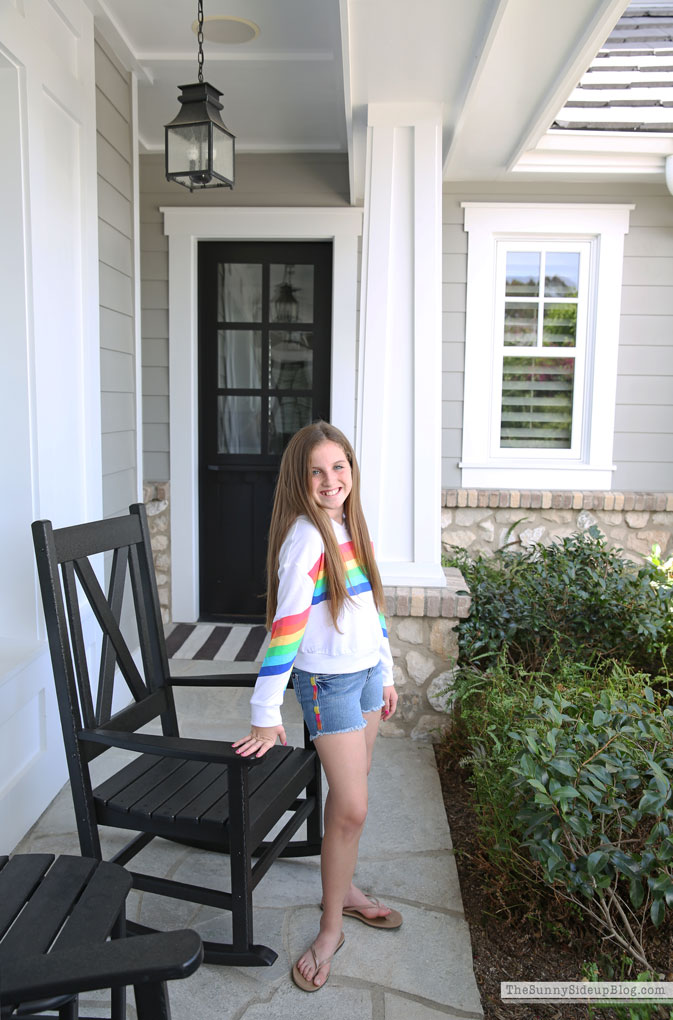 (Rainbow Stripe Pullover Hoodie/Rainbow Side Stripe Denim Shorts)
This was Addison's favorite Walmart find.  Cutest lightweight rainbow hoodie and cut offs!  These will be easy to mix and match and she has had the shorts on nonstop the past week.  Perfect to finish summer and kick off Fall because it stays hot here until November!
(Crochet Tank Top/Boys Graphic Slogan Tee/Side Stripe Shorts)
This Crochet Tank Top comes with some cute shorts and is a darling outfit.  Ad loved and wanted the tank but thought the shorts looked a little "young" so we are giving them to her cousin.  Really cute outfit for a 7-10 year old!
They looks so happy don't they?  Caught them on a good day.  The day before I had them separated and they weren't allowed to even look at each other!  Then 20 minutes later they were best friends again.  It's so funny to me.  Ellie gets along with everyone.  If it's her with just Addison they are great.  If it's her alone with Kole they are great.  When it's Ad and Kole together you never know what you're going to get!  They are so close but also know how to push each others buttons and they enjoy doing it more than I wish they did!  Ha.  Getting the bearded dragon has actually brought these two closer together so that has been one positive about having a lizard join our family.
I could list the negatives but I'm sure you can guess. ;)
Below are some other fun things I picked up for my kids from Walmart and a couple of cute things I found for younger girls (this clear backpack is adorable and so are these pink ruffle slip ons!).  I so miss shopping for little girls!  I always get the kids' new rain boots and they have some really cute options in right now for boots too.  Have you started back to school shopping yet?  I know some kids go back in early August.  Feeling ready?  Or are you dreading the end of summer? I always have mixed emotions when my kids go back!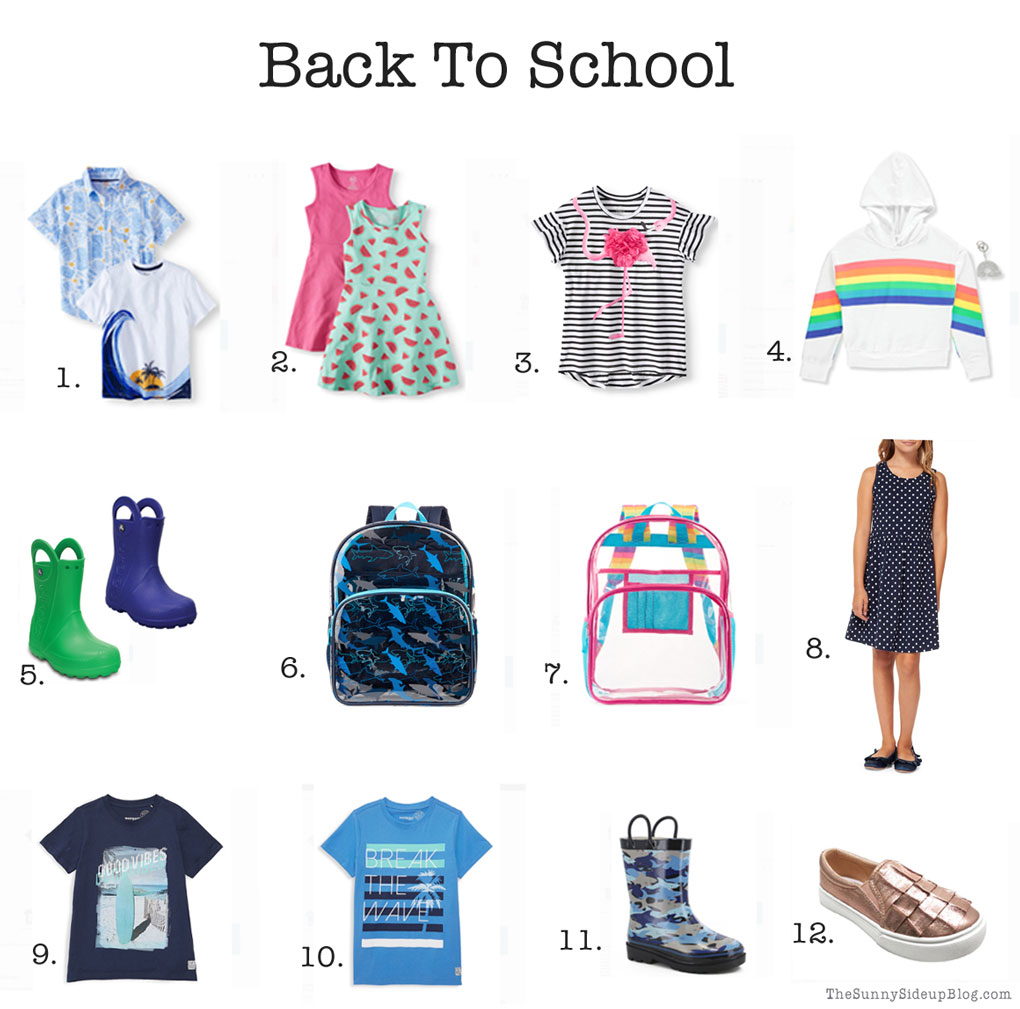 1 – Short Sleeve 2-Pack   2 – Sleeveless Play Dress 2 -Pack    3 – Embellished Graphic T-shirt
4 – Rainbow Stripe Pullover Hoodie   5 – Crocs Rain Boots  6 – Clear Shark Backpack   7 –  Clear Kids Backpack
8 –  Girl's Printed A-line Dress    9 – Boy's Graphic Slogan Tee    10 – Boy's Graphic Slogan Tee   11 – Boys' Shark Rain Boot
12 – Girls' Casual Ruffle Slip On
Peace out summer.  Back to school is coming!  Like it or not. :)
{POST SOURCES}




xoxo, Erin