Just some random pictures from this month I never got around to posting…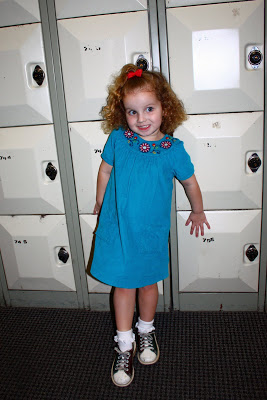 Addie's first time bowling. I'm not a big fan of bowling, but I loved the way she was rockin' the shoes.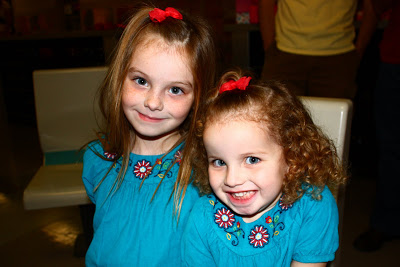 On the way to a Valentine Party with friends. She'd only hold still long enough to admire her tights. It's very clear which of my daughters is going to be my future shopping buddy. Ellie only cares about comfort. Addison has learned early on that there are many times you have to sacrifice comfort in the name of fashion. She may look more like her daddy, but she's got a little of her mom in her too.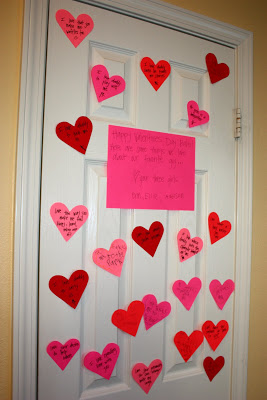 On Valentines Day we surprised Kenny with some hearts on the pantry door. We all wrote things we love about him. Similar to
the Father's Day book the girls made him
. He loved it. Last year I heard of another cute idea that I wanted to start and never got around to it. You start at the beginning of February and each day tape up a heart saying something you love about someone else in the family. Great idea I want to make a tradition… as soon as Addison can write. For now she just dictates and signs her letter "A". My favorite one she told me this year was "I love daddy because he gets our favorite babysitter for us." Yeah…that's one of my favorite things about daddy too. :)
Speaking of Addison and her daddy, she sure is becoming a daddy's girl lately. My girls seem to be all about me until they get close to age four…then there is a switch and all they care about is their daddy. Good timing for another baby. I need some love around here. The above picture of Ellie is a favorite of mine because it shows her life long obsession with grapes.
What's a sack race without a victory dance afterwards?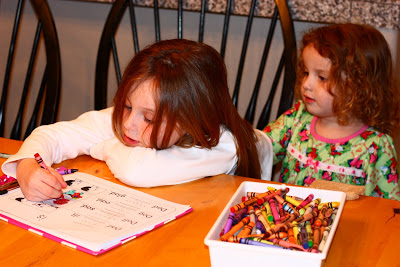 Typical evening doing homework. Ellie always has a little "helper" that's never too far away.
And as for me, I've been doing lots of cleaning. My energy level has been dropping big time lately and my back always hurts. Once a day I have to take a mini break and sit down and just rest for a minute. My girls are great to entertain themselves and each other, I just have to be prepared for the tornado that is the result of this little rest period.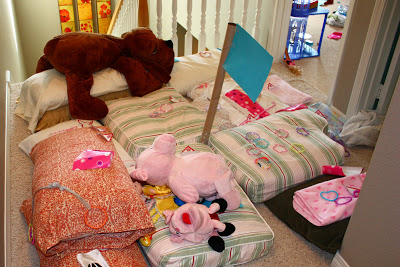 Like when they turned my hallway into a "boat filled with treasure." Just like in this post, they've also been doing a lot of pretend play on my bed. It's never made these days. I love that my girls are creative. I just need a creative way to make the 'after' messes disappear.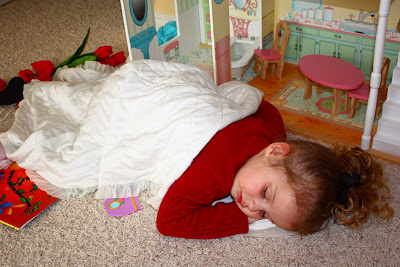 Speaking of messes, the girls were supposed to be picking up their room last weekend and when I came up to check on them, this is what I found. Bless her little heart. Can't blame her really. This looks a lot more appealing than cleaning to me too.
xoxo, Erin