Wondering how to display and organize your jewelry? Here are a just few ideas – from our family to yours.
Hang your necklaces on hooks in your bedroom and it becomes part of the decor. I got this fun idea from my sister. (side note **sisters are cool about you copying them as long as you give them credit for the idea…at least that's the way it rolls with my sister)
If you don't love that idea, here are a few suggestions from Ellie and Addison…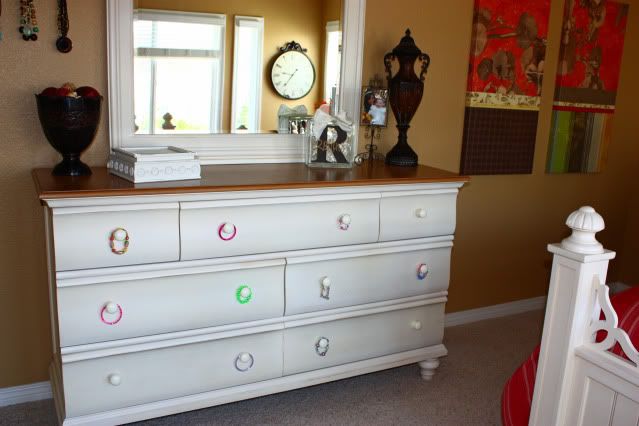 Hang your bracelets on your mom's dresser drawer knobs…
and hang your necklaces on your mom's bedroom hutch.
If you're in the mood to really show some creative flair, then opt for a more detailed approach by creating a jewelry ensemble on your stair case.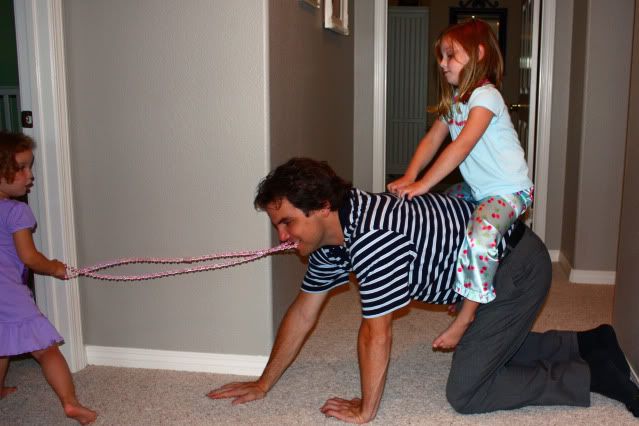 Then there's always the obvious choice…use your necklaces to pull your "horsey" around the house. (side note **this may cause some wear and tear on your jewelry AND your horsey's teeth. It is not recommended for long periods of time)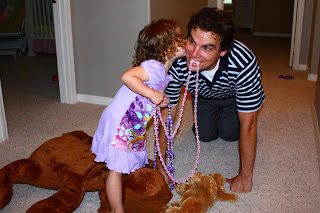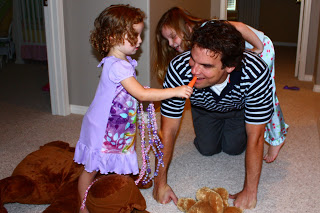 (side note **horsey's perform much better after a kiss…and a carrot)
And last but not least…
You can always display your jewelry where it looks best… all over your father. (side note **not all dads are cool enough to take this kind of abuse. Proceed with caution)
It's a good thing Kenny is such a good sport.
And incredibly secure in his manhood.
xoxo, Erin