Popping in to share a few recent pics! I am SO behind. So so behind on documenting our day to day. This week (when I have time to post) will be a lot of catching up on some of our latest – even if it's not the greatest. :)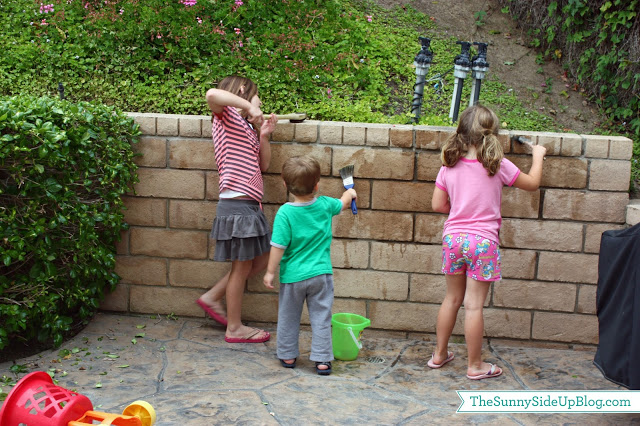 Not so long ago I shared a picture of Kole "painting the wall" with water and said it was such a great toddler activity. Turns out it's not just for toddlers. :) I peeked out my kitchen window last week to find this scene. Looks like El isn't painting, but scrubbing the wall down instead? Whatever works! And keeps them entertained long enough for me to cook dinner. (BTW – so happy to hear that some of you tried this activity and it was a success. YEA! I'll have to think of more outside activities my kids like. We have had to get pretty creative over the last nine years with our with our small back yard!)
Since home cooked dinners are hit and miss around here this is my latest trick to ease some of my guilt and make sure the kids are eating enough fruit/veggies. I have this veggie tray (bought it for 5 bucks at the grocery store) sitting out on the table each day after school when the kids come home. They always come home STARVING and start immediately raiding the pantry. The new rule is that this platter of food has to be eaten before anything else (most of it anyway). The cool thing is that they are usually full by the time it's gone and then I can hold them off until dinner. I change the fruits and vegetables out each day and sometimes there are leftovers so I'm not constantly restocking everything. I also give them long tooth picks to eat with because for some reason that just makes it more fun. Except when they start having sword fights. Then as Kole would say "we are all done toothpicks!" Yup buddy. We are. :)
Speaking of my little buddy… apple doesn't fall too far.
I was adjusting a camera lens last week and snapped the next two pics randomly. Then when I went through my photos that night I had to laugh at what I caught on camera. This is Ad trying to make Ellie fancy…
You can see how well that went over.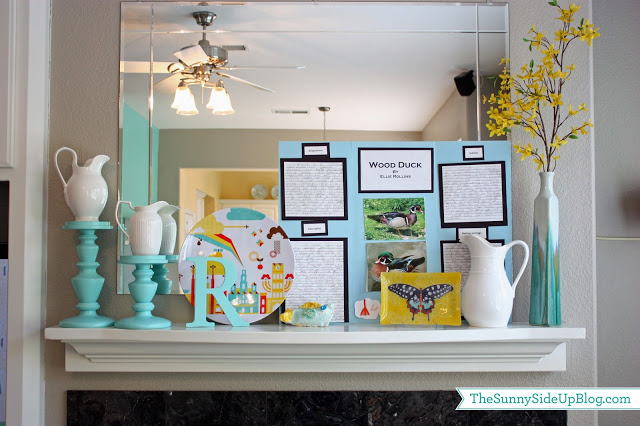 And here is our spring mantel in its latest state. El did a report on Wood Ducks last week and let me tell you – we all know more about Wood Ducks than we ever cared to. :) She loves animals and got really into this little project. We were proud of her work so the Wood Duck poster is displayed on the mantel. With Addison's clay fish. At least they are keeping things aqua and working with my color scheme. :)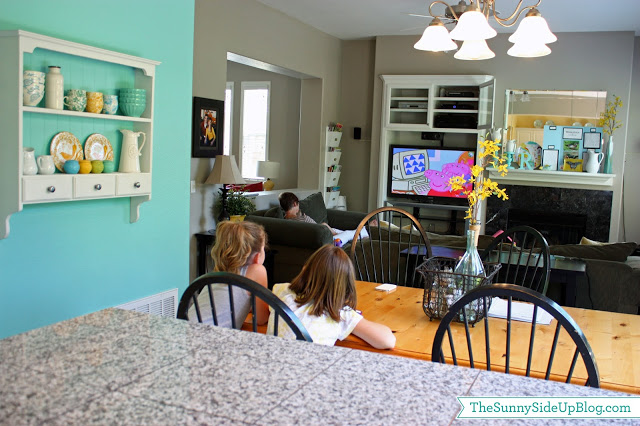 Peppa Pig. It's such a part of our day to day that I had to share this photo from the weekend.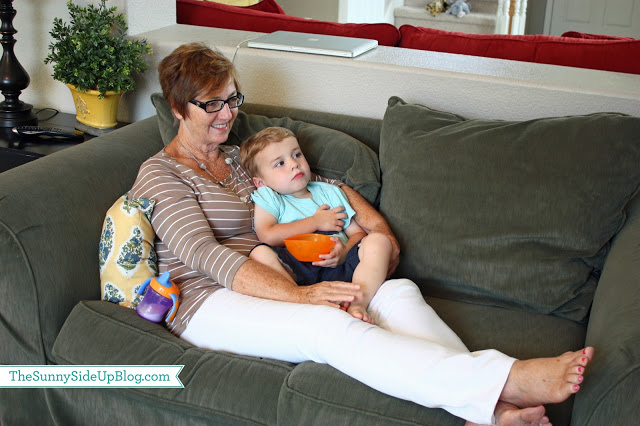 And we have a visitor this week sharing in the Peppa Pig love. When the going gets tough, the tough call grandma! :) This next week is so busy for me that I knew I would need some reinforcement! I sent out an SOS to my cute mom and she hopped on a plane. LOVE her so much. She is saving me this week. Now someone will be home to do therapy each day with Kole and take care of him (full time job) while I tackle all of the girls' last week of school parties/activities/projects. And deal with the new house stuff I need to take care of right now like pick out paint colors for the whole interior. And start packing our current house to get ready for a move. My to-do list has its own to-do list this week. It's an exciting time around here. :)
Sign up to receive Sunny Side Up right in your inbox!