Thank you SO much to everyone who took the time to give me some feedback on
my post last week
! Because of you I have a solution for my blog for the next 5-6 months while we finish building our house. And I'm so excited about it! For now, no guest posts because it seems the majority of you feel the same way I do about them. I'll pop in with a re-run maybe once or twice a month because I enjoy looking back and it might be fun for those of you who are newer to my blog. The rest of the time (most days) you will still be hearing from me – just on a smaller scale. :) Several of you suggested just posting a picture or two a day – something simple – almost like Facebook or Instagram. I love that idea! That way I can still post often, stay in touch with all of you, and record things I don't want to forget. But it won't be as time consuming which is what I need right now. There won't be a lot of organizing and decorating. And there certainly won't be any scrapbooking. (Once we move into the house and things settle down I'm betting there will be an abundance of posts in those categories!) But for now, I'll mostly be sharing pics of how the new house is coming along and every day family/life pics. I'll also bring back Fashion Friday, but just share one or two things I wore during the week. YEA! I'm so excited to have a plan. You all know how much I love making a list and having a plan. :) Thank you again for your kind words and such a great solution! It's almost as good as another solution a few of you came up with – to turn the blog over to Kenny. HA! Can you imagine!? His post titles immediately popped into my head… how he lives in the real world so that I can "float above it," why there needs to be a ban on extra pillows on beds, all things related to Charger football, and countless quotes from Armageddon like
"Harry doesn't know how to fail."
I know. If that doesn't move you to tears what will?
I think it's safe to stick with a picture or two a day. :)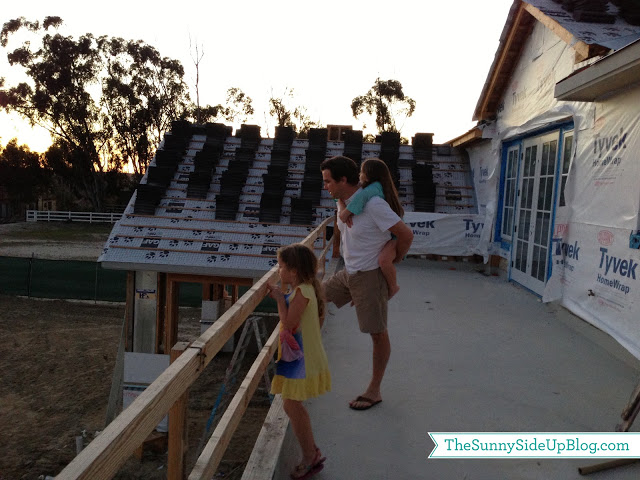 So here is my "picture of the day." Even though it was taken a week ago.
Happy March everyone!
Sign up to receive Sunny Side Up right in your inbox!