I thought it might be fun to post some of the Halloween things we've been up to lately. Last weekend was a special occasion in our house. The new "Barbie and the Three Musketeers" was released. Yes... that WAS the special occasion. We had a family movie night to watch it for the first time. Kenny and I are as into the Barbie movies as the girls (seriously) so a good time was had by all. :)


I made the girls this treat for the show. I threw in all of their favorite snacks...popcorn, pretzels, m&
m's
and fishy crackers. Then added some candy corns in my jack-o-lantern dish to make it a "Halloween Treat."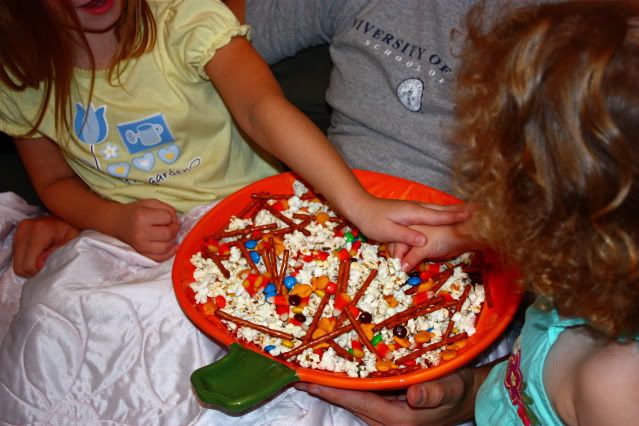 Too good to share.
We also made some Spooky Spiders out of suckers and pipe cleaners. I found the idea
here
. Next time I need to buy thicker pipe cleaners (our legs look a little spindly). The girls had fun gluing the eyes and bending the legs and of course, eating the suckers.