Last Saturday we were driving home from a pool party and Kenny and I started a conversation that often comes up about our "someday" house and our "someday" yard. We were going on and on about how great it will be to someday have a bigger yard, a swimming pool, a huge area for entertaining, oh...and wouldn't one of those Costco swing sets for the kids be fun? Wouldn't it be fabulous if our house included a theatre room for Kenny, an exercise and scrapbook room for me, plenty of room for all of our kids, and how about a HUGE playroom? If only ...someday. Ellie stopped us mid-conversation and asked what we were talking about. Kenny answered, "wouldn't you love to live in a big house someday with a swimming pool?"
"NO, I don't EVER want to leave our house!"
"Not even for a swimming pool?"
"But dad, we already have a swimming pool!"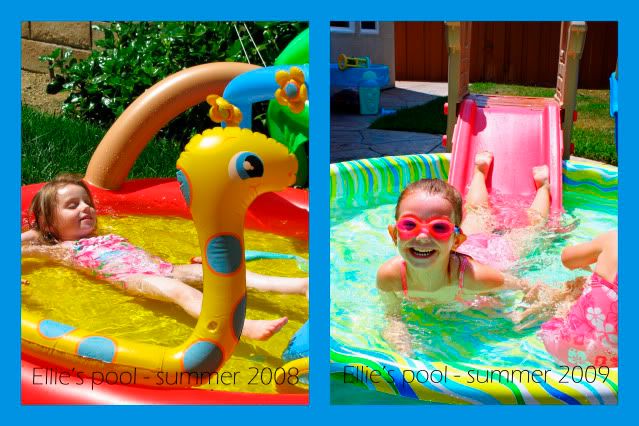 You're right Ellie. We do already have a swimming pool. We get a new pool each summer. A great pool. Thanks for reminding your parents that life is all about being content with what you have. And thanks to you, my wise five year old, what we have is more than enough.