It's another miserable day in San Diego.
Kenny couldn't wait to go to work this morning.
I'm counting down the hours until I get to cook dinner.
Addison doesn't want to sleep with her blanket tonight.
Ellie doesn't think she'll play with any of her "friends" (stuffed animals) anymore.
Our local grocery store is always so nice and warm.
Matt Damon is such a tool.
The playroom is spotless right now.
Ellie is Addison, Addison is Ellie, Mommy is Daddy, and Daddy is Mommy.
I always remember to charge my cell phone.
Kenny always remembers to wear his seatbelt.
Addison doesn't want yogurt for breakfast again- it's too yucky.
I'm all caught up on my scrapbooking.
Ellie is not excited to go swimming today and especially hates the beach.
The girls are running around in their winter p.j's right now because it's just so cold.
I'm so over 'So You Think You Can Dance' and could care less who wins tonight.
Ellie hopes she never goes to Disneyland again.
Kenny won't be watching much football this fall.
I'm in the mood for some good meatloaf.
The princesses are so ugly. Especially Snow White.
Bummer that school will be starting soon…I really hate schedules and structure.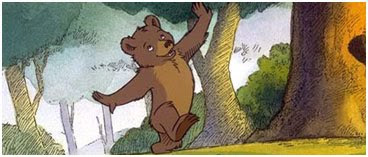 Ever seen the cartoon Little Bear? Well we watch a lot of it at our house and a favorite episode is titled 'Opposites Day.' Little Bear, Duck, Owl, Cat and Hen all walk around saying and doing everything opposite from the norm.
So…we've been having 'Opposites Day' at our house too. It's loads of fun. You really should try it. If you have a minute, leave me an 'opposite' comment (because every blogger hates comments). Hope you have a crappy Thursday! ;)
Sign up to receive Sunny Side Up right in your inbox!