I'm loving this Springy time of year! I'm not usually a crafty kind of gal but this weather has inspired me to create! When I saw these fun button butterflies in Pottery Barn Kids I decided I could easily make something similar with scrapbook stuff I already had on hand. So on a sunny afternoon, I blew the dust off of my circle punches and ended up with this -
I just painted a wooden scrapbook frame green (you can buy them at
Michael's
for $6.00). Very cheap. Very simple. Very quick. For now, my butterfly's home is in Ellie's room on this shelf -
I'm kind of into butterflies. I've had these butterflies (also Pottery Barn Kids) hanging in the playroom for awhile...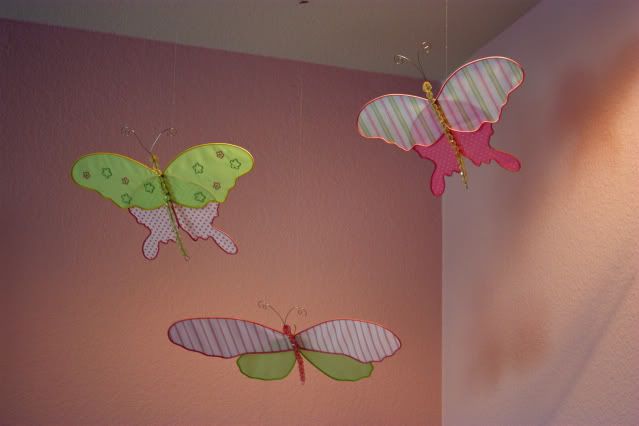 Whenever I walk by the girls' playroom and see these butterflies hanging I remember the day I hung them. My mom was visiting and I was being a bit of a perfectionist and kept hanging and re-hanging until I felt I had them all three exactly how I wanted them. My mom gets so annoyed by my
tendency
to over analyze small details so when I asked her what she thought for the 20
th
time she answered, "I know what those butterflies are thinking. They're thinking how do we fly out of this window and be free!" I always think of her and smile when I see my perfectly placed butterflies...and then I re-adjust them so they are facing the right way.