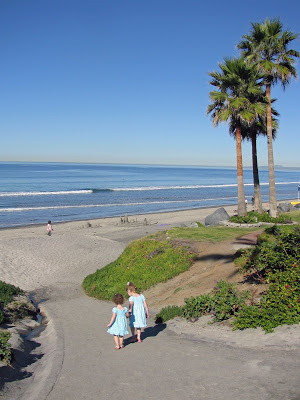 ***Does this picture look familiar? I love
snapping
a picture each time the girls head down the walkway to our beach :)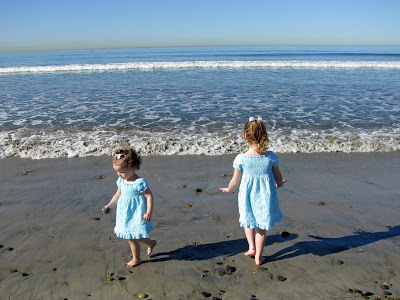 The weather this week has been absolutely amazing, so when Thursday morning came around (our one morning we don't have anything on our agenda) the girls and I decided it was time for the beach! We had such a fun morning. The beach was so quiet and beautiful…just a few surfers, joggers, and us. Thinking the water would be cold (it is January
after all
), I put the girls in their play dresses. I thought we would just walk along the beach and then head to the beach park, but they were having so much fun wading in the water (which didn't feel much colder than it is in July), throwing rocks, running from waves, and chasing the seagulls that we never made it to the park. I wished I would have just put them in swimsuits!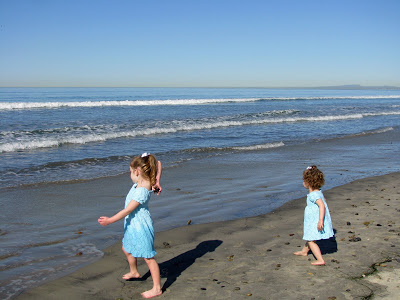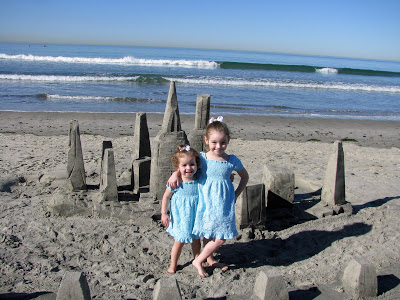 Impressed? j/k no – we didn't build this fun sand castle but we were glad that whoever did build it left it up for us to enjoy. The girls loved it!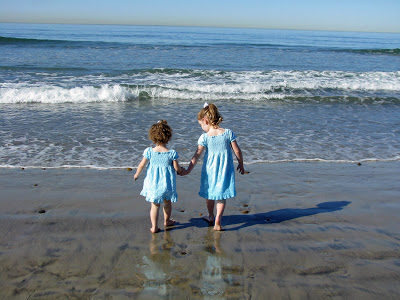 Addison is always a little scared to step into the waves without Ellie's help. I have so many pictures of the two of them holding hands walking towards the waves. This shot never gets old to me. :)
Sign up to receive Sunny Side Up right in your inbox!